In June 2018, World Press Photo 2018 exhibition took place in Hanoi, attracting a wide range of audience, from photographers to art enthusiasts to families. This December, Matca in collaboration with a World Press Photo representative is delighted to announce a series of public photography programs, with the support of The Embassy of Kingdom of the Netherlands in Vietnam. These events are organized on the occasion of 45 years of diplomatic relations between Vietnam and the Netherlands.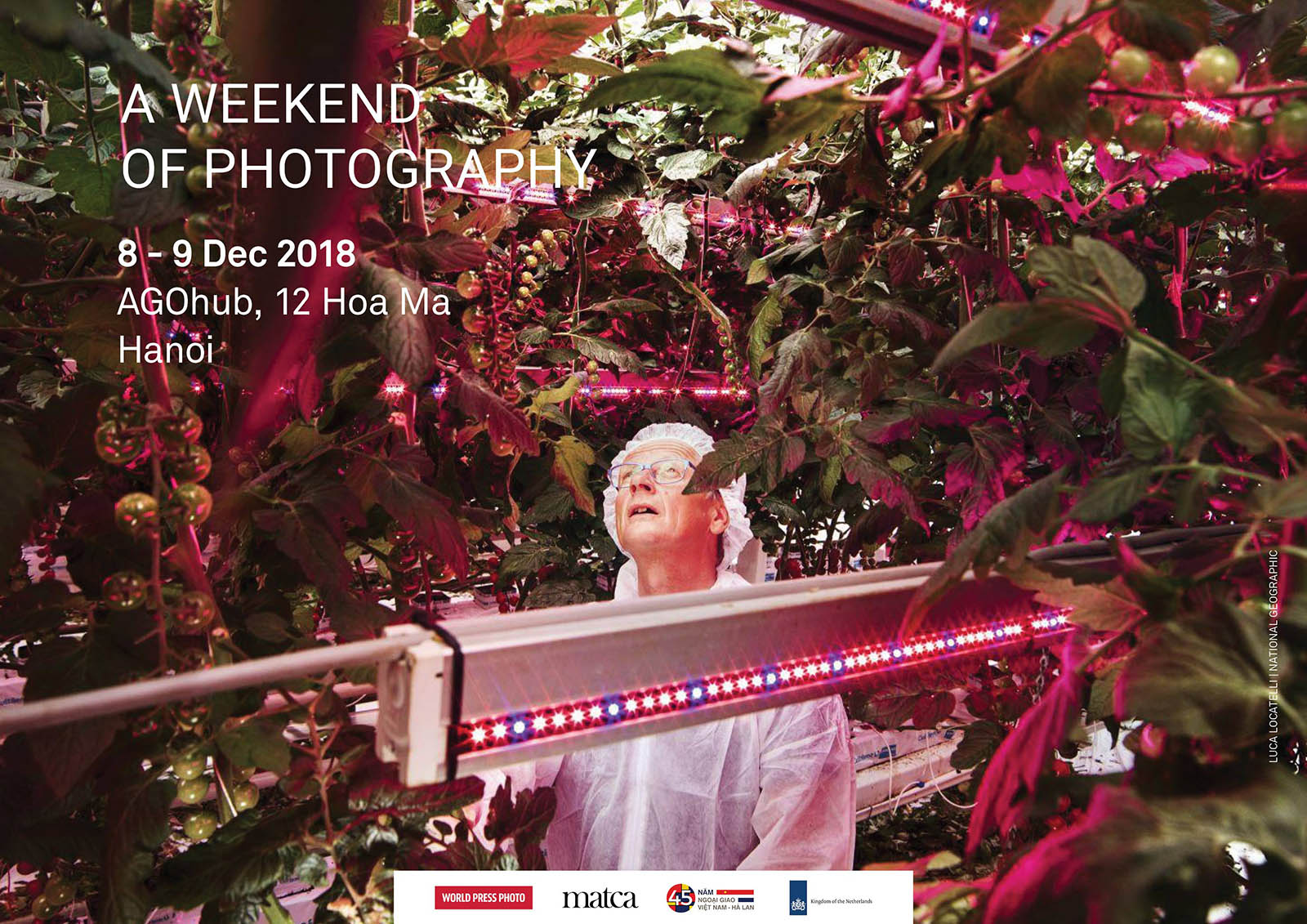 Saturday, 8 Dec 2018
09:00 – 11:30 Digital storytelling workshop: Cutting through the noise
19:30 – 21:30 Talk: World Press Photo – Legacy & current missions
Sunday, 9 Dec 2018
09:00 – 12:00 Portfolio review
19:30 – 21:30 Screening & panel discussion: Close to home photography, (not) in my backyard
Location: AGOhub, 12 Hoa Ma, Hanoi.

Digital storytelling workshop: Cutting through the noise (09:00 – 11:30, 08/12)
In an age of information overload, how do one grab people's attention and lead them through the nuances of a complex story? In 2019, two major new categories titled 'World Press Photo Interactive of the Year' and 'World Press Photo Online Video of the Year' are introduced. This is a direct reflection of the development in media production and consumption; and Vietnam's booming online news sites are not lagging behind. In joining this workshop, participants will learn the definition of digital storytelling, examine what constitutes World Press Photo past winning series and get to know how a Vietnamese multimedia journalist gets the job done.
The workshop will be conducted in English and Vietnamese, interpretation available.
Talk: World Press Photo – Legacy & current missions (19:30 – 21:30, 08/12)
This talk by World Press Photo representative Sophie Boshouwers will cover extensively the legacy of this prestigious press photography contest, especially in Vietnam. With recently gained interest in the organization following the exhibition in Hanoi, this event provides a chance for in-depth Q&A regarding World Press Photo's longstanding values, various programs, the annual contest and criteria, furthering the engagement with local audience.
Portfolio review (09:00 – 12:00, 09/12)
This portfolio review is an opportunity for Vietnam-based photographers to present their works to an experienced photographer, photo editor or curator. In a 30-minute session, each register participant will sit down one-on-one with a chosen reviewer and discuss their works at length. This hands-on experience will fill the gaps in conventional education and give participants many key learning points such as industry advice, feedback on a particular project, or information about publishing opportunities.
Guest list:
• Sophie Boshouwers, exhibition manager and curator at World Press Photo
• Duy Phương, independent photographer
• Bình Đặng, independent photographer
(the list is to be updated)
If you're interested, send an email to hello@matca.vn with the title [Register for portfolio review] Your name. Briefly introduce yourself, who you want to show work to and your expectations of the session.
Read more about building your own portfolio, how to prepare for a portfolio review and stay tuned for upcoming updates on Matca.
Screening & panel discussion: Close to home photography, (not) in my backyard
Contrary to popular belief, World Press Photo awards do not only go to stories about areas marked by ongoing violence. There has been a number of winning projects that take place in the photographer's own backyard, which still hold tight to photojournalistic and humanist values without sensationalism. It is important that such stories get to a larger audience for two reasons. First, photographers will be encouraged to look for and tell meaningful stories in their own home country. Second, the perspectives of local storytellers will help the audience contextualize the issues and form a more balanced view of the world.
6 winning series from World Press Photo, together with 3 series from 3 Vietnamese photographers will be screened. Followed is sharing from them and World Press Photo representative about the projects, their motivations and process.
—
Please stay tuned for the full list of speakers on Matca. For more information, please contact hello@matca.vn or our facebook.
The World Press Photo Foundation, based in Amsterdam, is a global platform connecting professionals and audiences through trustworthy visual journalism and storytelling. It was founded in 1955 when a group of Dutch photographers organized a contest ("World Press Photo") to expose their work to an international audience. Since then the contest has grown into the world's most prestigious photography competition, reaching millions of people every year. It receives support from the Dutch Postcode Lottery and is sponsored worldwide by Canon.
Matca (matca.vn) is a gathering space for the Vietnamese photographic community to seek inspiration and bounce ideas off one another. Besides a regularly updated online journal that showcases and discusses local photographic works, Matca has been coordinating short workshops, portfolio reviews and talks on photography practices.