The Embassy of the Kingdom of the Netherlands is bringing the World Press Photo Exhibition 2018 to Vietnam from 16 June to 6 July 2018 at Vietnam Fine Art University, 42 Yet Kieu, Hanoi. The Netherlands – in cooperation with the Vietnam Journalists' Association (VJA) – is organizing this exhibition on the occasion of 45 years of diplomatic relations with Vietnam in 2018. Within the scope of this special event, Matca will be hosting of a full day of activities on Sunday, 17 June 2018, and guided tours on three weekends from 16th June to 6th July.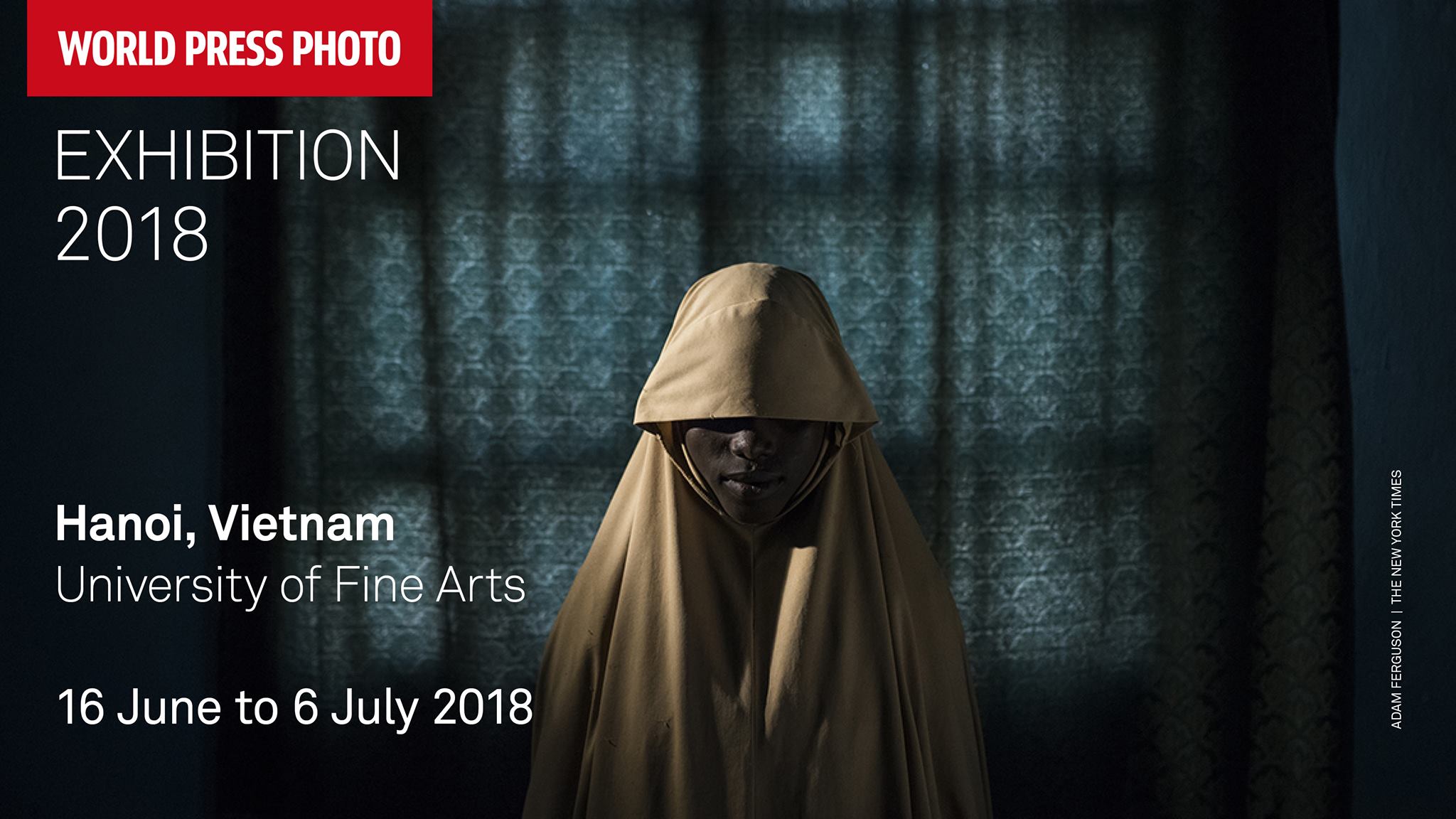 World Press Photo Exhibition (16 June to 6 July 2018, daily 9:00 – 19:00)
Founded in 1955 in Amsterdam, the World Press Photo Foundation has become a global platform connecting professionals and audiences through visual journalism and storytelling. The annual contest has grown into the world's most prestigious photo competition. The World Press Photo Exhibition is a world renown exhibition of the best and most memorable press photographs from around the globe, showcasing stories that make people stop, feel, think and act. The exhibition visits over 100 major cities around the world, and attracts 4 million visitors every year. For the first time in 15 years, the exhibition comes to Vietnam.
The exhibition this year consists of 130 photographs, in a number of categories (e.g. Contemporary Issues, Environment, General News, Nature, People, Sports, etc.). Previous winners whose works was included in the World Press Photo Exhibition, and who might be known to the Vietnamese audience, include: Vietnamese-American photographer Nick Ut, who took the famous photo of Phan Thi Kim Phuc (1972); German photographer Carsten Peter who documented one of the first expeditions in Son Doong cave (2010); and Vietnamese photographer Maika Elan who focused on the personal life of gay couples in Vietnam in her story 'The Pink Choice' (2013). The 2018 winners were announced at the World Press Photo Awards Show on the evening of 12 April in Amsterdam, where Venezuelan photographer Ronaldo Schemidt was honoured as the winner of the World Press Photo 2018.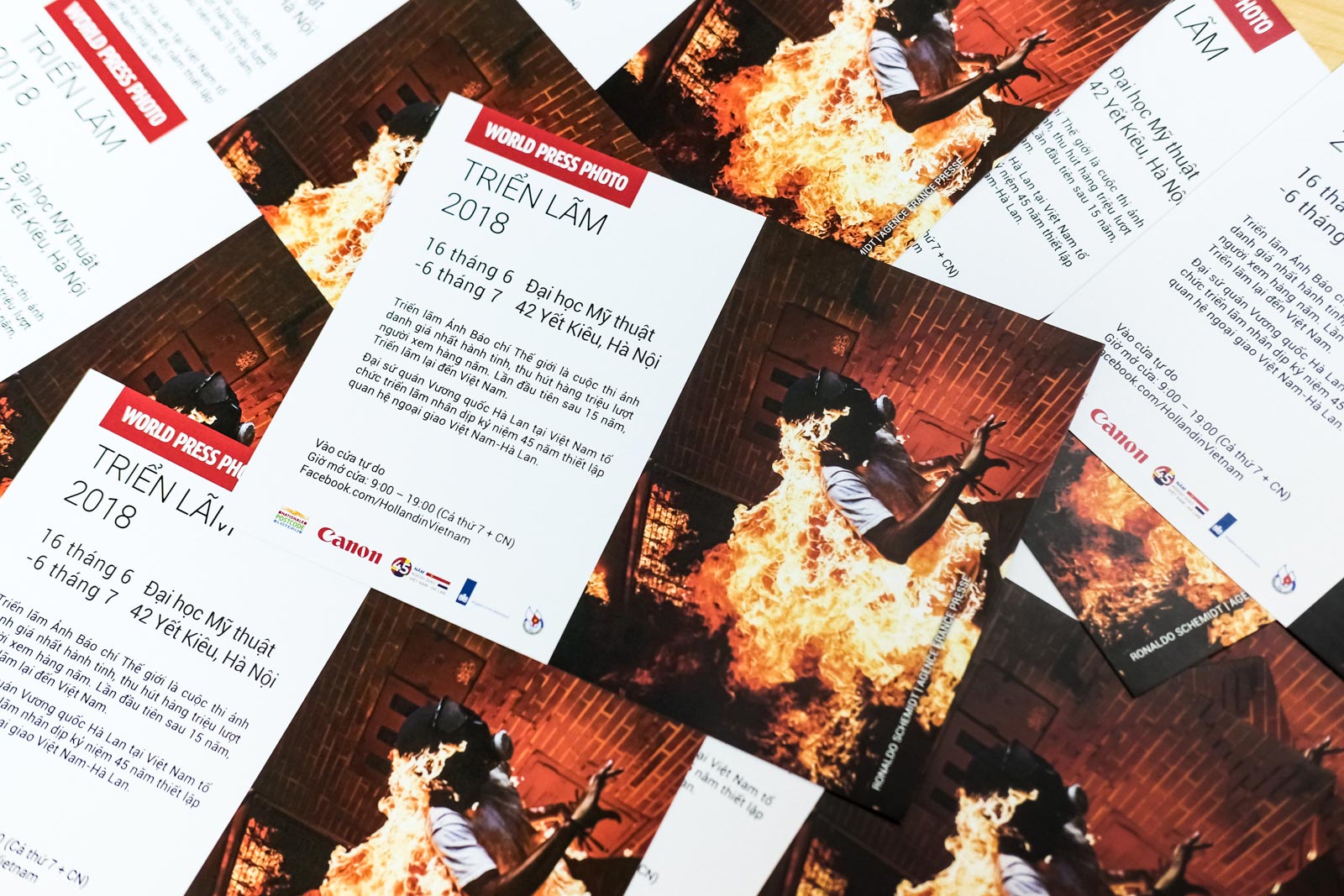 Portfolio Review & Panel Discussion (17 June 2018)
Portfolio Review (9:00 – 12:00)
This portfolio review is a rare chance to introduce your works to and receive direct feedback from the most highly respected professionals based in Vietnam. Reviewers are a diverse group of renowned photographers and editors working in different fields including photojournalism, documentary photography and fine art, whose names are to be revealed in time. This hands-on experience will fill the gaps in conventional education and give participants many key learning points such as industry advice, feedback on a particular project, or information about opportunities to publish a body of work.
Above all, it will be an opportunity for people in the photographic community to meet, hang out, exchange ideas and have fun.
Guest list:
Sophie Boshouwers – Exhibition manager and curator, World Press Photo
Maika Elan – Documentary photographer, winner of World Press Photo 2013
Jenny Vaughan –AFP Vietnam bureau chief / Linh Phạm –Photojournalist, contributor to international news outlets
Hải Thanh – Photographer, photography educator
Jamie Maxtone-Graham – Art photographer, co-founder of Hanoi Doclab
Đồng Hiếu, photography lecturer at Hanoi Academy of Theatre & Cinema
Đinh Cẩm Ly – Photo editor at Heritage inflight magazine
Nguyễn Tiến Anh Tuấn– News and sports photojournalist.
If you're interested, send an email to [email protected] with the title [Register for portfolio review] Your name. Briefly introduce yourself, your expectations of the session and who you want to show work to.
Read more about building your own portfolio, how to prepare for a portfolio review and stay tuned for upcoming updates on Matca.
Panel discussion (15:00 – 17:30): Photojournalism – Untold Stories
In recent years, the Internet and social media boom have transformed the photography industry in general and photojournalism in particular. A developed market for photography also means oversaturation, new challenges, and new requirements for storytelling for photographers. In the meantime, the interest in photojournalism jobs among the young generation has grown exponentially; however, information about how the industry runs as well as job opportunities are hard to come by. As part of World Press Photo Exhibition 2018 in Hanoi, Matca will be hosting Photojournalism – Untold Stories with a view to connecting professional photographers to the audience.
5 highly respected Vietnamese photographers' will share their own approaches to visual journalism, the role of education, work ethics and how they thrive in both local and international industry. Despite being colleagues, they have started out at different times and pursued different career paths: working for local newspapers, contributing to international news agency or choosing to freelance. Please stay tuned for the full list of speakers on Matca.
Guided tours
Guided tours of the exhibition provided by volunteers from Matca will take place during these time:
Saturday, 16/06/2018 2:00 – 2:30 PM and 4:00 – 4:30 PM
Sunday, 17/06/2018 10:00 – 10:30 AM
Sunday, 24/06/2018 10:00 – 10:30 AM and 2:00 – 2:30 PM
Sunday, 01/07/2018 10:00 – 10:30 AM and 2:00 – 2:30 PM
These tours will be conducted in Vietnamese & English and open for the public. In order to join, you just need to show up on time.
For more information, please contact: [email protected] or facebook.