From 6 to 15 December 2019, the World Press Photo 2019 exhibition takes place around Hoan Kiem lake, bringing the year's best visual journalism to Hanoi, Vietnam. Now in its 62nd year, the exhibition features over 150 winning single images and photo stories that cover a broad range of issues, from immigration and conflict to wildlife and and gender identity.
With the support of the Kingdom of the Netherlands in Vietnam, Matca is again teaming up with World Press Photo to organize a series of public photography programs, including a portfolio review, a projection night, lectures and discussions.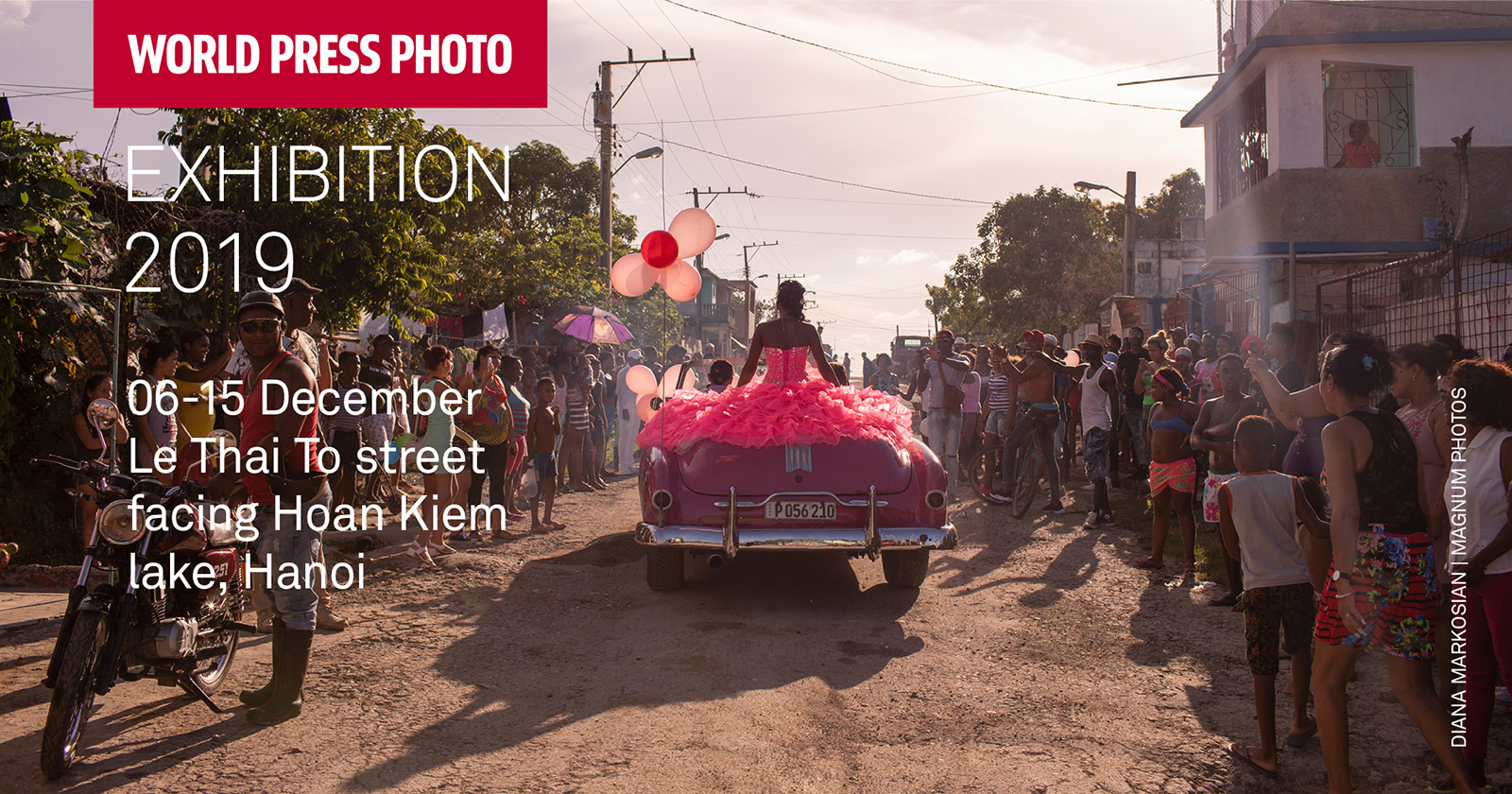 World Press Photo Exhibition 2019
Venue: Le Thai To street facing Hoan Kiem lake
Time: December 6 – 15, 2019
Visit the World Press Photo Exhibition 2019 in Hanoi, Vietnam, showcasing the stories that matter with photography from the 62nd annual World Press Photo contest. The 2019 exhibition features the World Press Photo of the Year, and for the first time, the World Press Photo Story of the Year. The winners were chosen by an independent jury that reviewed more than 78,801 photographs entered by 4,738 photographers from 129 countries.
Exhibition tours
Join the weekend exhibition tours led by Matca contributors to hear about the stories behind winning images. The tours will take place in English and Vietnamese, in the following date and time:
Saturday, December 7, 2019 10:00 – 10:30 and 14:00 – 14:30
Sunday, December 8, 2019 10:00 – 10:30 and 14:00 – 14:30
Saturday, December 14, 2019 10:00 – 10:30 and 14:00 – 14:30
Sunday, December 15, 2019 10:00 – 10:30 and 14:00 – 14:30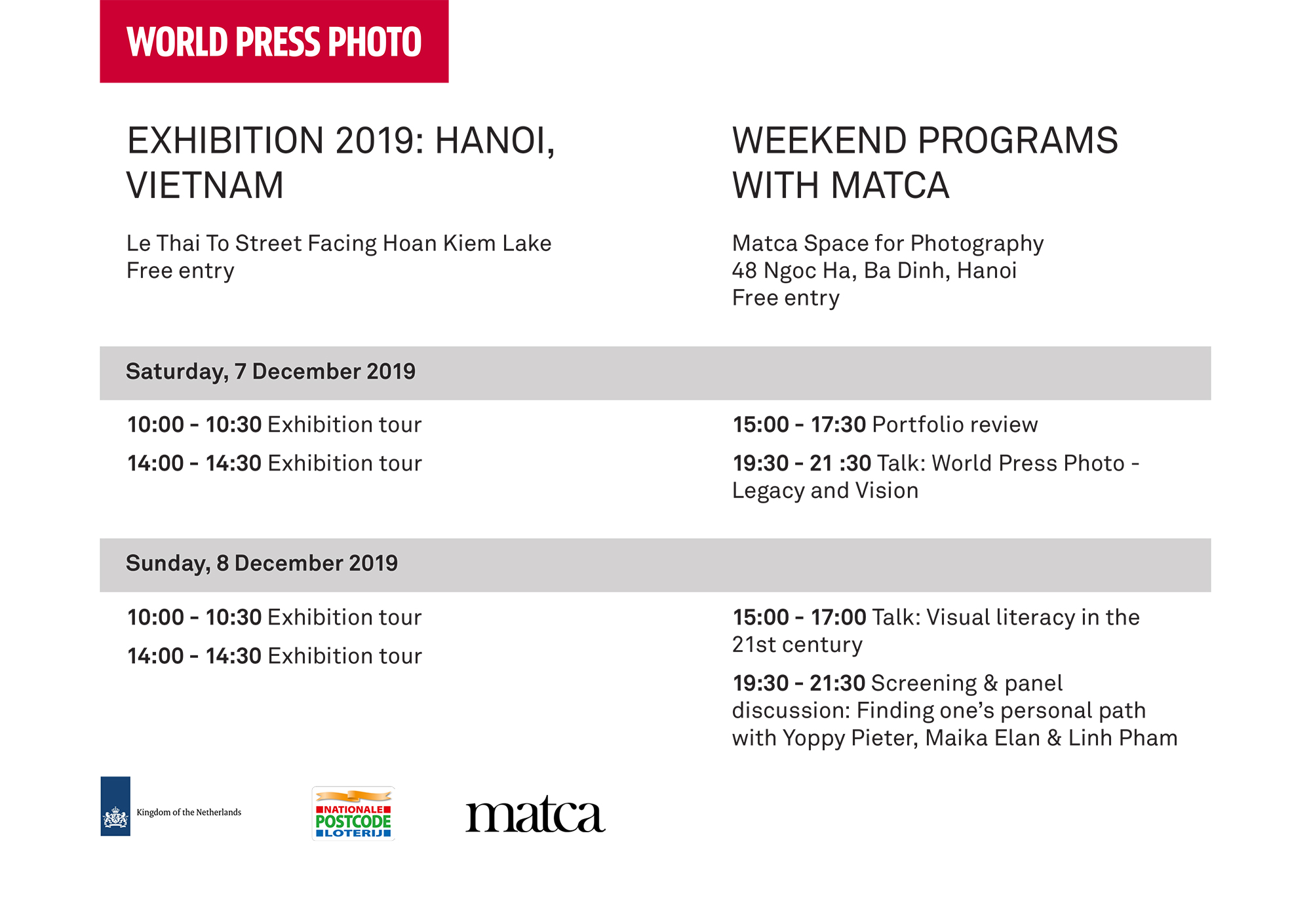 Weekend Programs with Matca
Venue: Matca Space for Photography, 48 Ngoc Ha, Hanoi
Time: December 7 – 8, 2019
Portfolio review (15:00 – 17:30, Saturday, December 7)
This portfolio review is an opportunity for Vietnam-based photographers to present their work to veteran photographers, photo editors and curators. In this 30-minute, one-on-one session, each participant will discuss their work with a reviewer of their choice to receive industry advice, feedback on a particular project, or information about publishing opportunities.
Reviewers include:
Sanne Schim van der Loeff, exhibition manager and curator at World Press Photo
Maika Elan, 1st prize winner of 2013 World Press Photo in Contemporary Issues
Yoppy Pieter, 6×6 Southeast Asia and Oceania talents 2018 & Mai Nguyên Anh, visual artist
Nguyễn Thế Sơn, visual artist and lecturer at Vietnam Fine Arts University
Manan Vatsyayana, photo chief at AFP & Linh Phạm, independent photojournalist
Please register by filling this form before 30 November. The form will automatically close after receiving 30 applications.
Read about building your own portfolio and how to prepare for a portfolio review.
Talk: World Press Photo – Legacy and Vision (19:30 – 21:30, Saturday, December 7) 
As one of the best known photojournalism contests in the world, the World Press Photo Foundation has tried to reflect the changing shape of the industry. In this presentation, we will look at how quality visual journalism helps provide accurate and independent reporting, how accurate and independent reporting is what distinguishes a free press, and how a free press is the vehicle that secures freedom of speech. We will consider the importance of ethics and diversity in quality visual journalism: What are ethical guidelines that a photojournalist might consider, and why are they important? Also, how can a diverse industry contribute to diverse storytelling?
Talk: Visual literacy in the 21st century (15:00 – 17:00, Sunday, December 8) 
We live in a visual age where we are constantly surrounded by images: around us, in our homes and on our phones. How we understand these images, however, is still open to much debate. Visual literacy is defined as "the ability to construct meaning from everything we see", but how exactly do we do that? In this presentation, we will explore the aesthetics, power and impact of photography through examples of current and former World Press Photo winners. 
Screening & Panel discussion: Finding one's personal path with Yoppy Pieter, Maika Elan & Linh Pham (19:30 – 21:30, Sunday, December 8) 
The screening features 15 emerging photographers from the World Press Photo's 6×6 Global Talent Program and Joop Swart Masterclass 2019. Introduced for the first time in Hanoi, Vietnam, their personal projects connect the local audience to a wide range of topics and visual approaches in contemporary photography around the world. 
The following panel discussion includes insights into the recent 6×6 program and Joop Swart Masterclass. Three 6×6 photographers Yoppy Pieter (Indonesia), Maika Elan and Linh Pham (Vietnam) will take turns to discuss key issues of working as freelance photographers in the region, such as finding educational and professional opportunities, building connections, and striking a balance between personal and commissioned work.