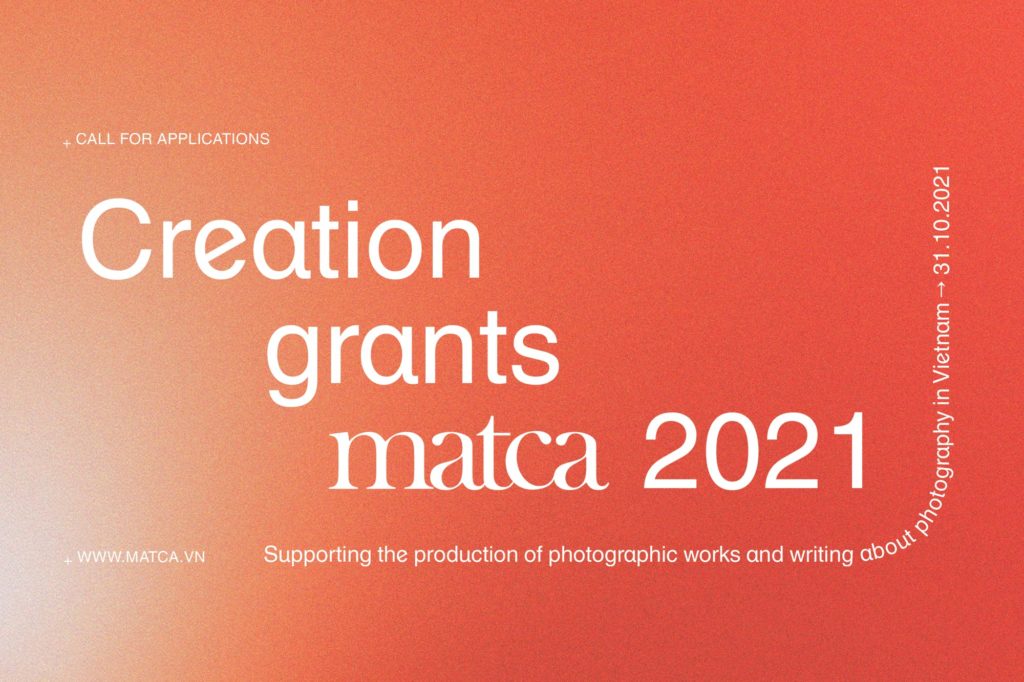 Deadline for submission: 31.10.2021
Announcing recipients: 15.11.2021
Project duration: 12.2021 – 05.2022
---
❤️🙏✨
This grant is for Vietnamese nationals only. If you want to contribute to promoting the photography scene in Vietnam, please consider sponsoring the next iteration. Drop us an email for further information at hello@matca.vn.
Dear beloved readers,
After 5 years closely involved in the local photography scene, we are thrilled to present the annual Matca Creation Grant. As photography practitioners ourselves, we deeply understand the challenges of pursuing and sustaining an independent career in Vietnam. Our Creation Grant has been established as a way to pay it forward and to be a launching pad for promising talents, offering necessary resources to jointly create things of value.
The inaugural round in 2021 supports one photographer and one writer to produce a body of work and a series of articles on photography from December 2021 to May 2022. The grant includes: 
Two cash prizes of 10,000,000 VND each 
Mentorship from the team behind Matca
Exhibition/publication opportunities and promotion on all channels.  
Eligibility
The grant is open to all local Vietnamese living in and outside Vietnam, regardless of age, gender, educational background, or professional experience.
Submission
Please submit your application, portfolio, and CV via this form before 31.10.2021. Recipients will be notified by 15.11.2021.  
For photographic work
The grant is open to both new or ongoing photographic work of all genres and themes. Photography can be part of a multimedia project. We look for sharp observation and a distinct visual style.
The recipient is not expected to complete the project in 6 months, however, visible progress must be shown.
For a series of articles
Submit a pitch for a digital or print publication project consisting of 2 to 5 articles on photography connected to Vietnam. Topics can include but are not limited to: 
Notable phenomena in past or contemporary practices
Photography as a form of visual art
A little known piece of local photography history
We look for a personal point of view, strong reporting skills, and the ability to craft well-structured pieces using engaging, accessible language.
Criteria for selection
Originality, relevance, and feasibility of proposal (50%)
High commitment to the medium evidenced by past works (50%)
Stay hydrated and submit before the deadline. We look forward to seeing new faces! For any questions, please contact hello@matca.vn.