Similar to the majority of events in times of COVID-19, the panel discussion Utilizing Online Platforms for Photojournalism took place on Zoom. Participated by two special guests holding key positions in the photojournalism industry, it traversed from local to international issues. Sanne Schim van der Loeff, the lead curator at the World Press Photo, kicked off the meeting by presenting how their exhibitions and educational activities have adapted to the travel restriction. Subsequently, Phuong Hoang, the Berlin-based photo editor at VnExpress, shared her experience of remotely managing the photo team in Vietnam.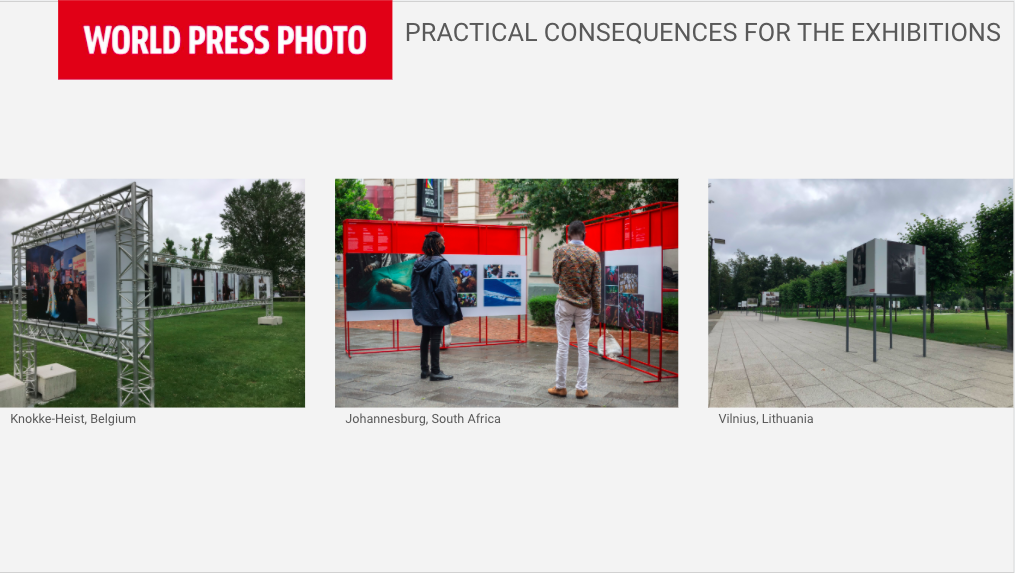 Sanne first began with the challenges brought by the pandemic. This March when the World Press Photo 2020 Contest winners were about to be announced, COVID-19 started hitting Amsterdam, where the World Press Photo Foundation headquartered. Under such a circumstance, the award ceremony was moved online. Instead of being honored on stage, hundreds of photographers from all over the world joined a conference call from their home.
Many planned exhibitions were forced to cancel or postpone. This caused great pressure on the organization since they largely relied on exhibition rentals for financial support. Instead of having a hundred exhibitions worldwide, in 2020, that number was halved.
On a positive note, in times like these, physical exhibitions had proved their longstanding values. Many local partners acted quickly and managed to host exhibitions in accordance with health guidelines. The exhibitions had clear signposts to maintain the recommended distance among visitors or moved from indoor to outdoor spaces to minimize exposure risk. While Sanne was able to coordinate the exhibitions from afar, she felt she missed out on many learning opportunities that usually happen in person, on-site, and through direct contact with locals.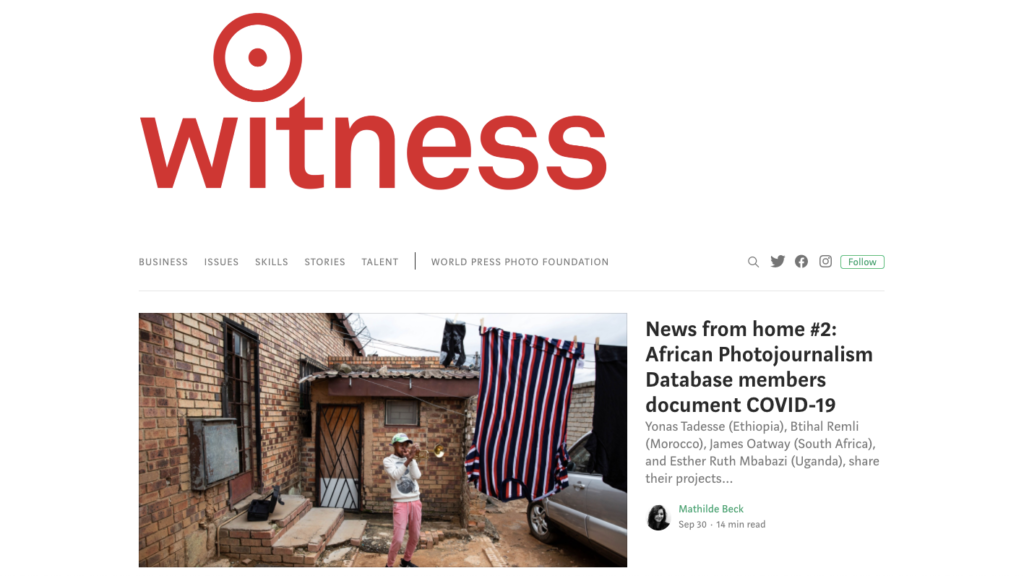 In addition to Witness, their online magazine centered on sharing discussions and resources for emerging photographers, other major educational programs are taking place in cyberspace. In the case of the Joop Swart Masterclass, participants attended Zoom sessions over the course of four months, instead of staying in Amsterdam for one week.
Following the agenda to foster diversity, in this special iteration, the number of participants was doubled from 12 to 24. The theme this year, Reset, provided participants with the opportunity to reflect on the impact of COVID-19 on their own life and community. Despite the physical distance, the new model allowed mentors and organizers to closely follow the participants' creative progress in their projects.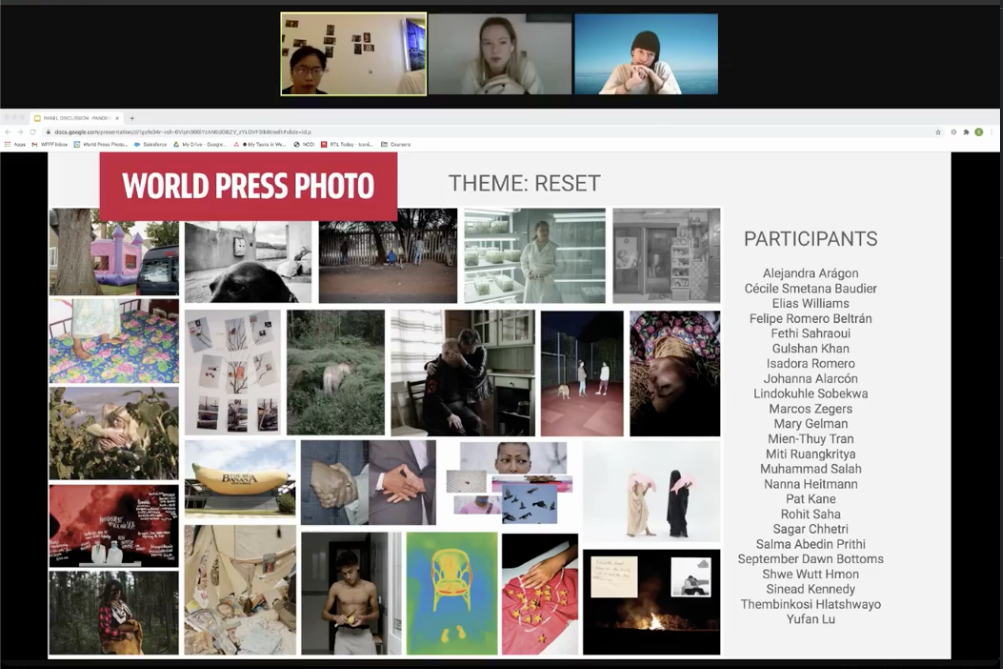 Sanne observed that while current social distancing measures were temporary, they might have a long-lasting impact on the photojournalism industry. As established photographers could no longer travel for assignments overseas, local photographers started taking up jobs. Photographers might also be driven to look into their immediate surroundings instead of covering hotspots elsewhere. Ending her presentation, Sanne put forward a question for everyone present in person and online: Could it be that COVID-19 news is overshadowing other equally important stories?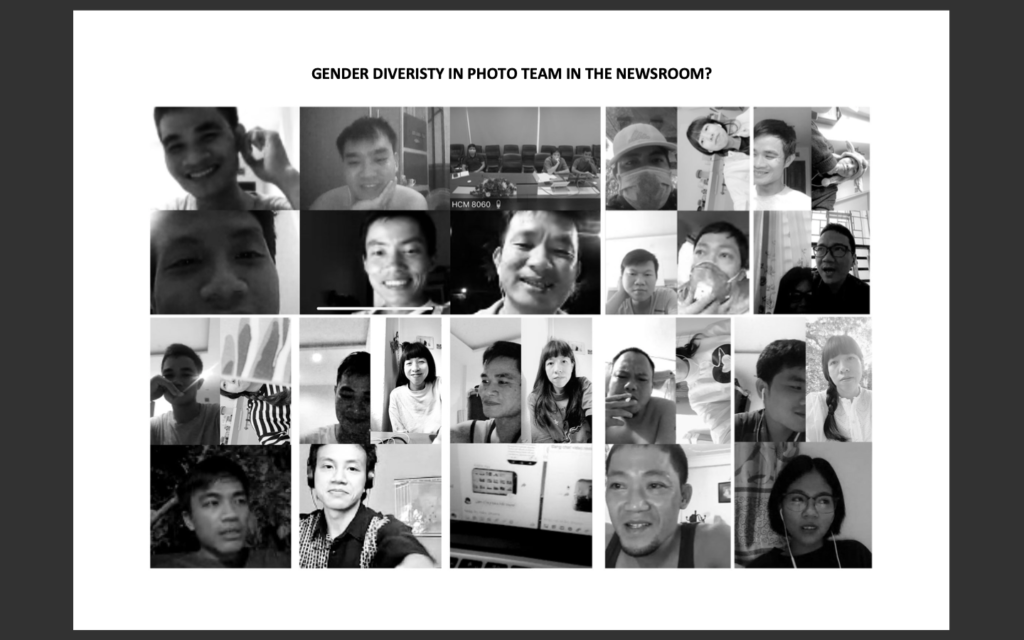 Phuong Hoang gave her answer based on her unique experience of working as a remote photo editor for a Vietnamese online newspaper. Between March and June, while there were few cases of COVID-19 in Europe, Vietnamese newspapers were already covering the disease as a critical threat. When the situation got relatively under control in Vietnam and local news desks returned to usual current affairs, the pandemic started making the headlines in Europe. It became evident that the press always catered to its audience's foremost concerns.
At the start of 2019, Phuong took up the position as a photo editor and visual consultant to VnExpress after working as a journalist for 10 years. She was the first photo editor there and also the first staff to work full-time online. As Phuong had been working remotely, the pandemic did not significantly change her job. Besides the constant pressure of working for one of the biggest newspapers in Vietnam, the difficulties are mostly technical, such as time zone difference and unstable Internet.
Her daily tasks included monitoring VnExpress' visual quality, building a core photo team, establishing a set of guidelines, and encouraging different approaches to storytelling. Phuong also took steps to avoid shock value photojournalism and to protect the identity of vulnerable subjects, as those were essential factors to consider before publishing in the age of instant information.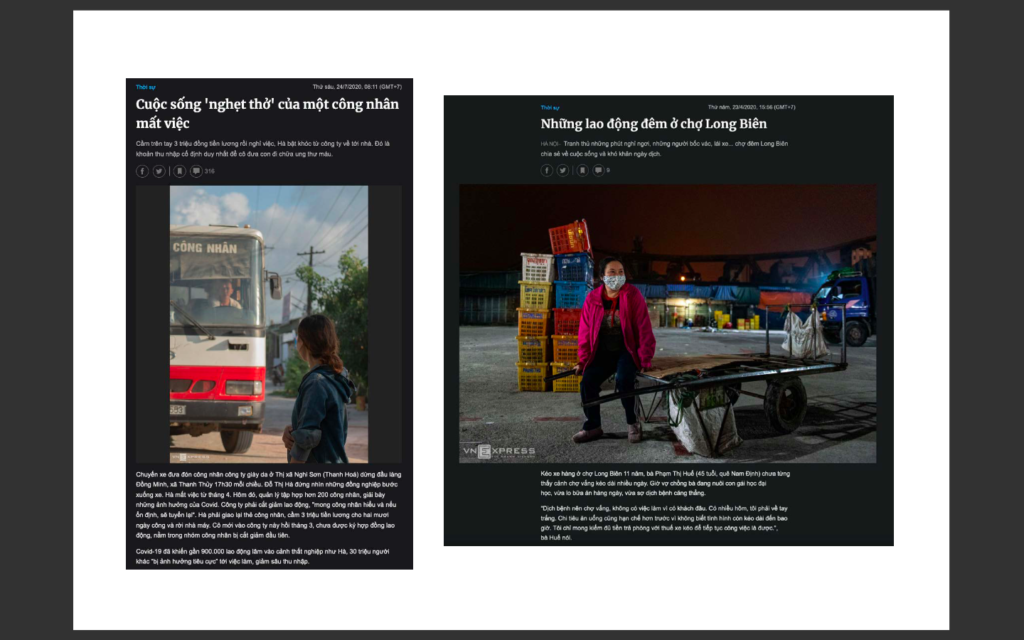 Phuong presented an example of the collaboration between the photographer and herself via a photo essay about COVID-19-induced unemployment. Instead of showing the then-empty Long Bien market, Phuong assigned the photographer to produce a series of environmental portraits depicting laborers next to their respective tools of trade, shedding light on individual struggles. Another example was VnExpress' coverage of the historic flood in Central Vietnam in November. Two photojournalists were sent to the area and together with local reporters, they were able to cover a wide range of perspectives, capturing different aspects of the destruction and highlighting the human stories that persisted in tragedy.
Concluding the discussion, Sanne put forth new opportunities in photojournalism. In 2017, the World Press Photo Contest added the new Digital Storytelling category, recognizing and encouraging the integration of multimedia into traditional reporting. Strategies include mobile apps, VR applications, and interactive websites. Digital tools that had been used sparingly will now come into play, as journalists finetuned their craft, and as it became increasingly necessary to reach stories from afar. The exclusively online newspaper VnExpress was undoubtedly a part of this movement.
The pandemic has upended the existing systems of many industries. However, the situation also pushed us to rethink and redesign the ways of working we are accustomed to but might have become outdated in our ever-changing world. Sanne and Phuong's experiences in adjusting to and developing from the new normal showed that regardless of the platforms, the human connection has always remained central to our work.
This event is part of the World Press Photo Exhibition: Best of Three 2018 – 2020 in Hanoi, supported by the Kingdom of the Netherlands in Vietnam.
---
Sanne Schim van der Loeff is the Lead Curator and Exhibitions Manager at World Press Photo Foundation. In addition to taking charge of their traveling exhibitions, she focuses on the exhibitions that require a customized element or present new content. This includes the flagship exhibition in Amsterdam and those showing work from the 6×6 Global Talent Program and past World Press Photo of the Year winners.
Phuong Hoang uses photography as well as other approaches to document and share stories about social and environmental issues, focusing on the underprivileged. Adopting multi-media techniques such as interviewing, researching, and data-analyzing from her 14-year journalism background, she explores her subject matters conceptually and critically, with a touch of humor. She has several projects in progress: an investigative study about domestic violence, a research about microplastics, and a photobook of a unique shelter for deaf teenagers in central Vietnam.