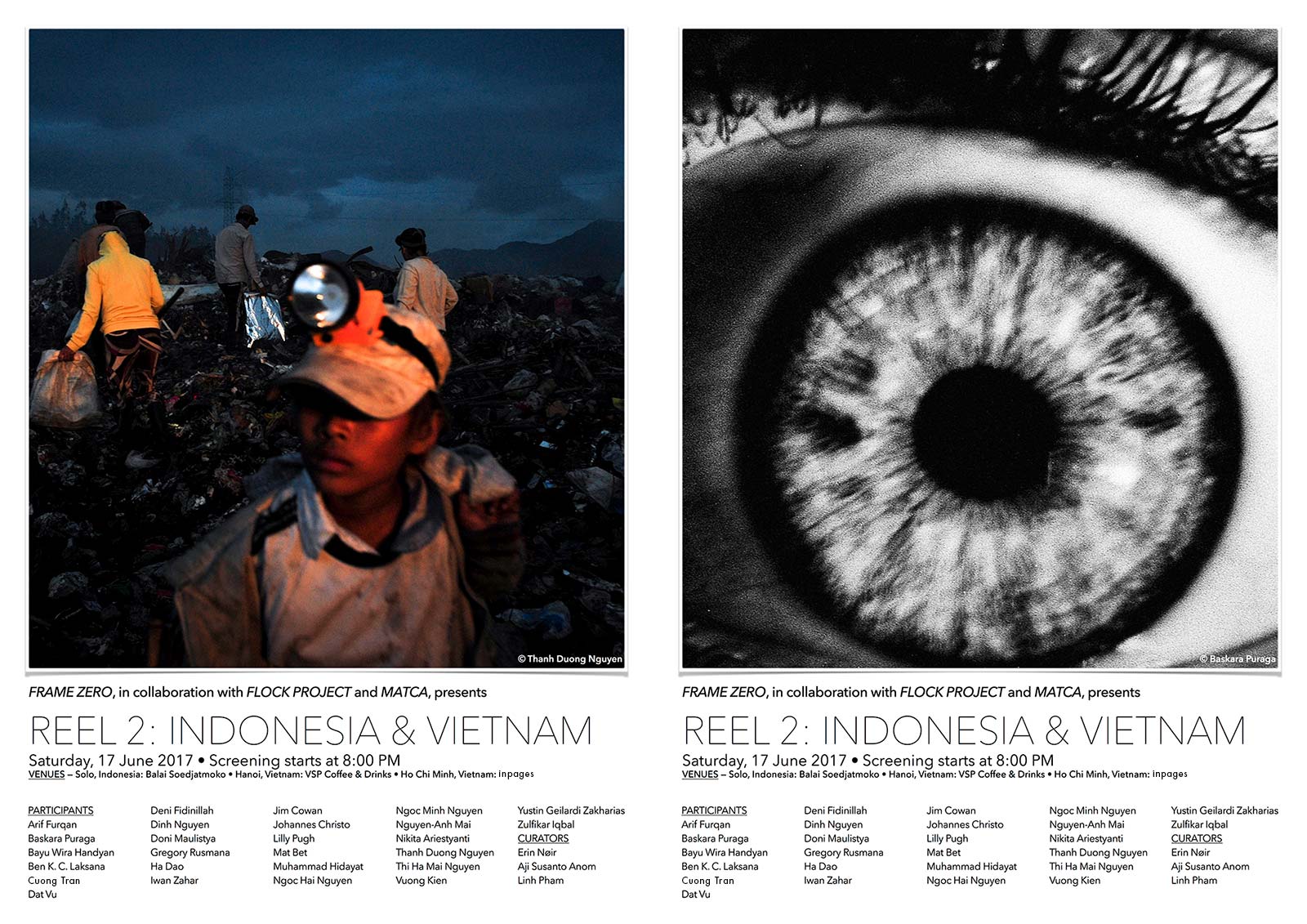 The second installment of The Reel Series is a joint effort by Frame Zero, Flock Project and Matca. Reel 2 will be featured in three venues, one in Indonesia and two in Vietnam, and will be divided into two categories: about the self / autobiographical and open theme. Sharing from participating photographers about their works and from organizers about their project will take place during breaks of the slideshow.
We are delighted to feature 26 series from Vietnam and Indonesia by 26 photographers:

Participants from Vietnam:
– Cuong Tran (Ho Chi Minh City)
– Dat Vu (Ho Chi Minh City)
– Dinh Nguyen (Ho Chi Minh City)
– Ha Dao (Hanoi)
– Jim Cowan (Ho Chi Minh City)
– Lilly Pugh (Ho Chi Minh City)
– Mat Bet (Ho Chi Minh City)
– Ngoc Hai Nguyen (Ho Chi Minh City)
– Ngoc Minh Nguyen (Hanoi)
– Nguyen-Anh Mai (Hanoi)
– Thanh Duong Nguyen (Nha Trang)
– Thi Ha Mai Nguyen (Hanoi)
– Vuong Kien (Ho Chi Minh City)

Participants from Indonesia:
– Arif Furqan (Yogyakarta)
– Baskara Puraga (Bandung)
– Bayu Wira Handyan (Semarang)
– Ben K. C. Laksana (Wellington)
– Deni Fidinillah (Yogyakarta)
– Doni Maulistya (Yogyakarta)
– Gregory Rusmana (Solo)
– Iwan Zahar (Jakarta)
– Johannes Christo (Bali)
– Muhammad Hidayat (Banda Aceh)
– Nikita Ariestyanti (Yogyakarta)
– Yustin Geilardi Zakharias (Yogyakarta)
– Zulfikar Iqbal (Jakarta)
Date & time:
Saturday, 17th June 2017.
19:30 Opening reception
20:00 – 20:45 Projection of works from Indonesia
20:45 – 21:15 Break
21:15 – 22:00 Projection of works from Indonesia
After 22:00 Q&A session with participating artists.
Venue:
– Hanoi, Vietnam – VSP Coffee & Drinks – 22 Nguyen Quang Bich, Cua Dong.
– Ho Chi Minh, Vietnam – inpages, 4 Le Van Mien, Thao Dien, district 2. With inpages, Matca organizes an exhibition of chosen works and a small cocktail party in the opening night.
– Solo, Indonesia – Balai Soedjatmoko
Please follow our event on Facebook for further updates!
About The Reel Series:
The Reel Series is a synchronized showcase of photo projections held between two countries. Initiated by Frame Zero – Asia's Online and Print media on Photography – and curated by Manila-born photographer Erin Nøir, the project aims to promote cultural exchange, social awareness, and visual literacy through compelling photo essays.
Each body of work carries a distinct point of view that underscores not just the perceptions of participating photographers, but also everyday life for a particular locale. Key features of cultures and nations are exhumed, whether directly or indirectly, with the manner in which each narrative is presented. Collectively, the slideshows act as heavily nuanced gateways to each participating nation.