Duong Gia Hieu is particularly fascinated by the oddities of daily life. Having worked in a design studio as a graphic designer and photographer, he is trying to strike an unlikely balance between precision and spontaneity in his visuals. The lively vibe of Saigon seeps through his flash-lit playful snapshots of unmistakably Vietnamese aunties' style, rocking facemasks, headscarves and hair bun accessories, among other things. Be it Suboi's latest single artwork or street portraits, Hieu's work is characterized by an experimental and inquisitive attitude.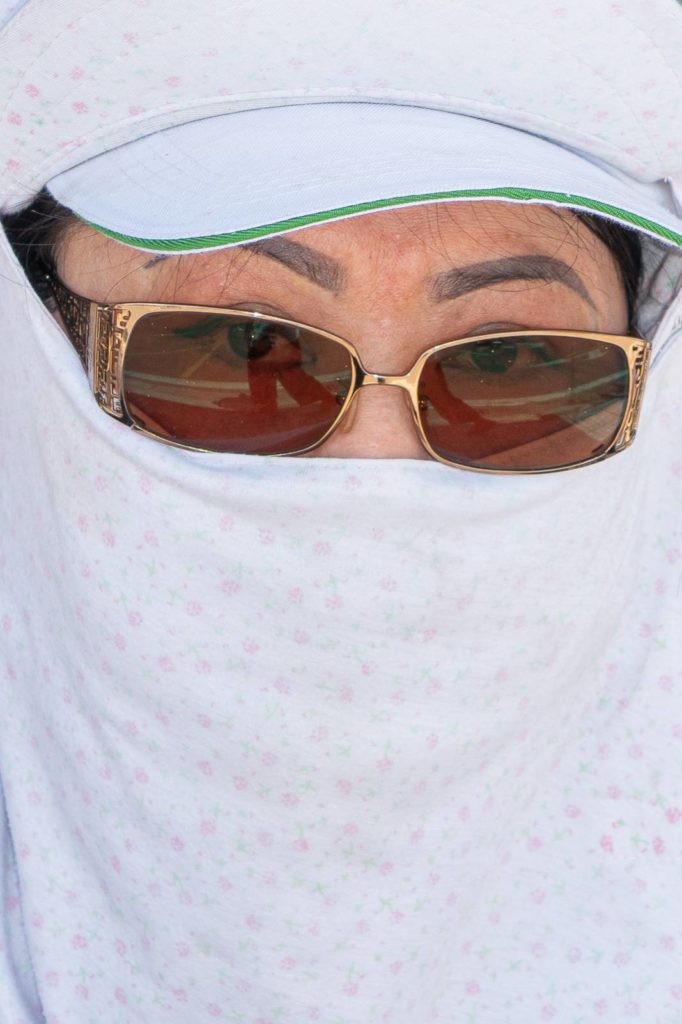 How does your background in graphic design influence your photography?
Working in a design studio has taught me various lessons about the creative process. My experience as a graphic designer has a direct impact on the way I take photographs, specifically on how I conceptualize and frame a project. Any design project needs research, and photography can be a method of observation. You can regard my street style photography project as research about Vietnamese outfits.
Where does your interest in fashion come from?
I actually wanted to study fashion design, which was disapproved of by my family, so I ended up getting an art major. My family thought fashion was frivolous, but to me it's one of the most practical majors since everyone has to wear clothes, right? I still hang out with my friends who study and work in fashion. In my opinion, we often seek inspiration from somewhere far away in the West, while neglecting what is present in our everyday life. For me, distinct features of our culture are invaluable, especially to creatives.
What do you find particularly interesting in the way Vietnamese people dress?
First and foremost, I simply find it beautiful. Vietnamese people have a distinct way of mixing items, like combining floral patterns, or florals with stripes. This style is partly shaped by our living environment, like how facemask, sunglasses, and sunblock jackets and dresses are must-have items in women's wardrobes in Saigon. It is sunny and rainy in many other cities, but such kind of protective clothing does not become an inseparable part of the culture like here. New designs are out everyday. Take the facemask as an example, how it has evolved from covering one's nose to wrapping around one's head. The other day I saw one made out of a piece of cloth with two holes cut out for the eyes.
In both portrait and still life, your photos often highlight odd details. You seem to have an eye for unexpected compositions.
After a while, I'm gravitating towards simple compositions while paying attention to subjects that are visually strong. I relate to the quote "Art is everywhere", it's true that we are surrounded by art in our daily life, I'm just collecting them to put in my photographs.

I'm mainly collaborating with friends on fashion shoots these days. They understand my visual style, and I can closely follow their production process and share their vision. The way I choose and direct models is often inspired by a gesture or a situation I've seen somewhere. Let's say my commercial photos are a staged version of my street photos.
Is the humor intended?
There is already pressure and negativity everywhere we look. So with photography, I often shoot and share funny moments that come as a happy accident. I don't see myself as a funny person though (laugh).
---
Duong Gia Hieu is a photographer and visualizer based in Ho Chi Minh city. He takes inspiration from the streets and culture of Vietnam, which are also overarching themes in his work.
Connect with Hieu via Instagram.