At Hanoi Doclab (2009 – 2019), a center for film and image-making founded by artist Nguyen Trinh Thi, American cinematographer Jamie Maxtone-Graham has hosted a series of long-term photography workshops focused on seeing. Given full creative freedom and encouraged to explore what lies closest to their hearts, participants have created works that could be seen as an ongoing anatomy of our contemporary world. In 2022, three years after Hanoi Doclab's abrupt closure, the workshop took place at Matca Space for Photography. Its continuation, along with the production of works from a new generation of photographers, proved how Hanoi's independent art spaces can persist in different forms, like an underground stream that is as restless and electric as the city itself.
How would you visualize Hanoi as an imaginary urban area? Expanding on previous post-workshop showcases, Autopsy of Days (2013), Second Opinion (2018) and a screening at Doclab's final venue (2019), Remission (2023) offers a variety of responses. In one night in late May at Manzi Art Space, works are presented as a projected showcase with live DJ, without speech or captions, emphasizing their transient, marginal and communal qualities. I read these nine sets of photographs by nine young artists as dystopian entrances into a particular geopolitical center in Southeast Asia, ones that are full of gaps and run along axes of spacetime, across metaphysical surfaces and spiritual domains.
First passage: A New Urban Sprawl Invades and Is Invaded / Resisted by Pastoral Scapes – Nguyen Hoang Kien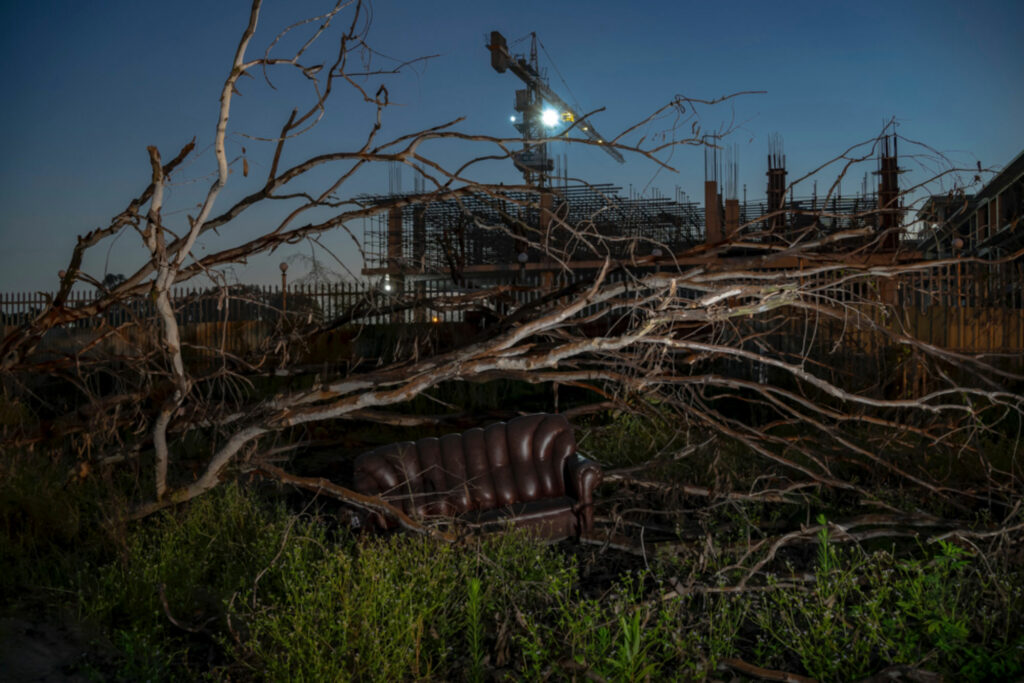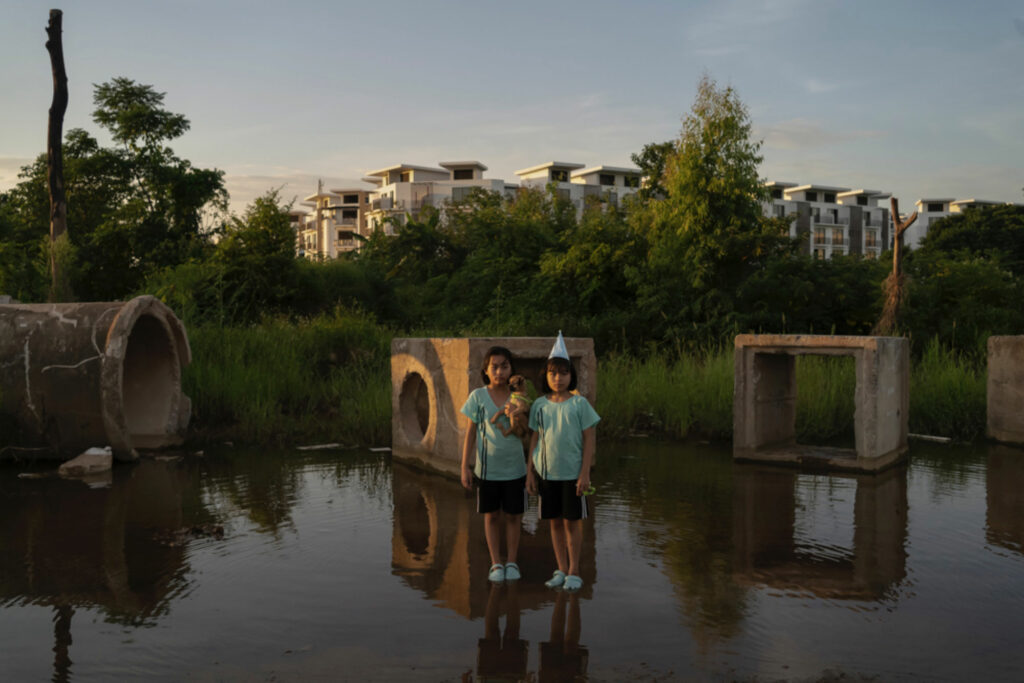 A weather-beaten metal gate rooted in deep green bushes leads our view into a dark construction site of soil and sand. Afar in the horizon are high-rise buildings glowing in the dim light of either dusk or dawn. Here is one among dozens of urban encroachments wildly spread out from major local metropolises in recent years. Similar to many other Southeast Asian countries, urban sprawling is a peculiar situation of Vietnamese urban planning.
A thorough motif of blurred boundaries between urban and pastoral landscapes is repeatedly examined. Golfers practice next to a herd of buffaloes in front of looming skyscrapers in the back. Some residents of mass apartment buildings still hang on to lifestyles of the former time. A father bathes his son in an open pond, which harkens back to a nostalgic countryside pastime. A man strolls along a water edge and shines his flashlight down a shrub at midnight, reminding us of nighttime frog catching after a downpour, a common habit among countrymen in the olden days.
Several photos present a bold and critical look. Kids play on flooded roads or among rusty machines. Roads submerged in water, for which no one seems to blame, are simultaneously the aftermath of slipshod urban planning and the future where the portrayed kids will grow up in. Flight attendants in crimson red ao dai, an icon of Vietnam's charm and hospitality, are pictured as mass replicates displayed along the barbed wire fence of an unfinished construction project. Welcome to the brave new world!
Second passage: Love is Joy or Love is Pain - Bui Duc Thao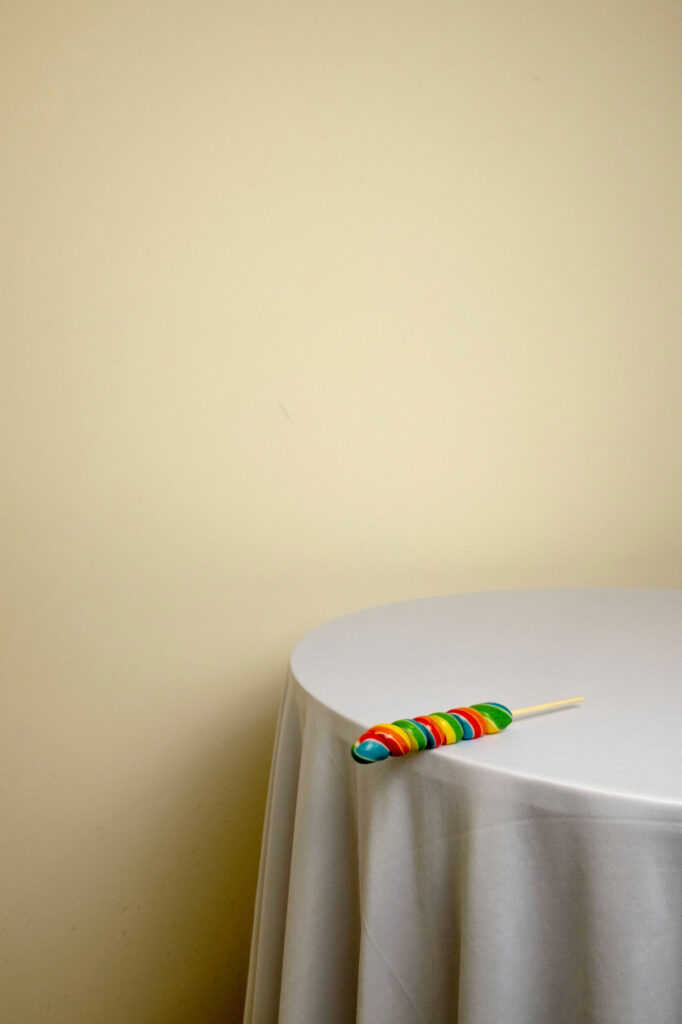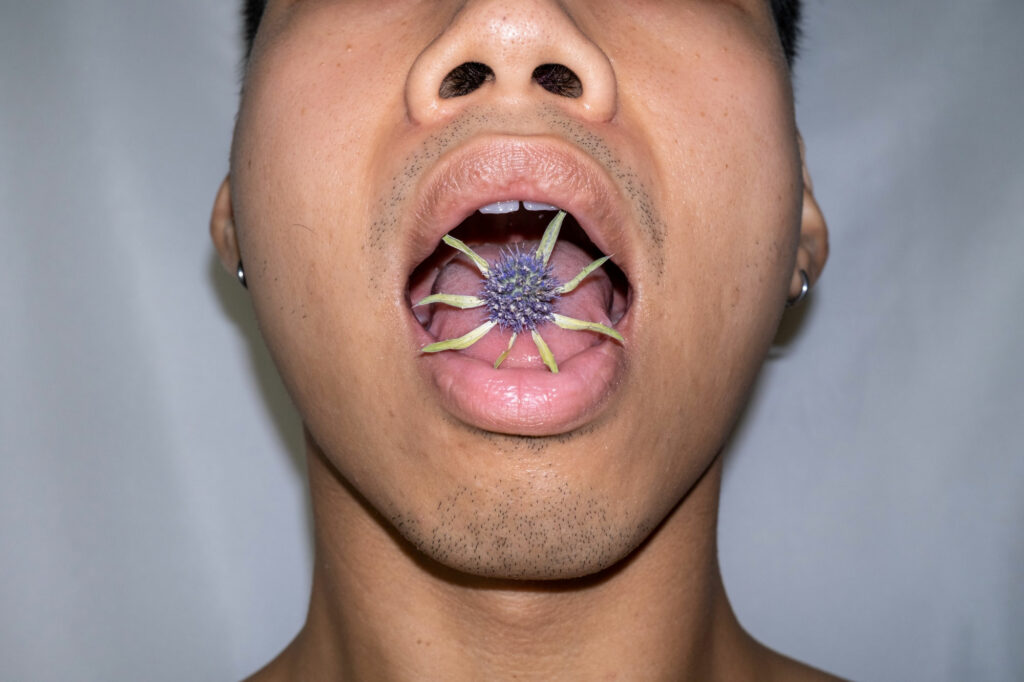 The work conjures a space of a game. Colorful balloons, a glass overfilled with wine, a melting lollipop left in desolation. A boy's mouth agape, lying on his tongue is some type of flower as hairy as his nostril. Does this hint at male sexuality in a society that equates normality with reproductive potential? Instead of the usual food offerings, a silver tray contains phallic-shaped bittermelons. The phallus imagery is repeated in other shots, albeit dismembered, flaccid and clad with toothpicks. The male model sees the same fate: next to a lotus's bent branch, he shoves his head under a table. Recent shifts in society have ushered in sexual liberation, enabling the youth to explore sexuality with more openness and less affliction. The photographs bring out a breath of playfulness and provocation, though notes of pain are also latent.
Third passage: The Twilight Zone - Thach Minh Hieu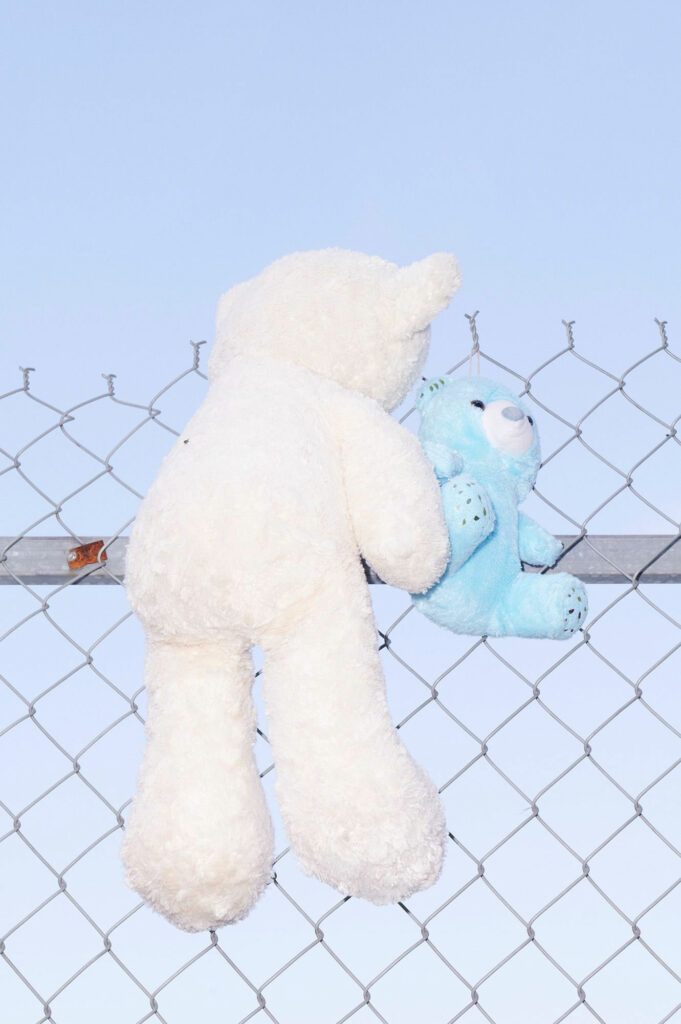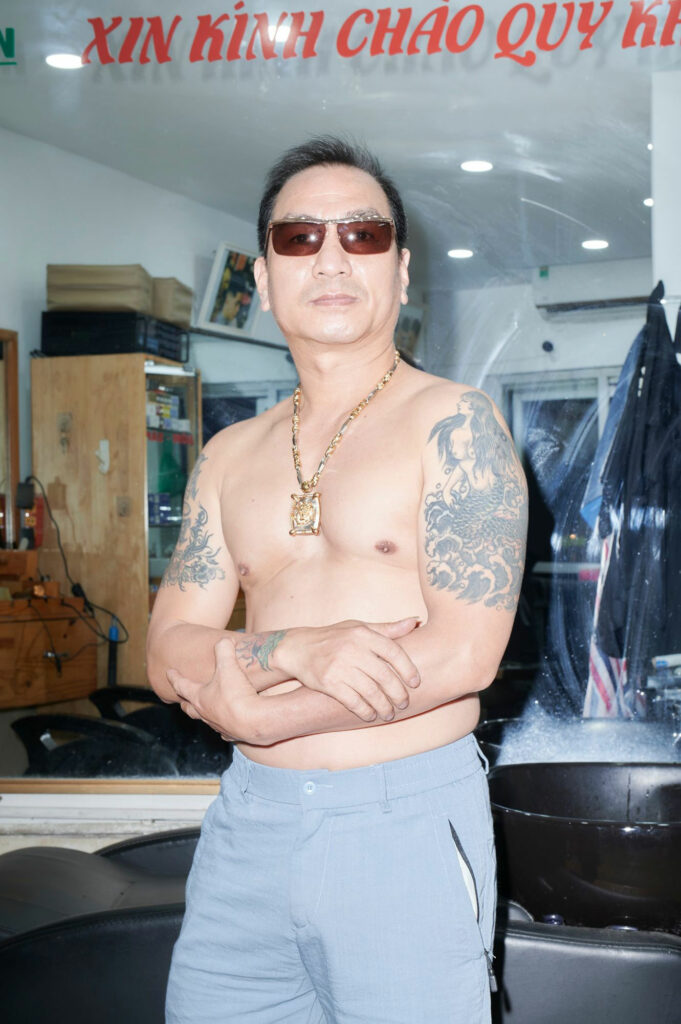 Bright, direct flash transformed Hanoi's daily life into a fantasy realm, with horror and comedy intertwined. Everyday people of all ages take center stage. A guy strikes a pose like a strongman, flaunting his arm tattoo while rocking a pair of brown sunglasses matching his gold chain necklace, actively selling something just like the slogan behind him. Another shot subtly displays the male-female power dynamic. A young woman stands in front of the camera, as a middle-aged man is down on his knees to take her picture while another exercises in the background, the angle emphasizing her literal and figurative higher position. Other images capture haphazard compositions found on the street – absurd but affectionate at the same time.
Fourth passage: Power Decentralized / Deconstructed with Queer Body - Dan Ni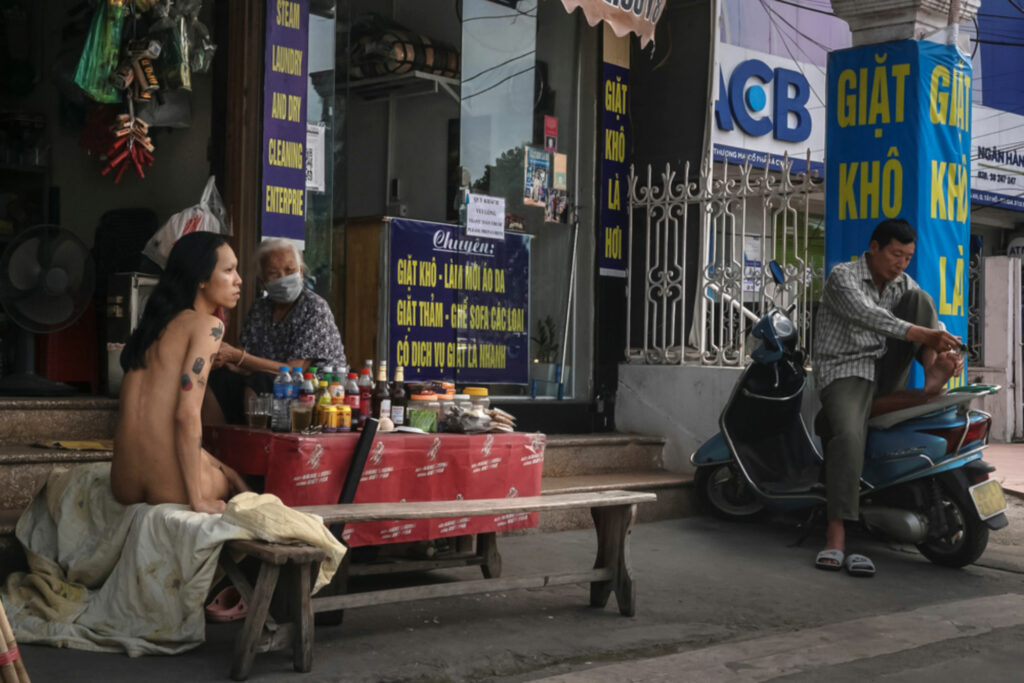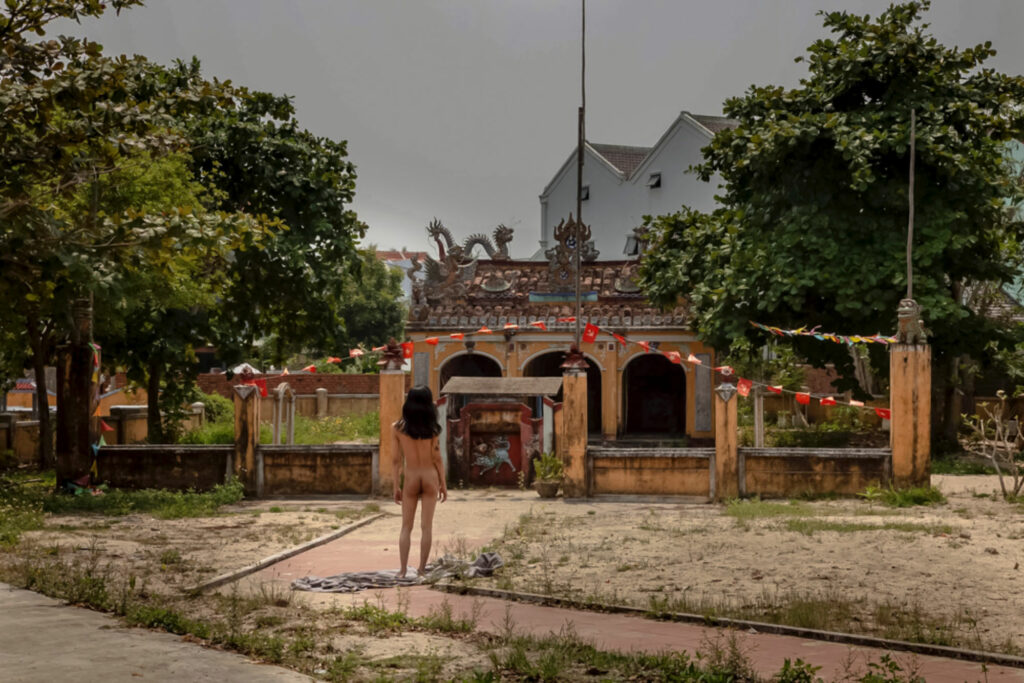 The artist's own nude body appears in various space-times, within both disheveled construction sites and sacred temples. A nonbinary person's body is exposed within the bodies of discrete landscapes, blurring the boundaries between the inside / outside, private / public, and even terrestrial / aquatic. Here, we see the prince(ss) descending onto the mortal realm on a flying carpet made of bed sheets or towels. Appropriating public spaces as well as focal points in the composition, the artist destabilizes the heterosexist structure of Vietnam's society, where time-honored temples stand tall as the emblem of civilization. It seems the imaginary urbanscape we have entered so far has been decentered, its power structure thoroughly shaken.
Other photographs feature other individuals alongside the artist. By mistake or design, they are all eyeing something out of frame, acknowledging neither the subject nor the camera. The queer subject, whose body has been subjected to gazes upon/down to/into, appears ever so equal and at ease. Although now considered relatively LGBTQ+ friendly, Vietnam and other Southeast Asian nations still exercise a soft kind of violence in the name of religion and tradition, smothering queer people – or anyone not conforming to heteronormativity (for instance, Lai Thi Dieu Ha's provocative "Bay Len" performance some 10 years ago). In another photo where the artist inserts themself among construction materials, it looks as though they were fighting an invisible push-pull force while trying to stand still. This particular image together with the rest questions both the past and the future pursuit left hanging in the present.
Fifth Passage: A Desolate Backyard Seen Through a Fiercely Critical Gaze - Hoang Thao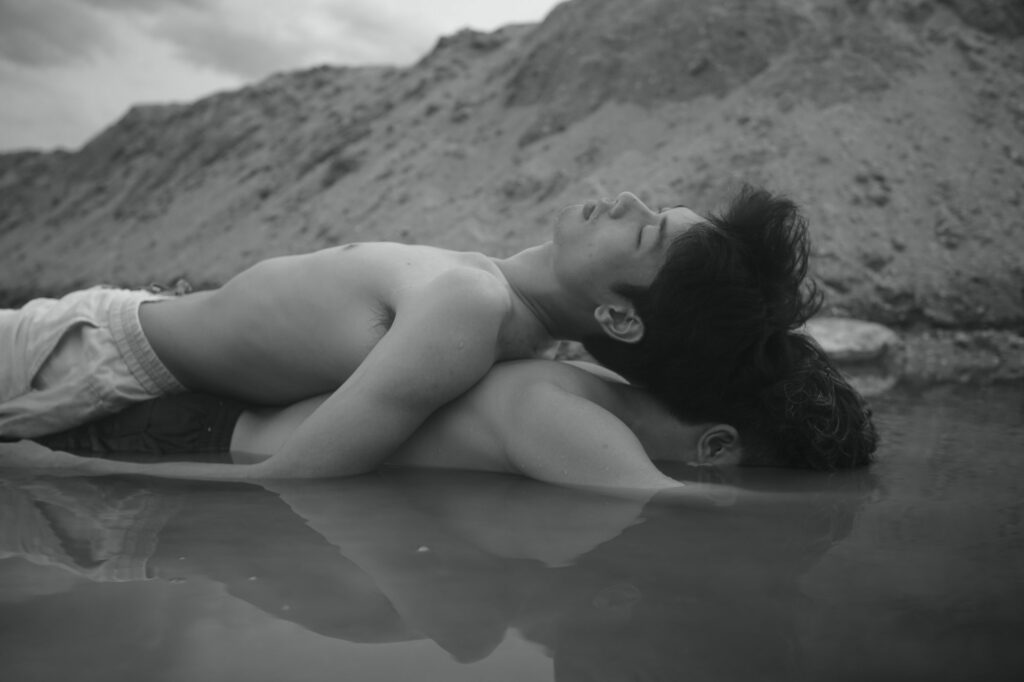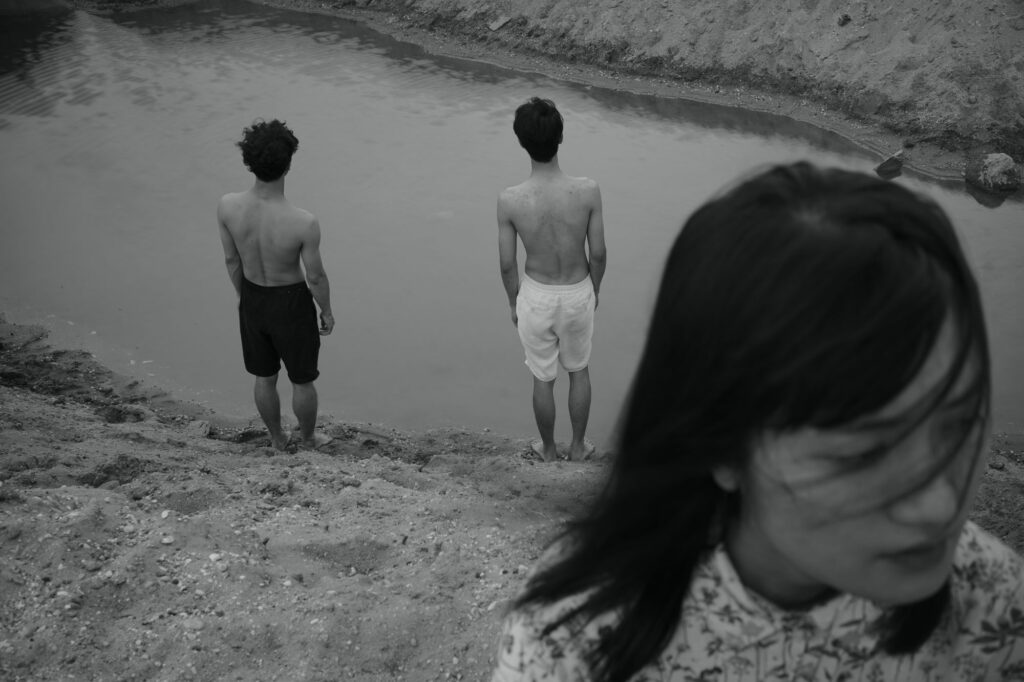 A great escape in a silent black-and-white drama. Hoang Thao's work follows the happenings between two topless guys and a woman with a sullen face. It's hard to pin down the coordinates or time period where it is set. They are perhaps in the backyard of an urban area where all trees have been cut down, only plowed land and muddled puddles remain. They dive their faces into water and lean against the wall inside a long-abandoned house. Have their family and friends all moved to the city, leaving behind a barren village? The last two images leave space for contemplation. The woman standing atop a dilapidated, soon-to-collapse house, while the man crawls out of an empty barrel as if going through a second birth.
Sixth Passage: Where Would the Buddha be Reborn in This Life? - Vu Khoi Nguyen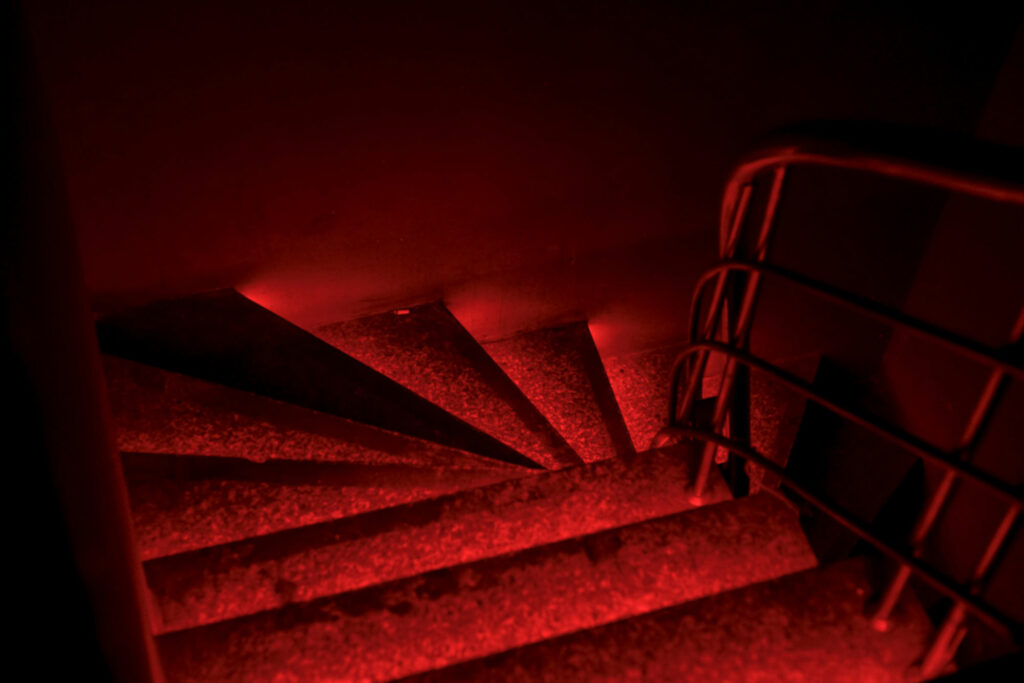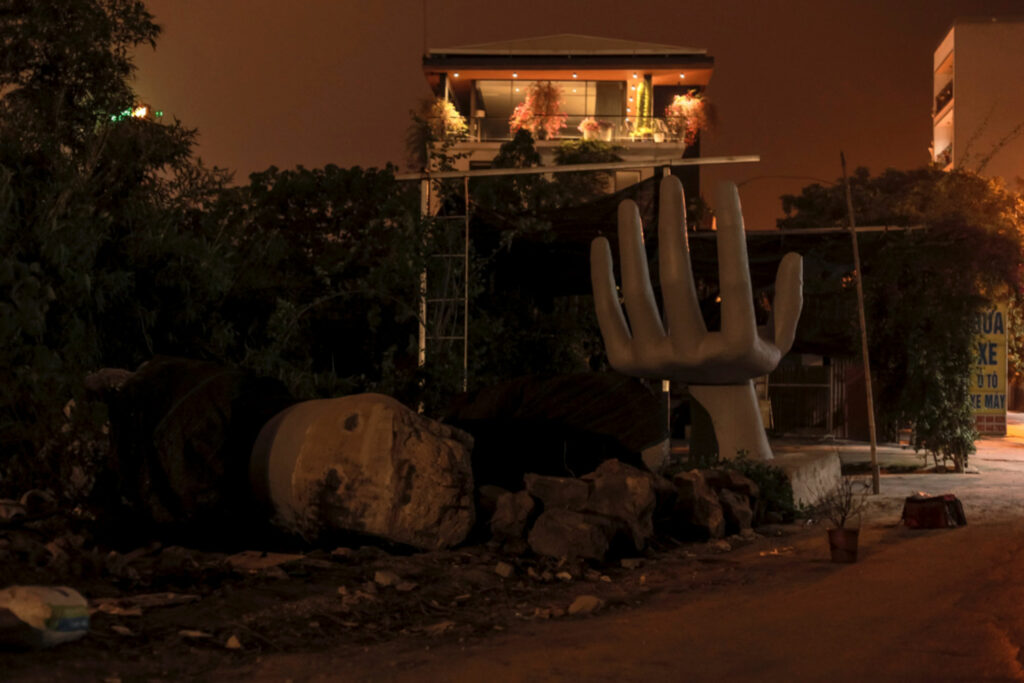 This work starts and ends with pills. Sickness permeates the series, especially the image of deflating post-party balloons – which appears on the Remission poster, calling to mind cancerous tumors or a cluster of unlaid eggs. As if suffering from an acute episode at midnight, a boy shuts his eyes waiting for the final verdict, right before gaining clairvoyance for the celestial beings that materialize in the midst of surfaces, peripheries and thresholds.
Urban nightscape appears vacated, artificial lights coming from nowhere and everywhere. We only see passages into discrete space-time planes. Darkness embraces and comforts those battling life and death, while the gods skulk around boundaries between metaphysics and reality.
Vietnam is setting records for building the biggest pagodas in Southeast Asia. Where would Buddha be reborn if he manifested here – in gold-plated statues inside multimillion-dollar complexes? No, contemplative and existential, this work foretells that the Buddha would show up in opulent convertibles, while the Grim Reaper would take the form of an office worker in formal attire. Both whisper to the main character in predicament: "Stay awake, be ready", the same way Jesus said to his disciples.
Seventh Passage: Of Images and Dogs - Ho Anh Vu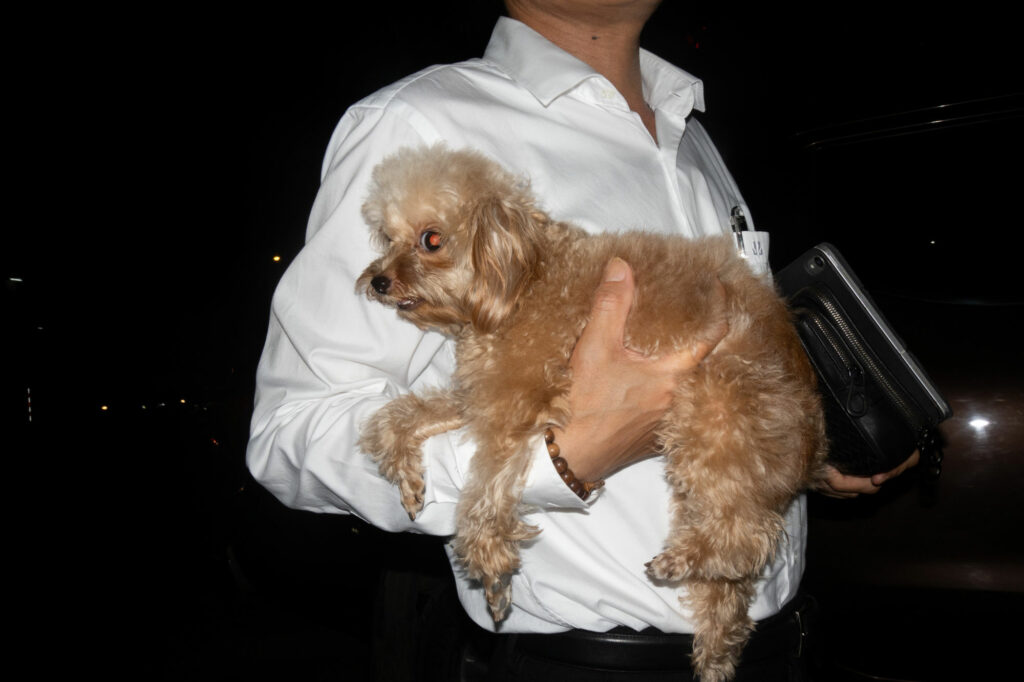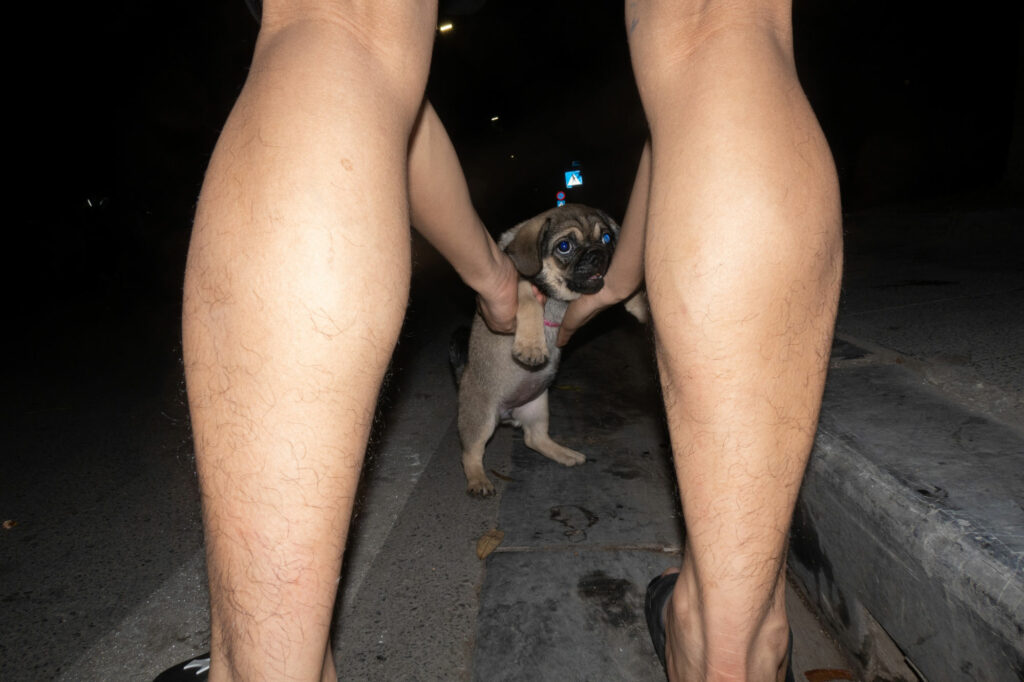 Not the Great Depression era in the United States in John Steinbeck's "Of Mice and Men", but contemporary Vietnam with "Of Images and Dogs" by Ho Anh Vu. Most photos are taken from the dog-eye level. Dogs become the protagonists in their own worlds, at times representing the humans/owners whose faces are omitted. Hoan Kiem Lake at the heart of Hanoi appears no less exotic than a wildlife documentary narrated by Sir David Attenborough. Dogs playing, making out, sniffing others' buttholes and excreting in the frames: this world is their oyster. Removing humans and insisting on the low-angle perspective, this work reveals their instinctive and innocent rejection of civilization. Yet, the last two images pull us back to reality: dogs are still pets at the disposal of humans.
Eight Passage: Identity Politics among Young People of Color - Nguyen Van Nhi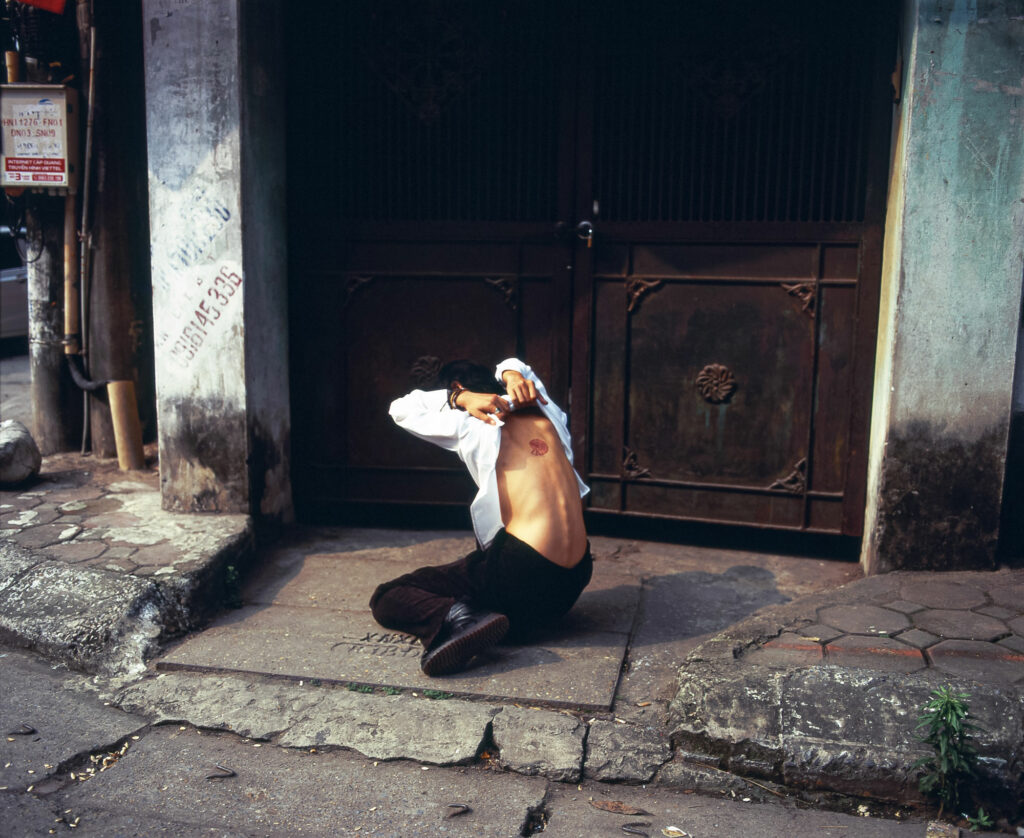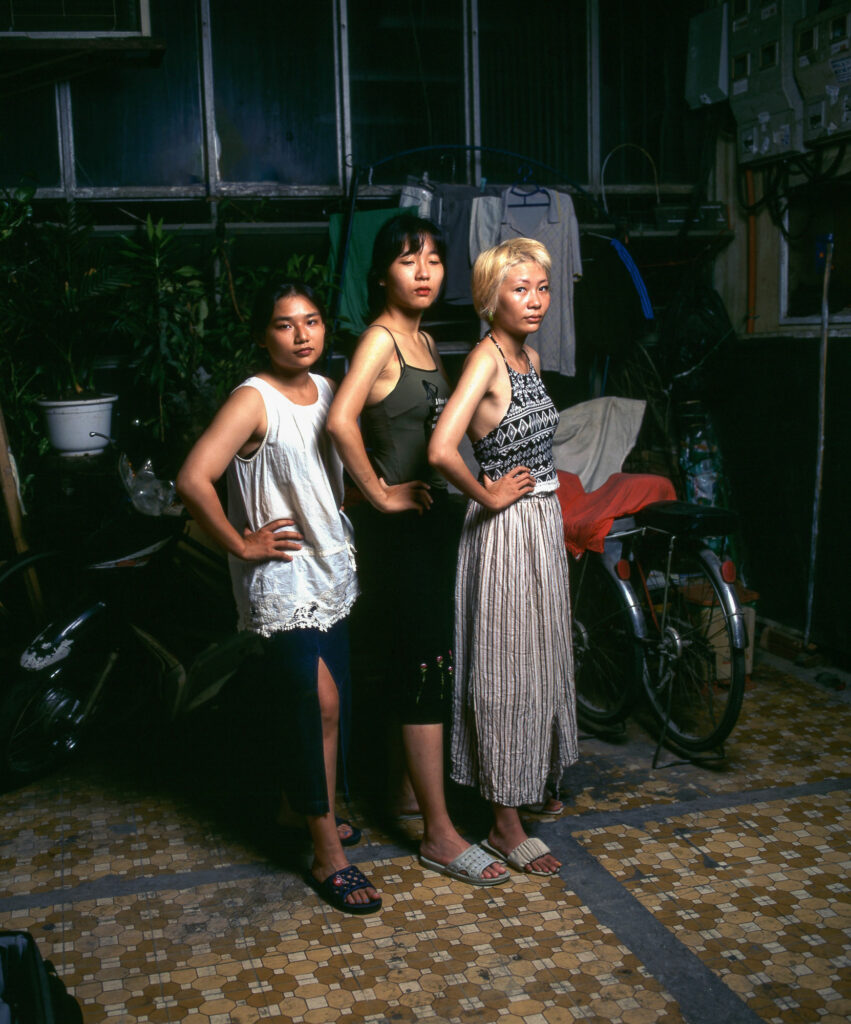 This work shows the artist's distinct potential in portrait photography, from the color palette to the mis-en-scene. The subjects appear in a vacuum with local daily items as ornate props. The subtle inclusion of clues in the background invites viewers to explore further. Some photos survey the self and gender identity of youths in different times, spaces, and archetypes – like the image of two guys in a Pietà pose.
The work has recently gained attention from several major international awards, including the Aperture Portfolio Prize 2023. The artist's statement points out that she wants to challenge stereotypes about the war and colonial past of Vietnam, as well as the way we – people of color – are represented in the photography tradition and collective memory of the West. This begs a question: Is the subjects' own agency being removed to accommodate an outsider's gaze? Is there any conflict between this work's intention and impact? The artist wishes to confront the warring past, but cites such very past for conceptual weight; she aims to give back power to the locals, but in part turns an imposing gaze to the photographed persons during the process.
A notable photo is of an anonymous subject baring their back on the sidewalk. Turning away from the camera, they protest against the photographer's very act of looking: it is collaborative while resisting, obscuring as much as revealing.
Ninth Passage: New Style Family Album - Nguyen Ha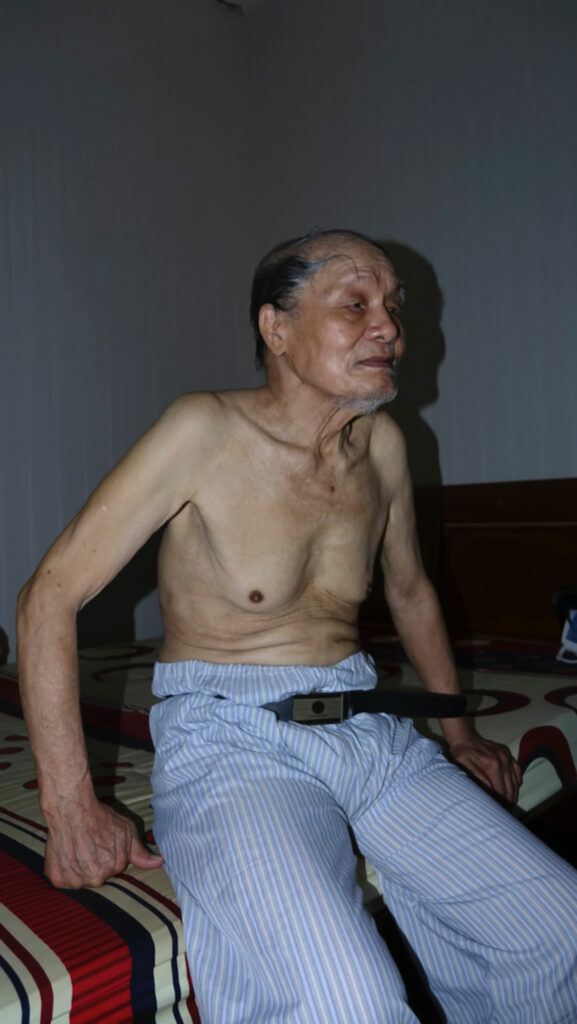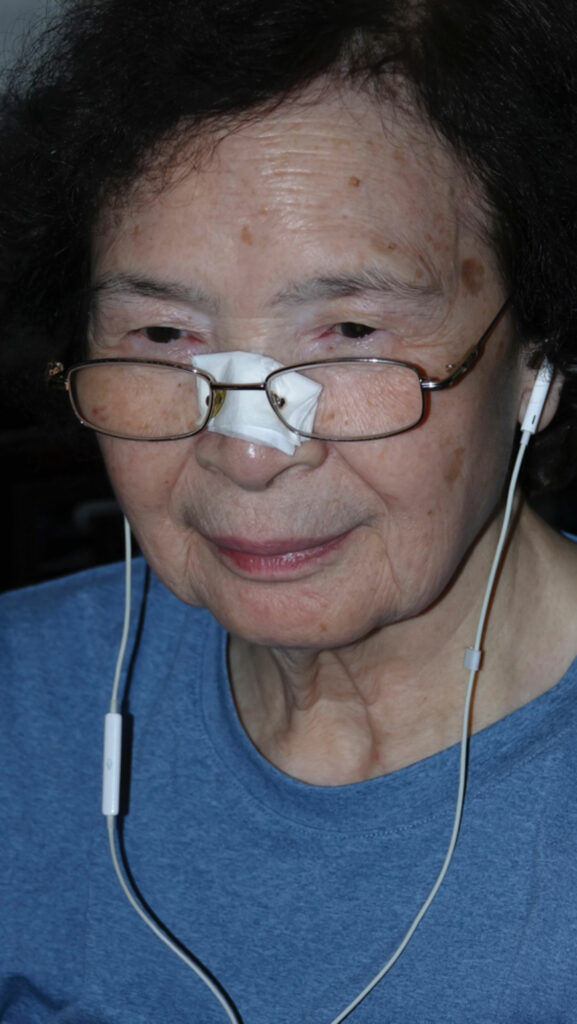 The artist seems to be photographing his own grandparents, homegrown models who have plenty of generosity and willingness to placate their grandchild. The mark of time has imprinted on their bodies, wrinkled, sagging, and sometimes bruised. Food – life-sustaining fuel appears here decomposing and rotten. Snapshots taken in the moment now become a contemporary kind of family photo – captured hastily by phones, much less ceremonial and planned than before. Here's to a day just like another day.
---
View the slideshow of the works here.
Article by Viet Vu, with additional writing from Ha Dao.
Phạm Việt Vũ is a filmmaker, currently doing his Ph.D. research at Sint Lucas Antwerpen, Belgium. His films, photography and performance projects focus on marginalized communities in various socio-political zones, including Vietnam, Portugal, Hungary and Belgium.