Making profit from photography is not a novel concept. Services of all kinds have developed in both quantity and quality to meet various demands from customers, such as wedding, product and fashion photography among others. While revenue from the aforementioned services depend on specific contracts, how photos can be sold as works of art remains shrouded in mystery, particularly in the context of Vietnam. How to sell/buy, to/from whom and how much? These unanswered questions have for years kept both photographers and clients in a perpetual circle of confusion.
Despite the great democratization of photography in this day and age, most local photographers still regard Facebook as the ultimate playground. Is there an actual market for art photography in Vietnam? In other words, what are the chances of aspiring photographers turning professional? To make transparent the process of buying and selling photos, Collecting Art Photography #1 has consulted local experts including photographer Do Anh Tuan, visual artist Nguyen The Son and curator Arlette Quynh Anh Tran.
Detailed steps of the commercialization process will be discussed in the second article of this series. I would like to sincerely thank the interviewees for their open welcome regarding a crucial yet seemingly sensitive subject.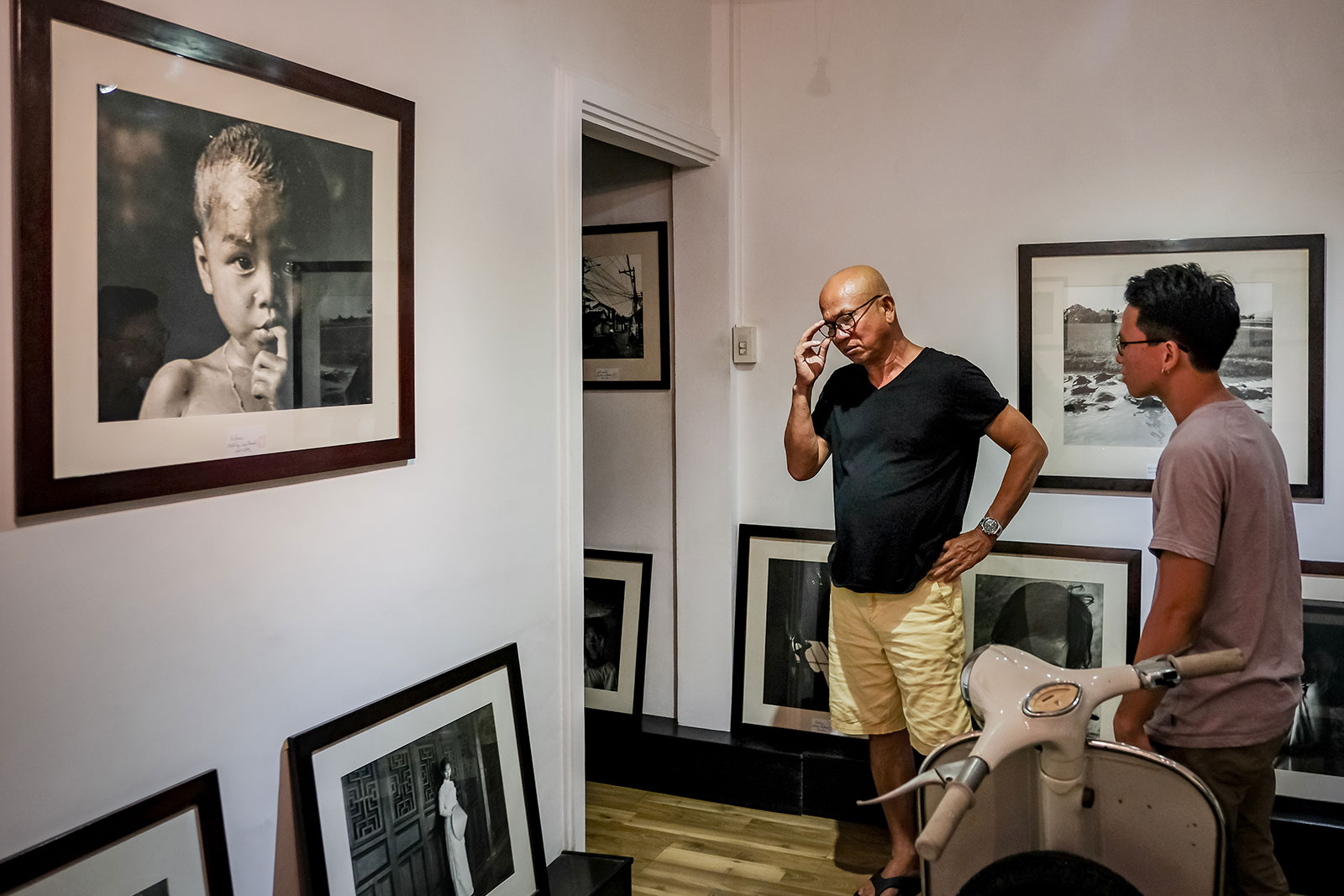 Hanoi residents must have at least once passed by a black and white photography gallery at 39 Trang Tien. Established since 2002, the gallery founded by photographer Do Anh Tuan is arguably the longest running photo spaces in the capital city. In the early 2000s, it had showcased and dealed works by seven photographers under the name "Life Gallery", before switching to "Do Anh Tuan's Gallery" in 2010, focusing on his own works.
Do Anh Tuan regretted the sudden closing of photography gallery "Wide Focus" at artist Le Thiet Cuong's home, but at the same time was motivated to open his own. The gallery had then become a place to share his photos to the public and subsequently brought a source of income. Prior to the global economic depression in 2009, prints at his gallery were regularly sold at the price of a couple of hundred to a couple of thousand USD each. The majority of buyers were foreigners who purchased his prints as a decorative piece or a souvenir from their trip to Vietnam. According to Tuan, the lack of local clients boils down to the fact that Vietnamese people are yet to have a culture of enjoying and collecting photography: "Very few hang photos in their house. Paintings, yes, but rarely photos." In 2017, Do Anh Tuan's gallery closed after 15 years running due to financial difficulties.
Studying the trade, making works and running a personal gallery: this is a common path taken by a few individuals from the tradition of analog photography, who are determined to make works that carry their artistic imprint rather than running a regular photo studio, namely Do Anh Tuan in Hanoi and Long Thanh in Nha Trang. Photographers of this generation have the tendency to use images to portray the beauty of landscape and daily life, mostly in rural areas that are considered "authentic" Vietnam.
In such galleries, besides making works, the photographers also get involved in the production and operation process, such as maintaining the space, curating and pricing their own works, and building a personal brand. They actively seek and market their works directly to potential clients, instead of relying on art museums or dealers – crucial links still missing in the domestic photography market. Such small-scale personal galleries have once succeeded in making profit and creating a legitimate outlet for photographic works in an environment that until now still has no solid framework. However, sales occurring here and there do not equal a true photography market.
Such small-scale personal galleries have once succeeded in making profit and creating a legitimate outlet for photographic works in an environment that until now still has no solid framework. However, sales occurring here and there do not equal a true photography market.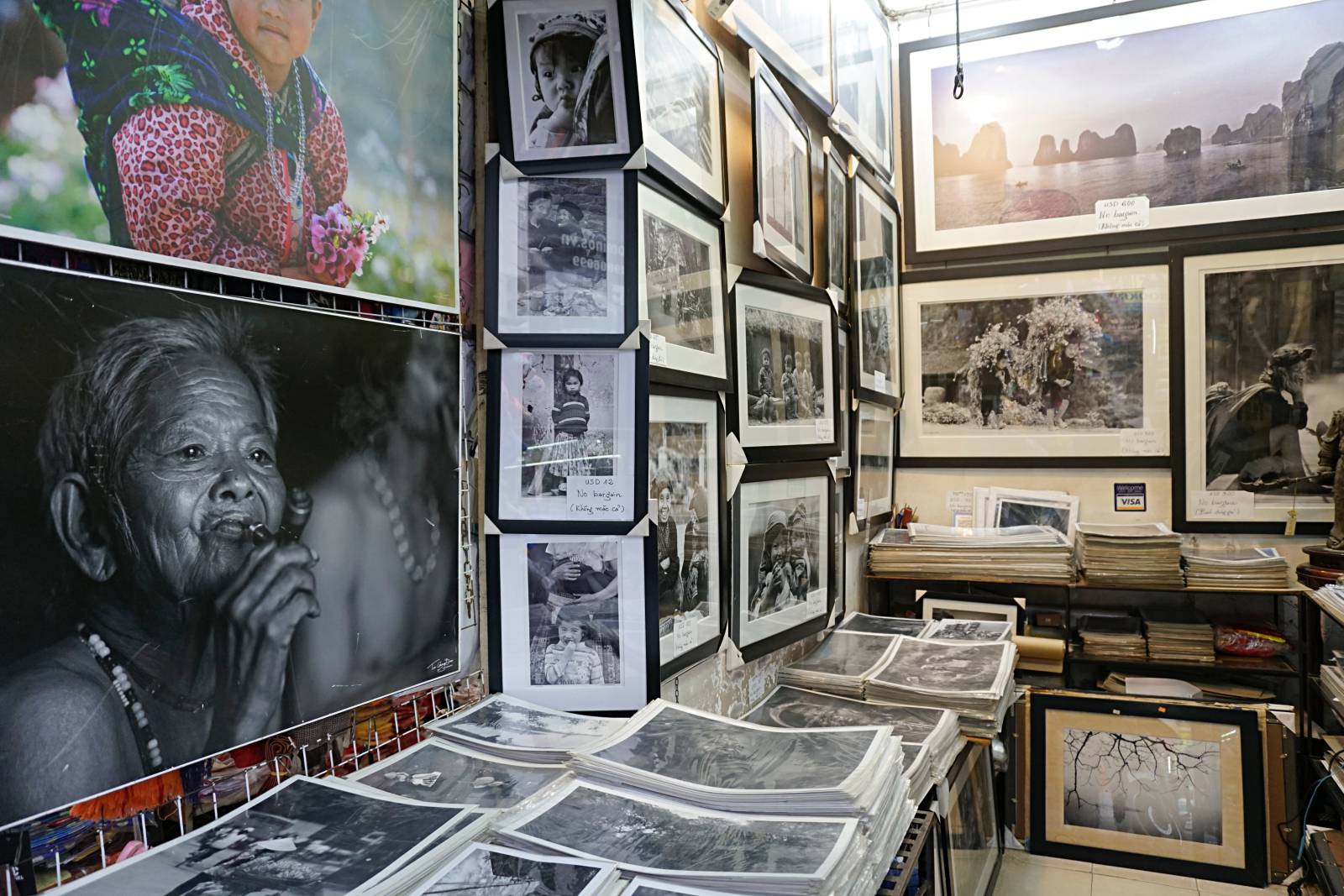 Contemporary art emerged in Vietnam in the 80s, but it was not until the early 2000s that artists started experimenting with photography as a potential medium. In the contemporary approach, the "decisive moment" is predetermined: images don't simply reflect life as it is, but aim to kindle various ideas and interpretations. With such non-conventional approaches combined with the artists' existing practice, their photo-based works as a matter of fact are shown and sold in a separate system.
Nguyen The Son, visual artist and lecturer at Vietnam University of Fine Arts, regularly incorporates photography in his works and has been able to earn a steady income from them for the last 10 years. His photo reliefs bring photography out of the flat surface, all centering on the theme of changes in urban life. A graduate from Central Academy of Fine Arts in Beijing, The Son is well equipped to pursue a career as a full-time visual artist. He actively seeks for proper outlets for his work, participating in multiple exhibitions in Vietnam and elsewhere, residency programs, teaching workshops, etc.
Besides selling his works through Art Vietnam Gallery and Manzi Art Space, The Son also runs a personal showroom at home for clients that directly contact the artist. Despite the differences in practice and means of distribution, it can be observed that Do Anh Tuan and The Son both share the same target customers. Collector Tran Hau Tuan is the only Vietnamese person that purchased his work, while the majority are foreigners who want The Son's piece in their home or personal art collection.  
Along with Hoang Duong Cam and Phan Quang, Nguyen The Son is among a small number of Vietnamese artists born in the 60s and 70s whose photo-based works can be found in the international art market. According to The Son, actual galleries that accept photography in Vietnam are still few and far between, such as Art Vietnam Gallery, Galerie Quỳnh, Eight Gallery or the newly opened The Factory Contemporary Arts Centre. However, there are positive signs from local contemporary art institutions that welcome the photography medium in their exhibitions and collections.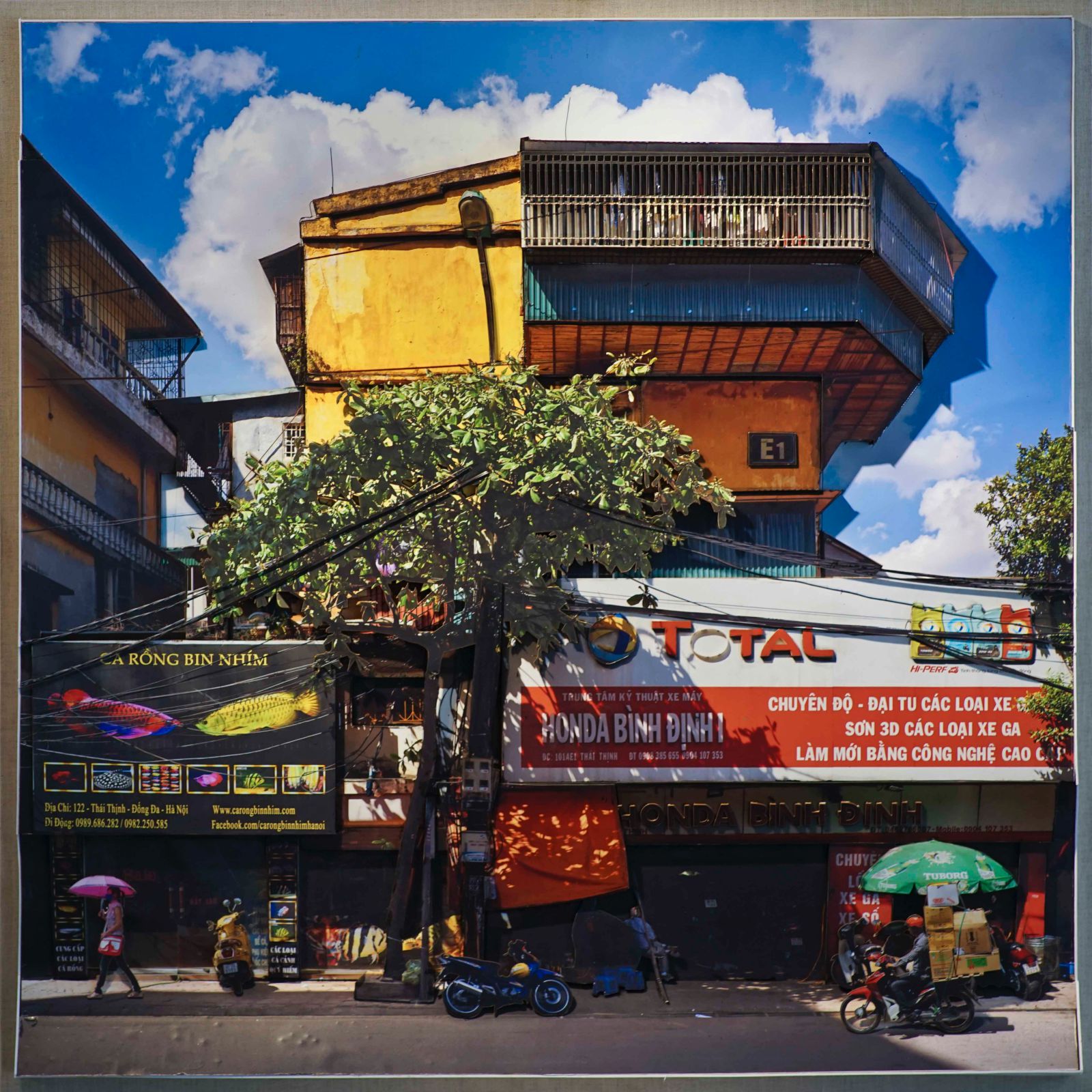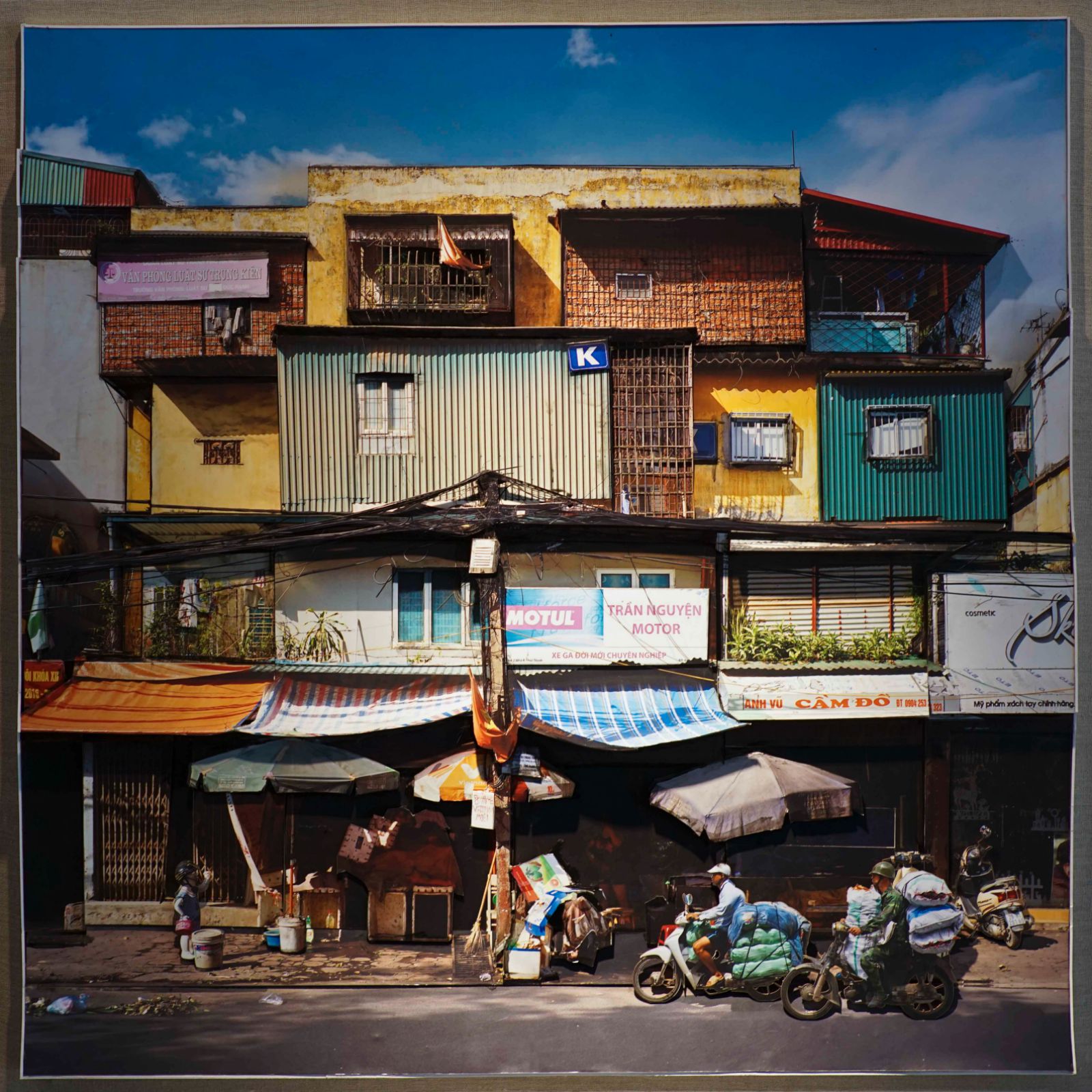 Postvidai (meaning Post Monumental) is the largest private collection of Vietnamese contemporary art, with a focus on pieces that reflect the transition in modern society. According to its current director/curator Arlette Quynh Anh Tran, there are approximately 50 photographic works by 12 artists, in a total of more than 500 works in the collection. Photography being a relatively new medium, the low printing quality in the early days, and an unrefined authentication system could account for the lack of interest in collecting photographic works.
The first photographic work purchased is the series Fat-free Museum by pioneer in conceptual photography in Vietnam Hoang Duong Cam, which was exhibited in Galerie Quynh in 2006. In recent years, Postvidai has added photographic works by female artists born in the 80s such as Nguyen Phuong Linh, Thy Tran and Ngoc Nau, or works that are part of a larger installation piece like that of German-Vietnamese artist Sung Tieu. As wealthy business people, the collection owners do not regard Postvidai as a promising financial investment. They acquire works from emerging artists, with the hope of supporting the local art scene and surround themselves with culturally significant objects.  
An actual market could not be built from transactions alone. Every player needs to be aware of their rights and obligations, follow the general rule of the market and stick to work ethics.
Small-scale efforts from practitioners
Selling photography is not a new practice in Vietnam, but currently there are very few photographers and galleries that are pushing it professionally.
There are still a couple of photo galleries in Hanoi's Old Quarter that sell prints together with other kinds of souvenirs. On the surface, it can be said that the majority of photographic works are being sold as souvenirs. While this approach simplifies the transaction process and brings instant profit, in the long run it will undermine the value of the works and lower the public perception of photography as an art form.
In 2015, Vietnam Photo Fair was held for the first time to affirm the value of photography as an independent art medium and raise awareness about copyright issues, "an effort somewhat desperate but not lacking in courage," quoted the organizers. However, their wish for it to become an annual event is yet to come true. The 5-year-old annual art fair Art For You is an open opportunity for many independent visual artists to directly sell their works to customers, but the proportion of contributed photographic pieces is still incredibly small.
It goes without saying that an actual market could not be built from transactions alone. Every player needs to be aware of their rights and obligations, follow the general rule of the market and stick to work ethics. Such market does not yet exist in Vietnam, and obviously cannot emerge in a vacuum.
According to artist The Son, photography needs to be first regarded as an art-making medium on its own and included in the curriculum of national art universities. Only when there are students and professional practitioners could there be an audience and collectors. These core changes cannot happen through artists' effort alone. However, as for photography practitioners, this is the time to recognize the challenge – but also the opportunity – to create and find the output for their work. Details will be provided in the next article.