"Our lab is hard to find! Call me when you get to Dao Duy Tu street, I will come down and pick you up!" – Hao first talked to me on the phone when I contacted XiXomXiBet lab, now known as X-lab. Tomboyish hair, brown skin and small body frame, the girl that picked me up seemed tiny in an oversized T-shirt. Hao looked much younger than her actual age – she was 24 back then. That was how I met Hao – an employee at a local photo lab for the first time, back in 2012.
Before the recent analog revival, traditional photo labs were gradually dying out with many abandoning film processing services due to the hype of technology. Though I myself am loyal to the medium as it is what I am most comfortable shooting with and suitable for my slow working style, I did give up on film for a while owing to the lack of trustworthy lab. It is not an exaggeration to say that Hao was a major reason for my return to analog. I am so fortunate to have found someone that I can not only fully entrust 60 rolls of film to but also share a close friendship with.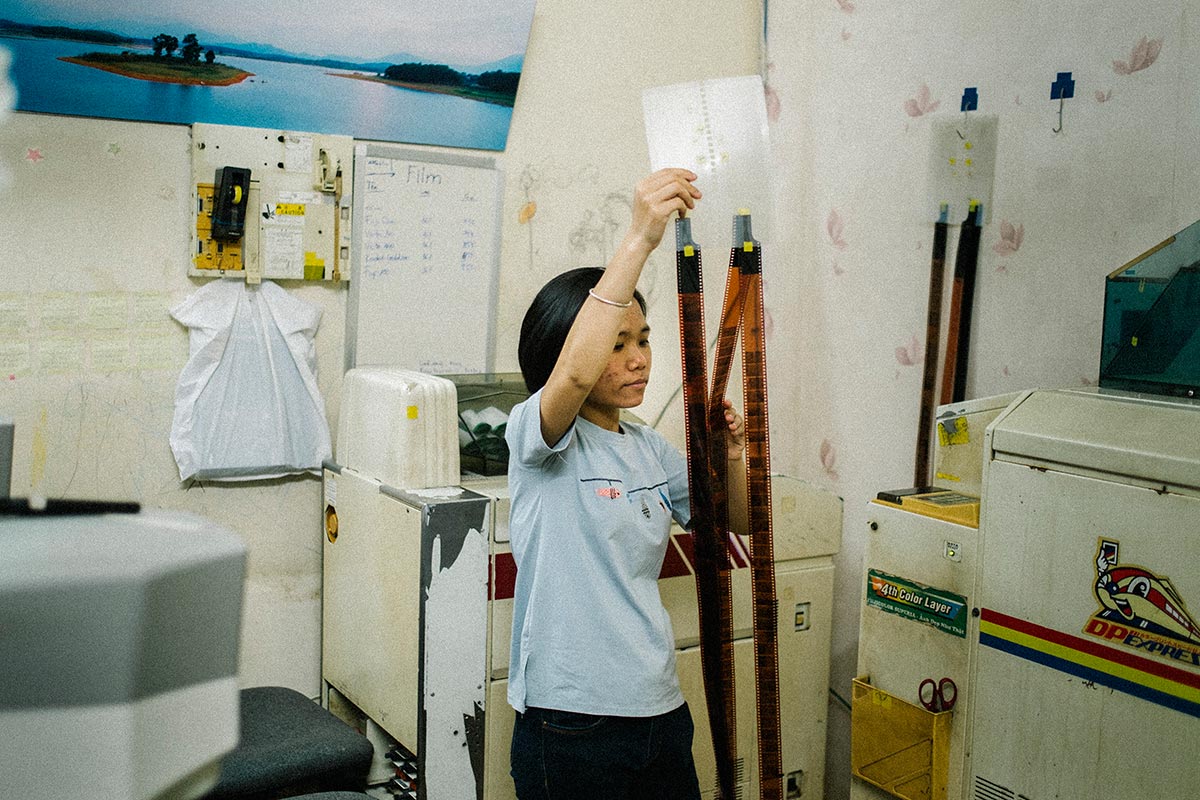 Hao is originally from Hanoi. After finishing high school, due to personal issues, she decided not to enter university but rather start working right away. In 2007, she joined Hoa Binh photo studio on Dinh Tien Hoang Street where she learnt how to handle negatives. Back in the days, many service photographers around Hoan Kiem Lake were still using film cameras so Hao had the opportunity to deal with loads of negatives everyday and perfect her skills.
In 2011, Hao moved to work at XiXomXiBet lab, one of the pioneers that refueled the passion for film photography among the local community. Although X-lab provided the famous one-hour service, everyone who came to get their films developed often spent longer hanging around. I was no exception.
In a small balcony full of bustling sounds from the streets, with fresh summer breezes and stories about quirky old cameras, we were slowly forming a circle of friends. Hao sat in the middle, shuffling between scanning films and joining customers' trivial conversations. As time went by and other photo labs joined the market, I still found myself commuting more than 10 km every week to hand my negatives to Hao. She is certainly not the best nor the most experienced film developer out there, but she is the most reliable one to me.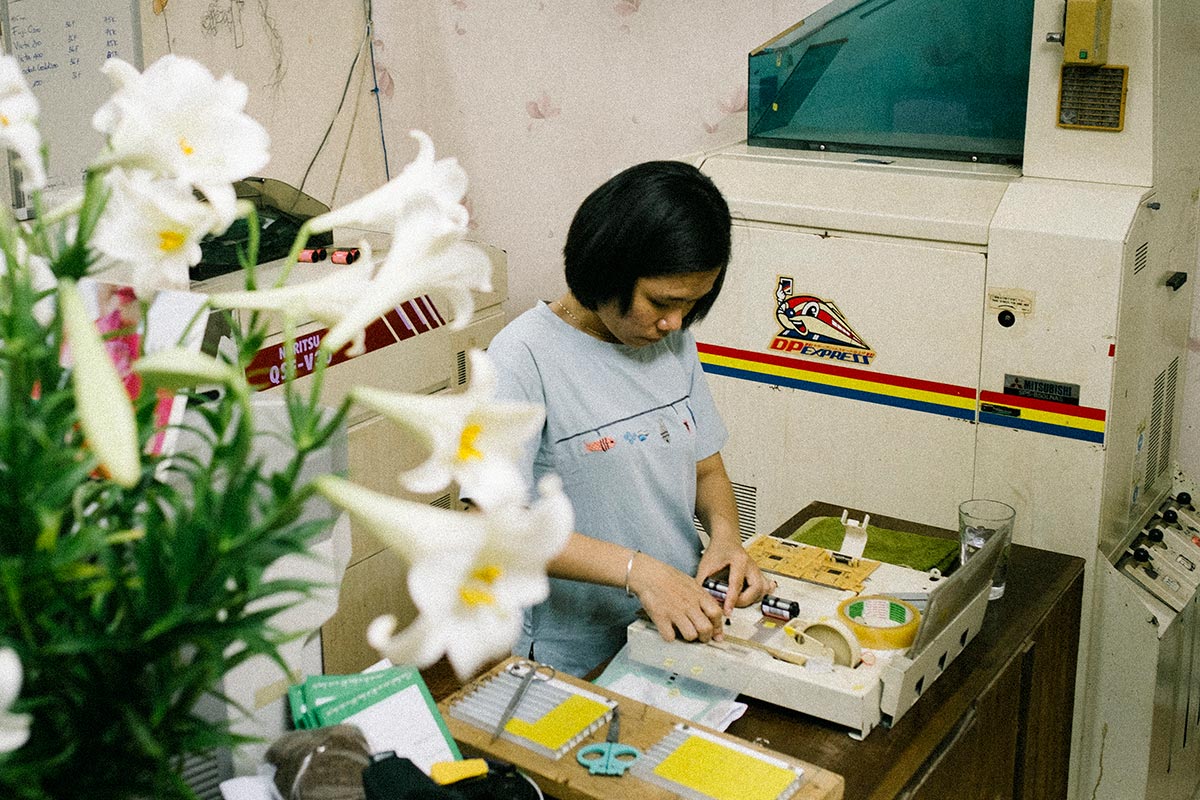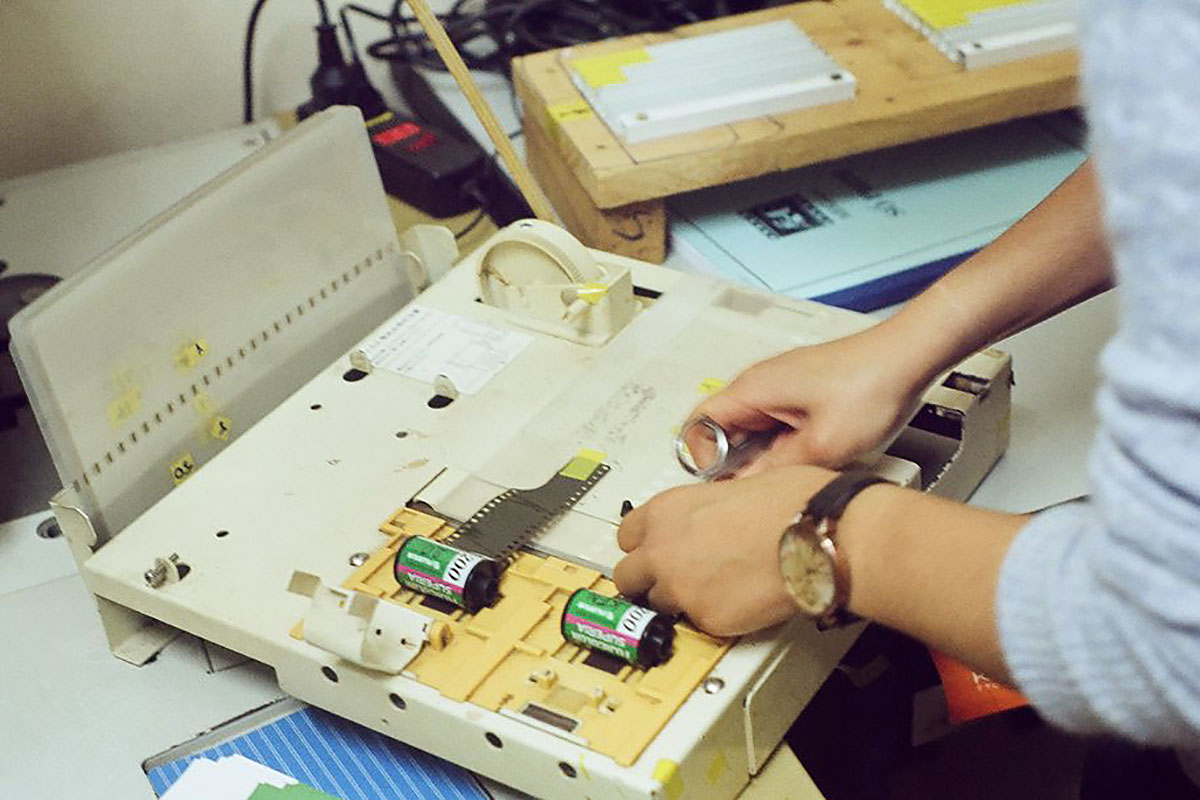 At her place, analog shooters gathered and felt at home. Our mutual friend, Ami Ha, met Hao in 2010. Everyday, Ami would take her negatives to X-Lab to get them developed, and from the conversations she made with Hao while waiting, they got closer. "It was because of Hao that I made more friends. Before then, I'm rather introverted so I had met very few people in the photographic community," shared Ami. While Hao developed Ami's film rolls, Ami helped her understand the basics of using a camera. There were days when Hao started her working hours later to go on photo walks with her group of friends.
Hao was used to working around the clock. Many customers sent in their films later than 9 in the evening to receive their images by 11. From dawn till dusk, on holidays and even New Year's eve, she stayed in the small backroom that reeked of chemical smell and woozy sound from the scanners, diligently working while mumbling her favourite songs. No matter how hard life is, Hao maintained a positive attitude and never slacked off in her work. She took care of each negative as carefully as possible, from cutting them up, paying attention to customer's shooting style to meticulously color correcting during scanning.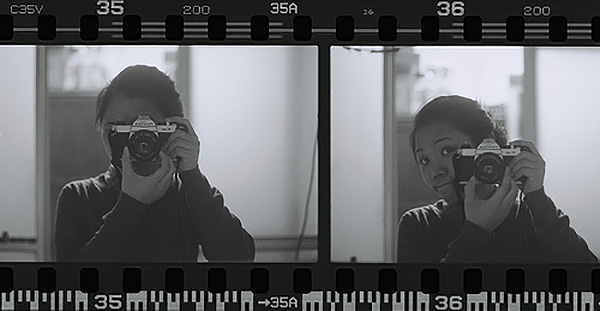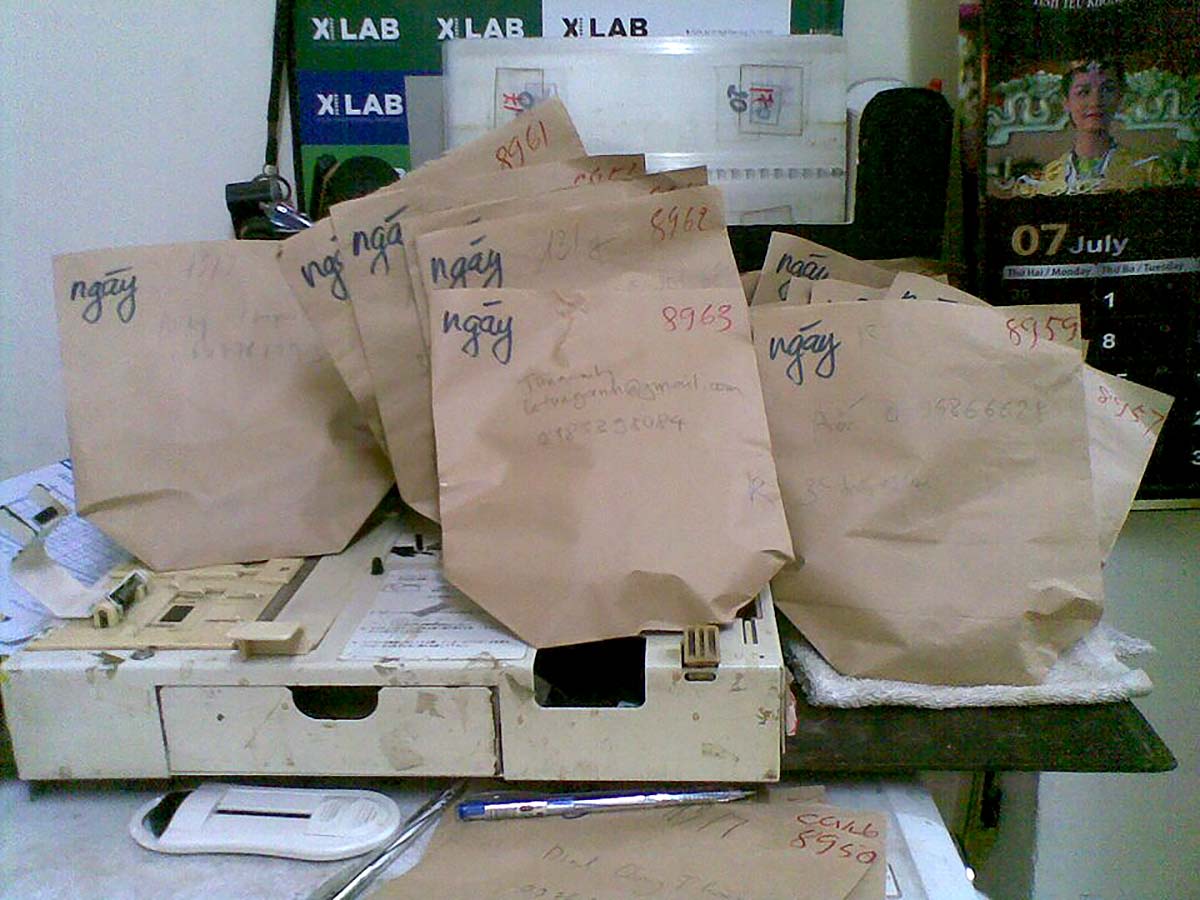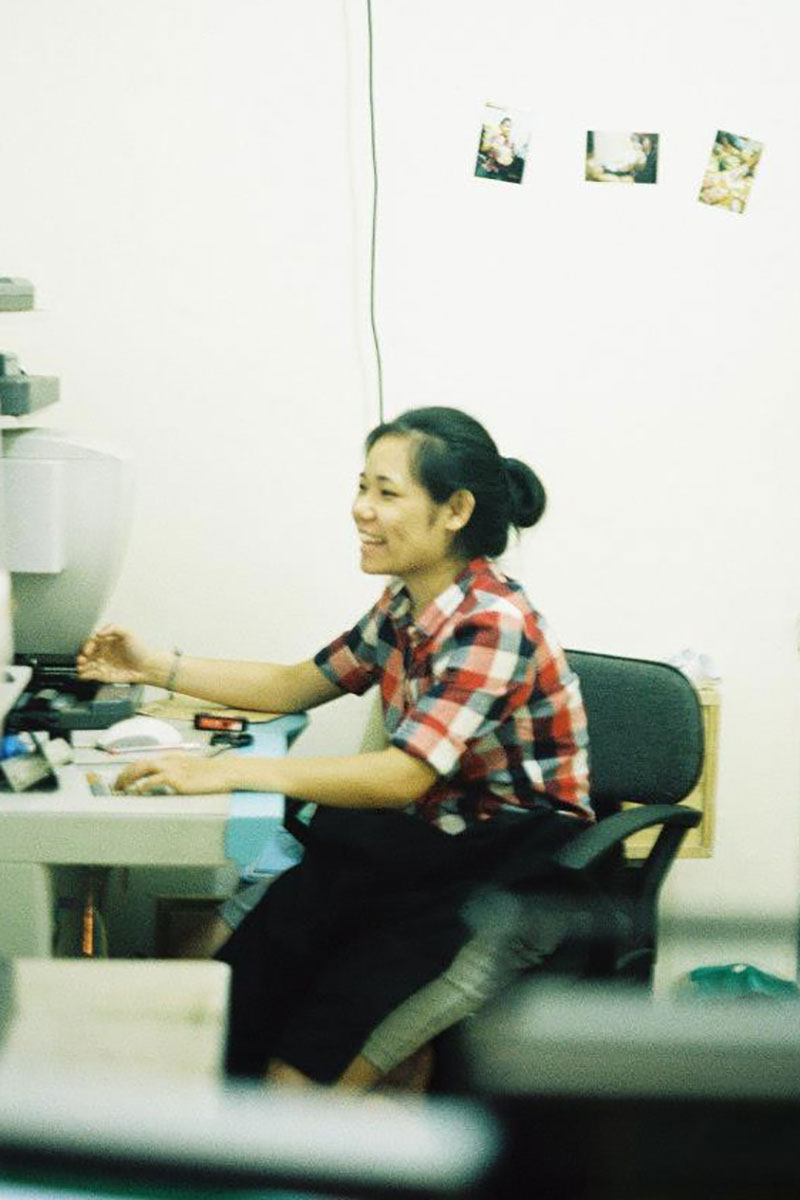 Work had drifted us apart till we met again last year, when Hao had just moved to AEG lab. She hadn't changed much, still as young, carefree and hard-working as ever. However, constant exposure to C41 chemicals while developing films took its toll on her body: her voice has toughened and her skin showed signs of allergy. After almost 10 years working in a toxic environment, her health had started to deteriorate. Hao told me her decision to quit processing film for good, carefully covering up her remorse. Working with negatives is what she knows best and because of it she has made many good friends and memories.
Eventually, Hao left AEG lab and the film developing career she had built over the last decade. Sad as I am, I felt an overwhelming sense of happiness for her. From now on, even though I no longer have someone who would prioritize my films, understand what I am shooting and tell me truthfully if I messed it up, my friend will hopefully has a more stable job in a better working environment. Her customer then her friend, that is all I ever hope for.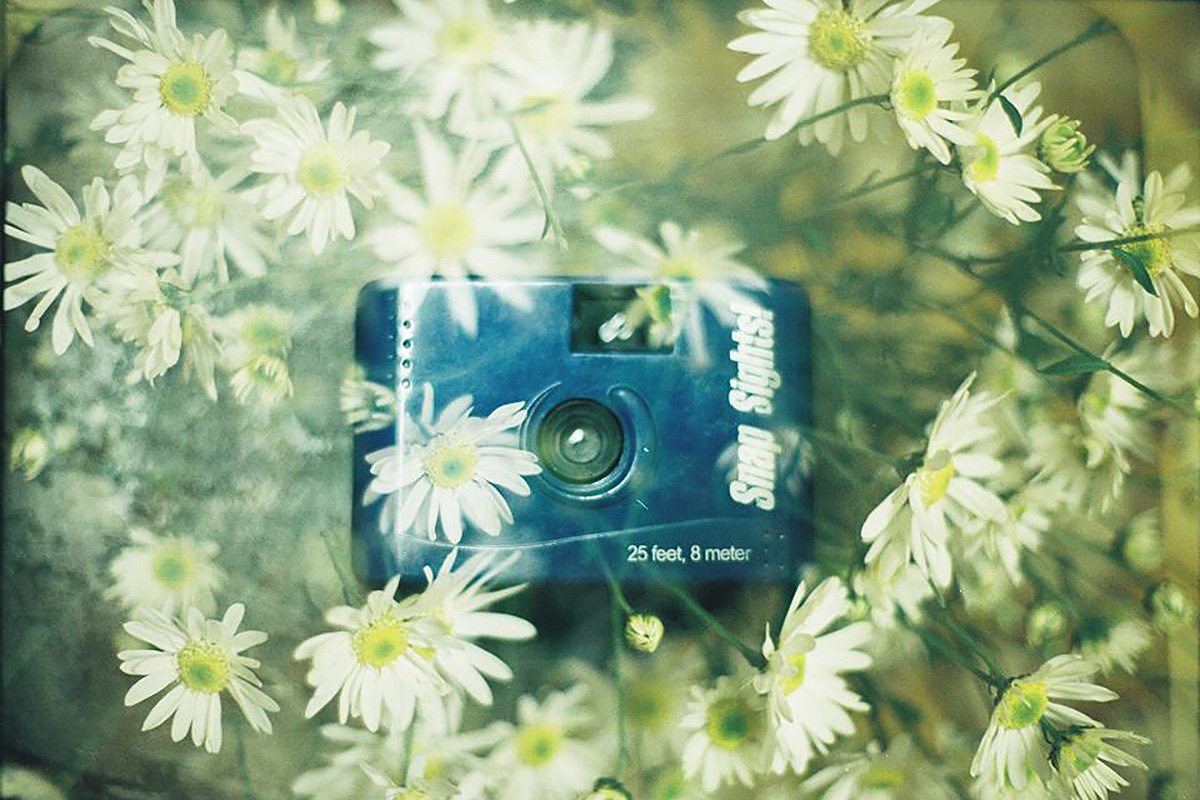 * This series is created with a view to giving proper credit to photo editors, printers, producers, curators, lab technicians,… whose names often go unmentioned despite their great contribution to the art works. Without them, any photographers would never see their final products.