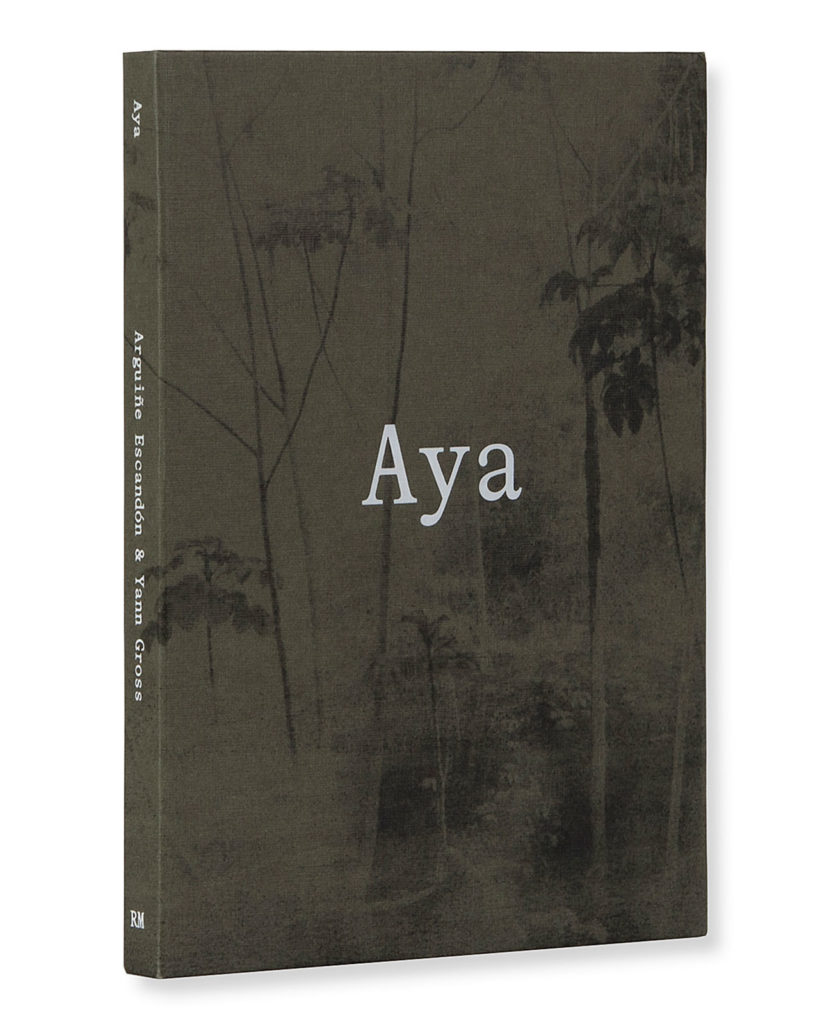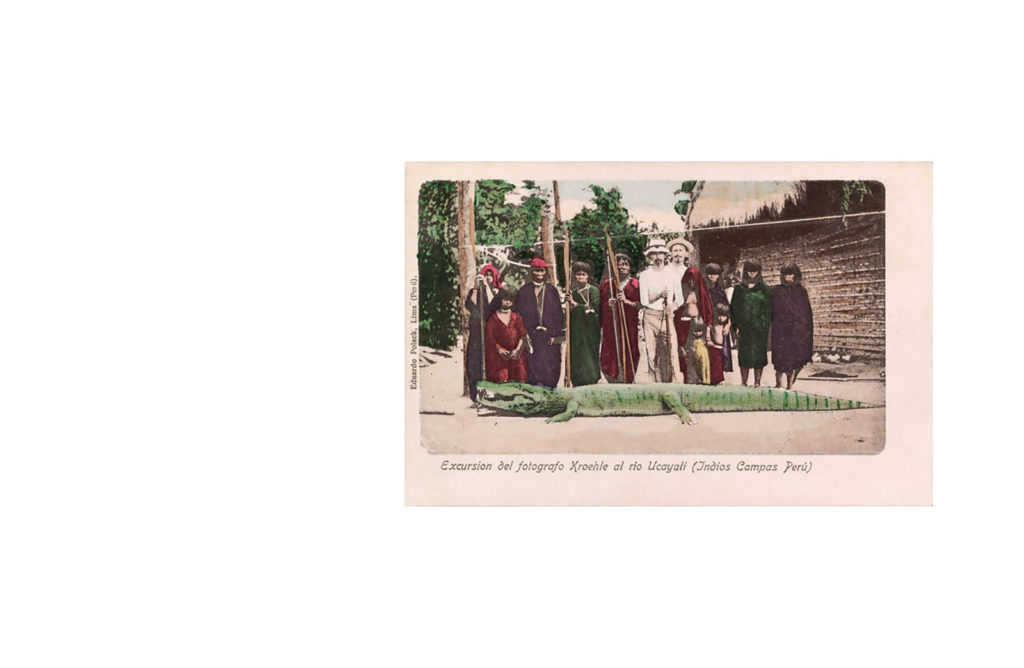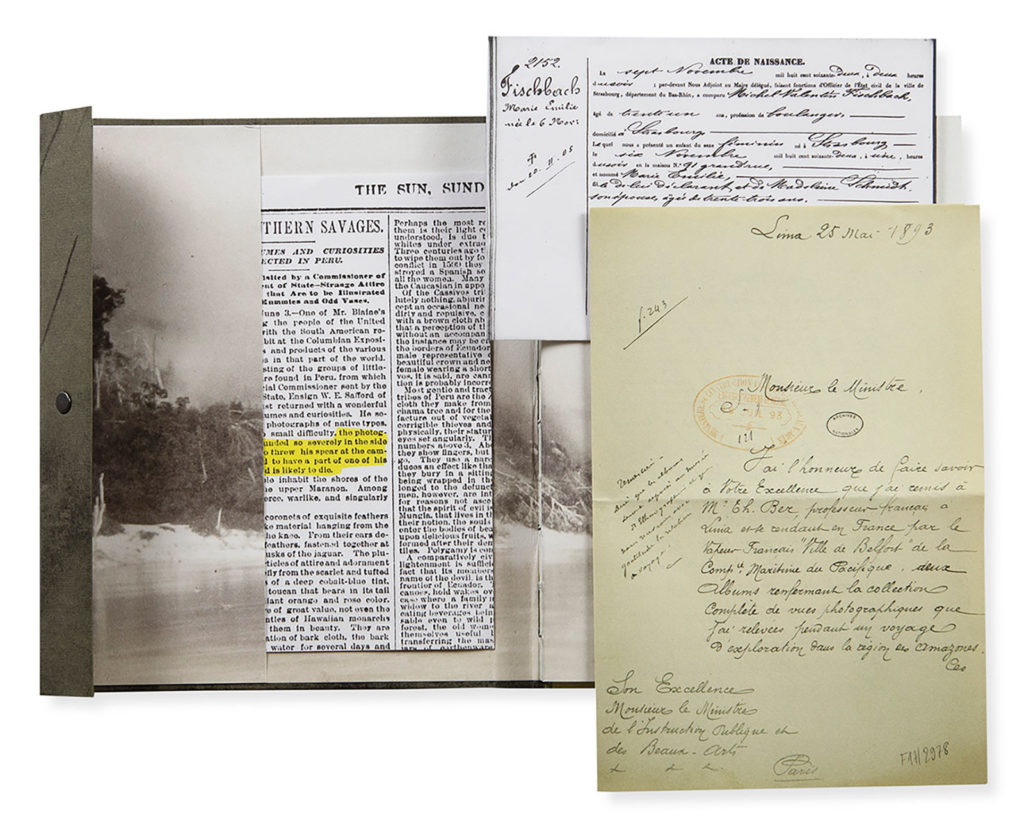 Aya begins with a postcard Yann Gross received from his partner, artist Arguiñe Escandón. It shows a giant crocodile carcass and a group of indigenous people standing next to two Caucasian men. One of them is Charles Kroehle, a pioneering but fairly obscure Gerrman photographer who disappeared while working in the Amazon in the 19th century. Legend has it that his "aya" – "ghost" or "spirit" still wanders along the river banks until this day. "I hope you don't end up like him", Escandón wrote on the back of the postcard, half joking half serious. "What if we follow in his tracks?", the intrigued recipient replied. The duo ended up spending months in the Amazon jungle, trying to capture the physical and spiritual immersion into the world's largest tropical rainforest.
Published in 2019 by RM Verlag, the globally sold-out title Aya is part of the Swiss Photobook Today exhibition in Vietnam. Gross shares his photography journey leading up to Aya in the online artist talk, elaborating on image-making and bookmaking processes. Similar to previous projects, Aya re-examines the notion of escapism and identity. The close collaboration with locals remains central.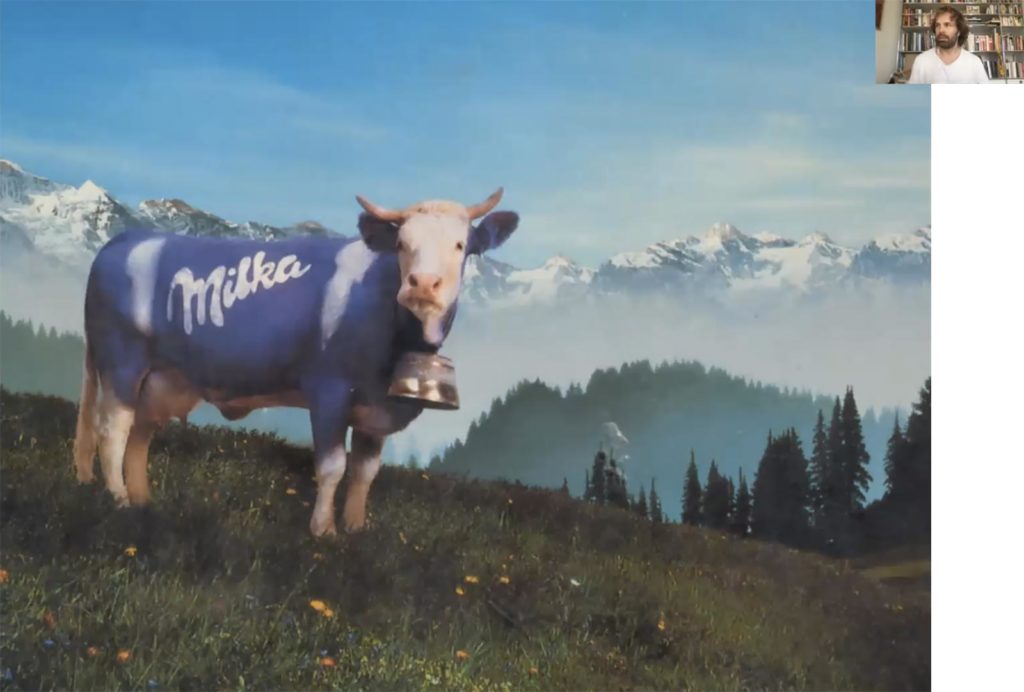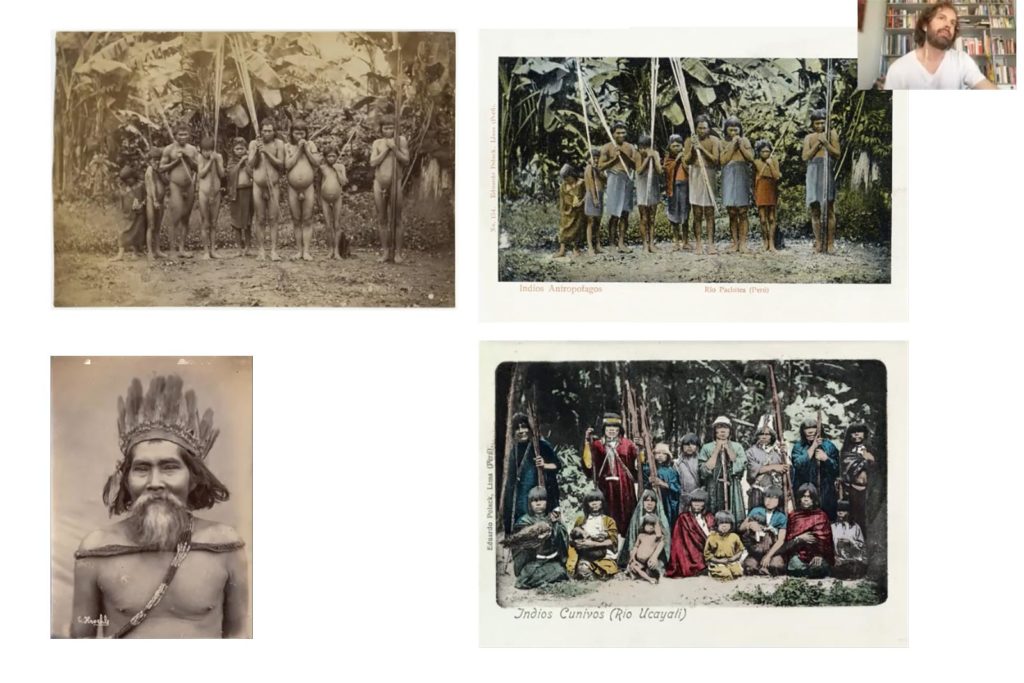 Gross first starts with a question about the imagery chosen to represent his own country. He believes that the media often perpetuates a cliché view of Switzerland as a land of majestic mountains for tourism development, while in fact, the urban and suburban areas are home to diverse, underrepresented communities. This issue is explored in Gross' early series Horizonville taken in Rhône valley, a famous ski destination near where he lived. Hungry to travel as a broke student and inspired by The Straight Story movie by David Lynch, Gross roams around the area in his customized moped, loading up cameras and camping gear, and even changing his appearance to blend in with other bikers. Right in this resort town, local residents construct the American dream in their own way. Mullet hair, cowboy fashion, tractors, and motorcycles don't simply serve a stylistic purpose, they have become a way of life. Despite having never visited the US, the Swiss nationals create their version of the land of the free based on typical symbols in pop culture.
With vast snow-capped mountains lurking in the background, portraits of small town lives imbued with Americaness become out of sync. Gross expresses his doubt about the all-encompassing influence of Americanization while acknowledging the fact that people can feel a sense of belonging to another culture from far away. Documenting the imagined community of Horizonville has made him realize the elusive, complex, and ever-changing identity of a geographical site and its inhabitants. Consequently, representation in photography is not without problems.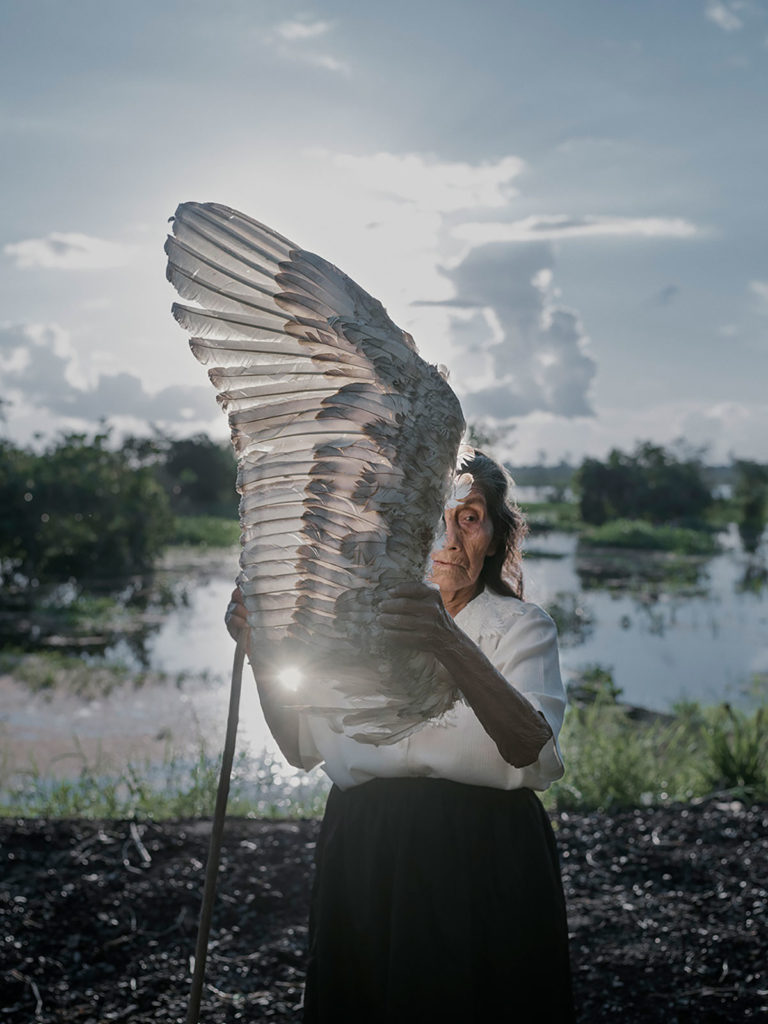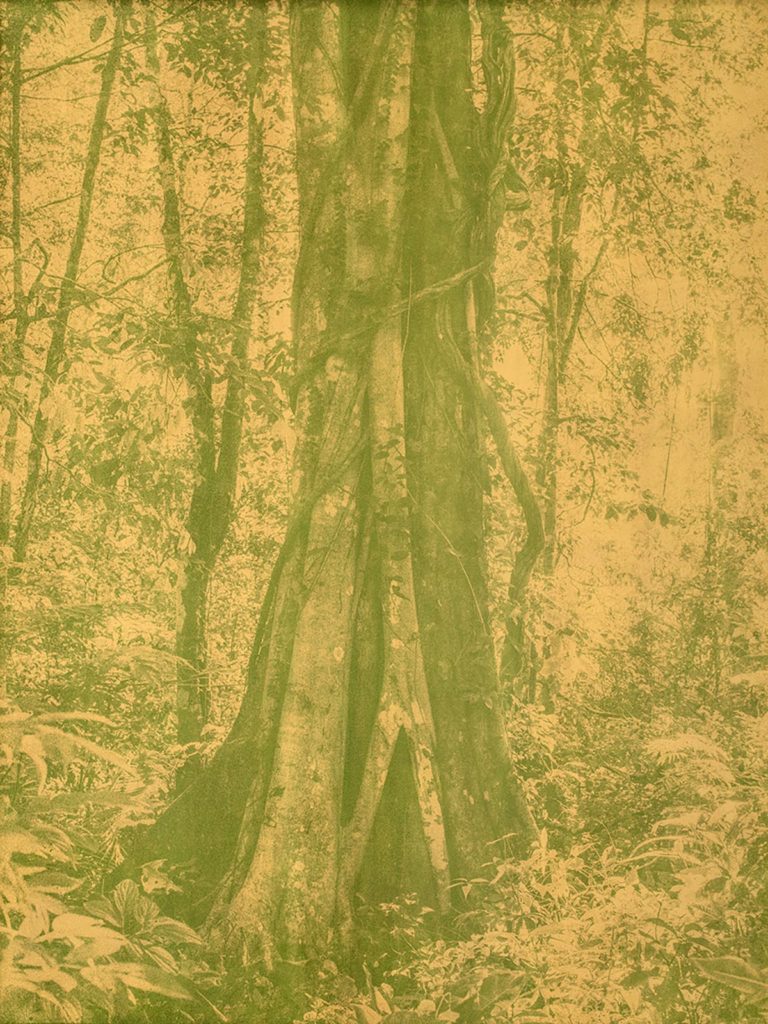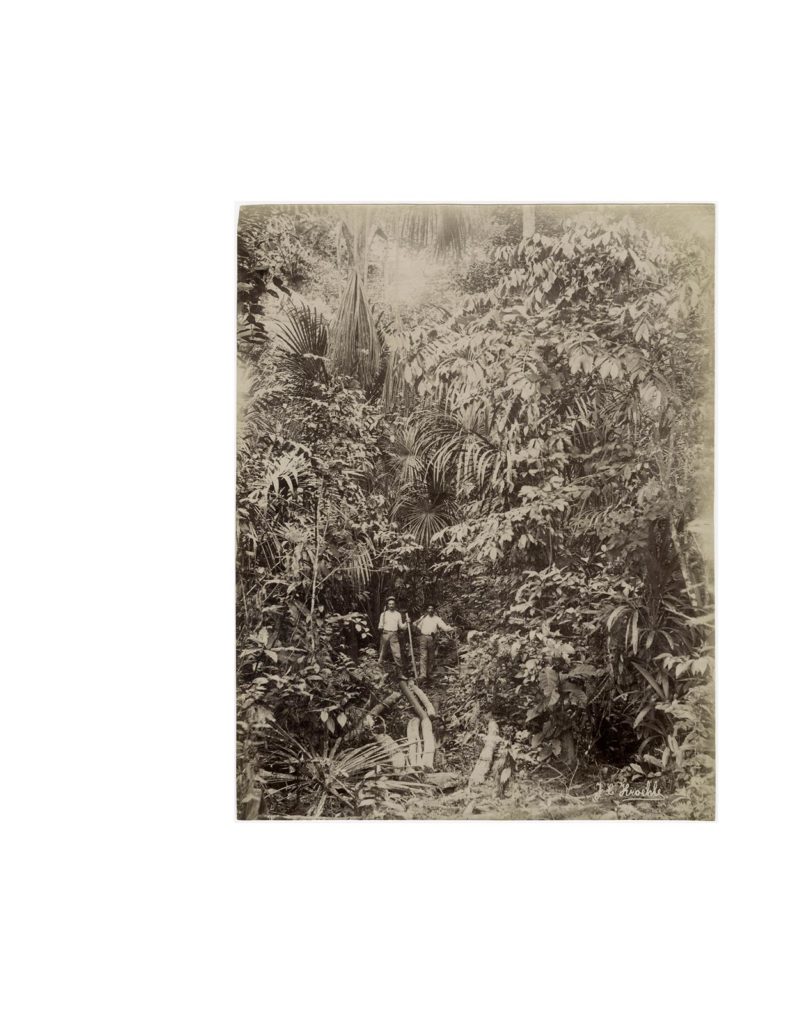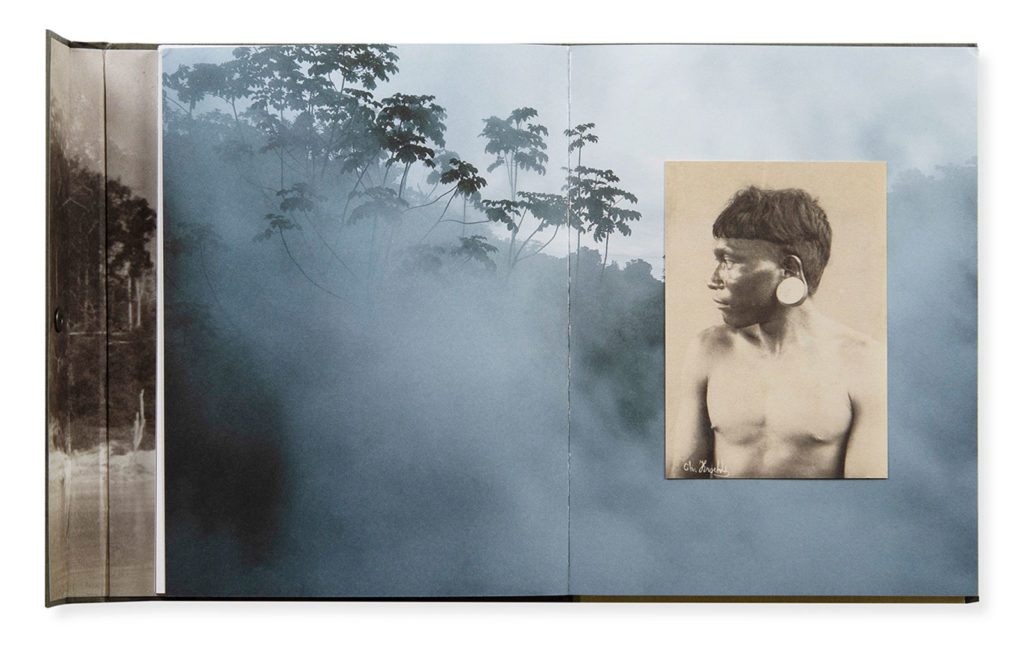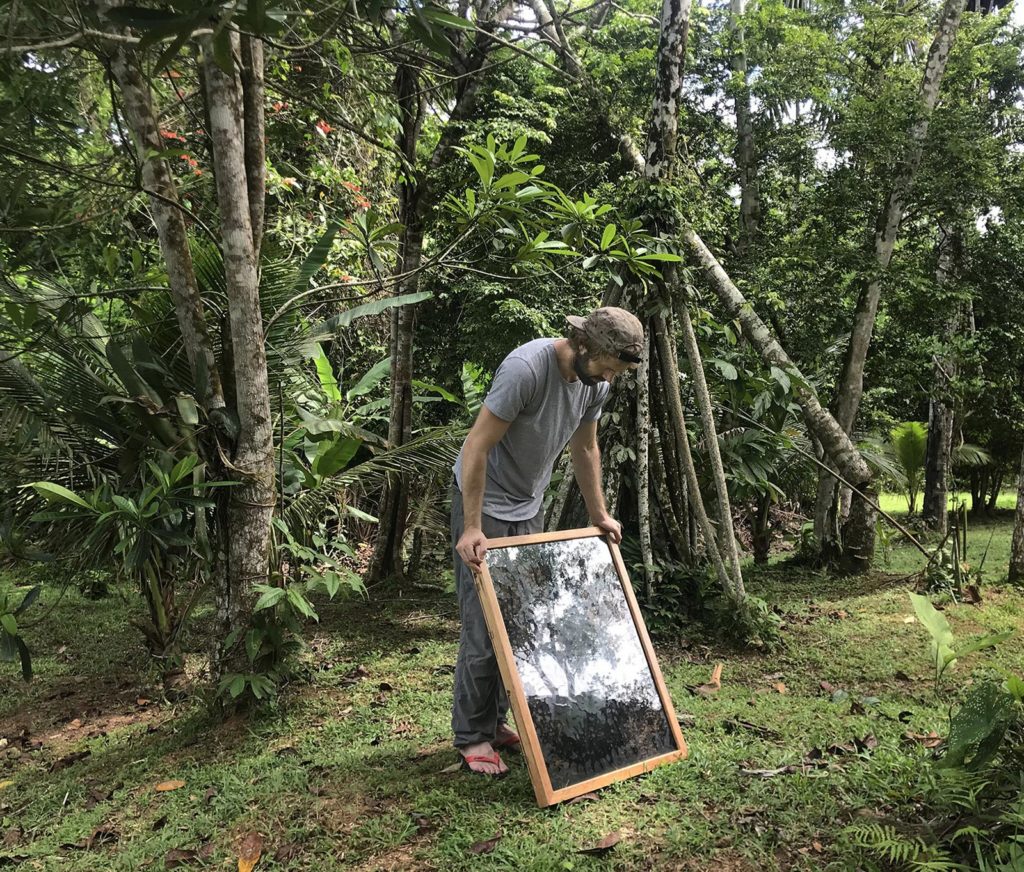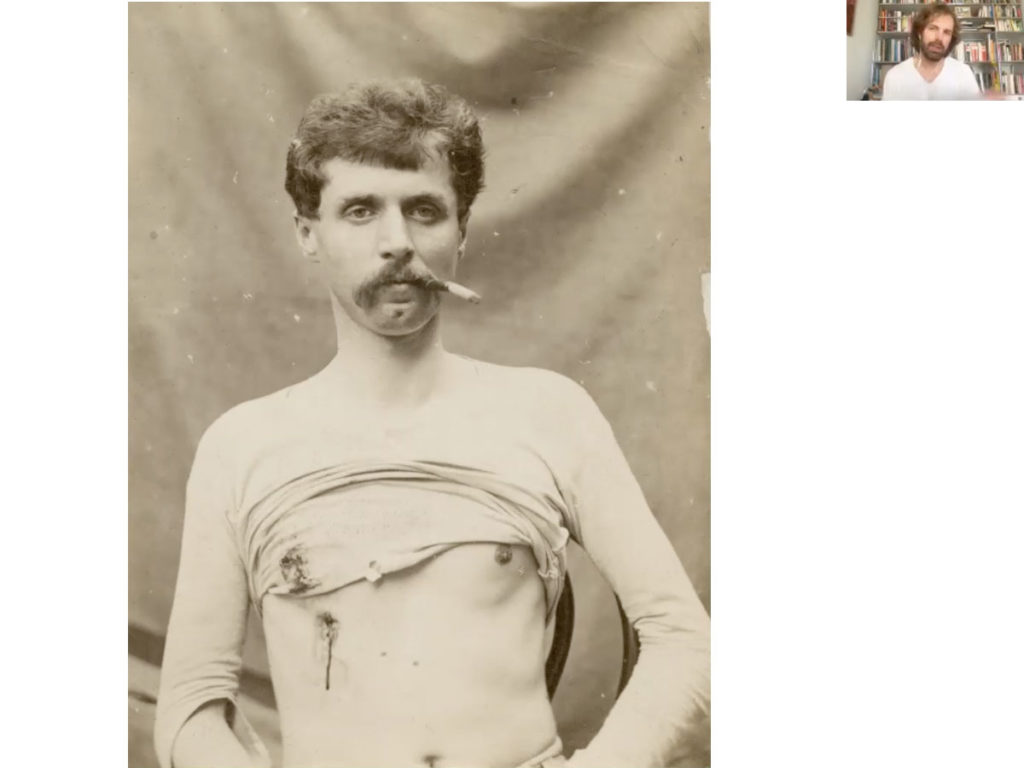 Gross' most recent project Aya takes place in the Amazon, where he has made a previous work called The Jungle Book. Together with Escadón, they question their position as Western photographers in relation to their endeavor: How does one break away from visual conventions? How to portray contemporary Amazon when staying mindful of the intertwining photography history and colonialism? How to eschew the deep-seated Western fantasy of the Amazon when it has been so prominent in shaping our understanding of the place?
Flipping past the peculiar postcard, we see glimpses of the present-day Amazon. The winding river resembles a huge serpent from afar. Behind curtains of smoke, languid bodies appear to be waiting for something to happen. Moody shades of blue wrap the place in an eerie dream, but the jungle is no romantic place, it is full of deep, dark secrets. While atmospheric, photographs of the already visible do not provide a viable answer to these fundamental questions. The duo reckons their quest might be developing a new language, visually and materially: an organic photography process.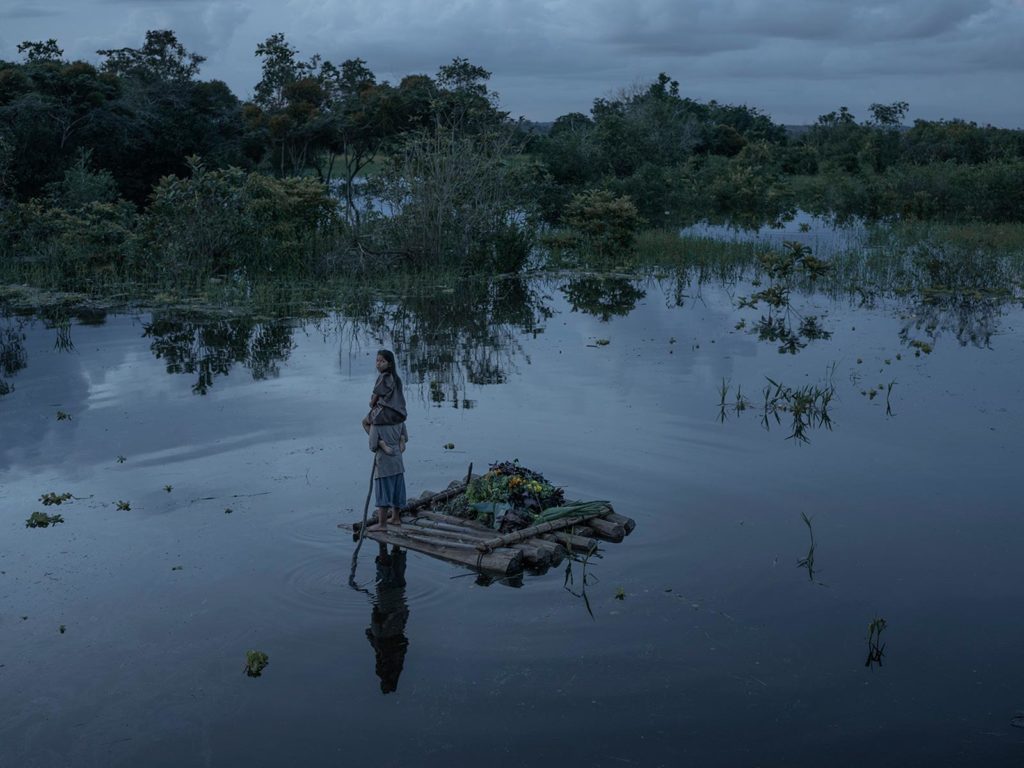 With the help of indigenous communities, Gross and Escadón collect plants with photosensitive properties, then set up a field laboratory to conduct various printing experiments alongside shamanic rituals. The manual book reads: "If you want to learn about plants, you have to prepare your body. Each plant has its own spirit and personality, they might talk to you". Following the instruction, they surrender to the forces of the jungle, braving insect bites and consuming plants indigestible for city kids' stomachs. After repeated failures, images finally appeared and stayed on paper – the much awaited fruits of their botanical research. The prints are grainy, green-tinted, almost impressionistic. They look fragile as if natural pigments would soon evaporate into thin air.
The book is interspersed with portraits from Kroehle's archive, reportedly the first mechanically produced images of aboriginal people. Their eyes were fixed on the camera, a little fearful, but more poignant. Their "aya" stare back at us and don't go away. Situated on the Amazon landscape today, the 19th-century portraits imply the symbiosis of entities coexisting in the forest, both dead and alive, human and non-human. This is the duo's way of coming to terms with Kroehle's contentious legacy and even their common desire "to travel the world in search of an absolute elsewhere", written Arnaud Robert in an accompanying essay.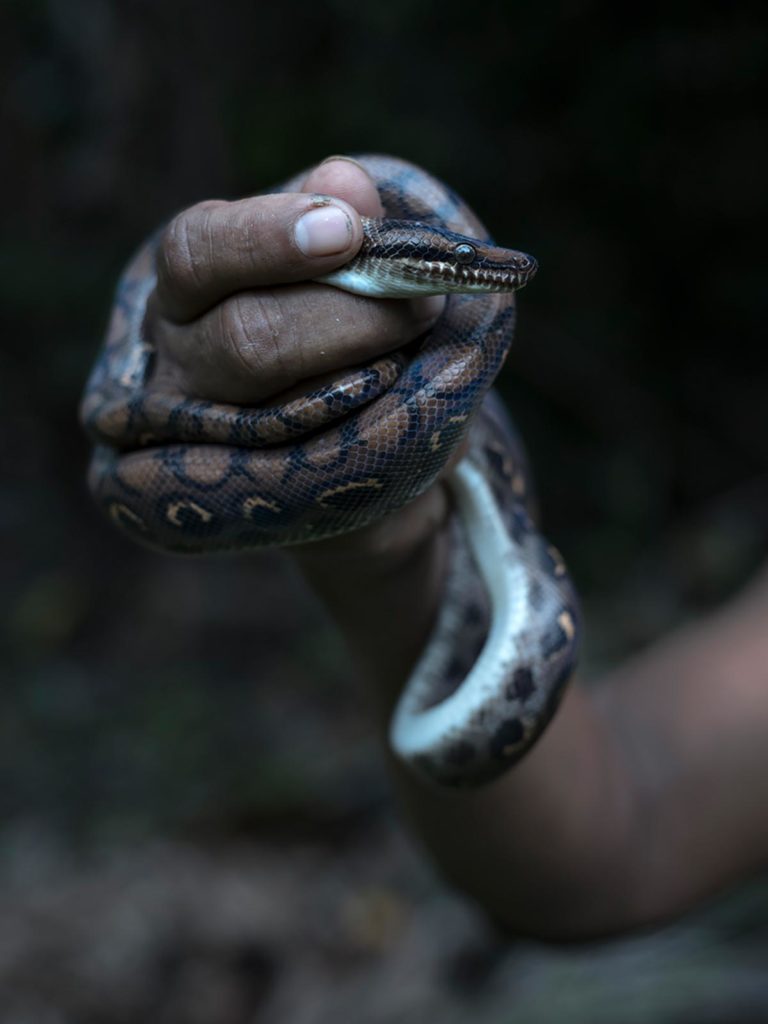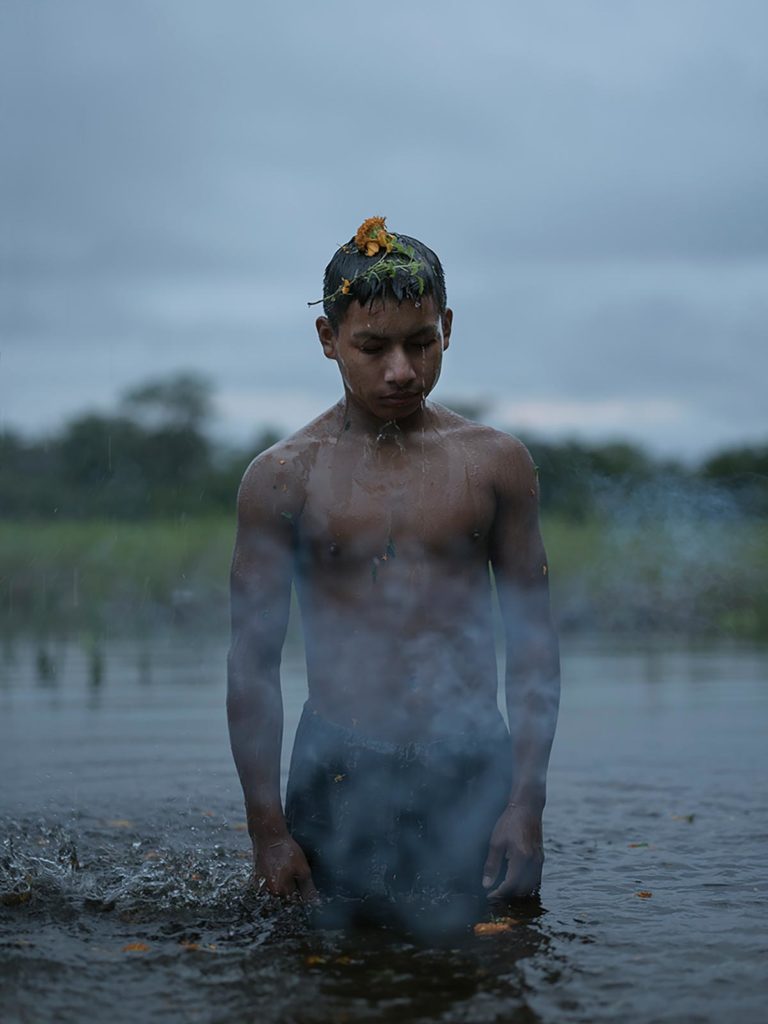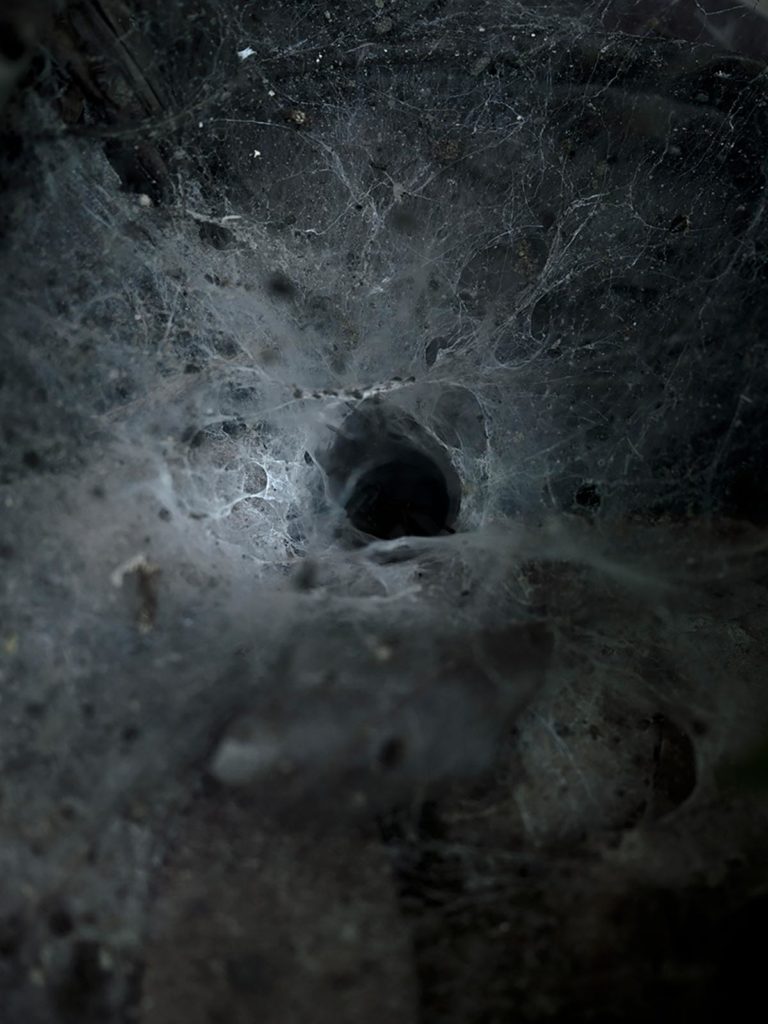 Aya is styled after a soldier's pocketbook with a sturdy hardcover and a utilitarian snap closure. Reproductions of organic prints, letters, and archive photos are adeptly tipped in, creating a sense of discovery throughout the book. It evokes intimacy similar to a travel diary while touching on broad topics such as the human-nature relationship, the interconnectedness of things, and the near-impossible task of capturing the essence of the forest using a mechanical tool.
It all might sound a little idealist, but a lightness comes with letting go of the ambition to create breathtaking visuals. In Aya, Gross and Escadón go back to the fundamentals by seeing, feeling, responding to the world in a less self-centered way. Their new creative process is guided by intuition and "the trust in the jungle to reveal itself", said Gross in a previous interview. Confronting the strange and the sublime, they are met with confusion and occasional moments of profound understanding.
*Yann Gross' artist talk takes place as part of the Swiss Photobook Today exhibition co-organized by the Swiss Arts Council Pro Helvetia and Matca.
---
Through photography, installation, and video, Yann Gross explores, often in an offbeat way, how humanity shapes its environment and develops its identity. His projects deal with the construction of the imaginary and a certain desire for escapism. He currently resides in Switzerland and the Amazon rainforest.