Last Sunday 19th November 2017, scholar Zhuang Wubin has held a book introduction of Photography in Southeast Asia: A Survey, an independent 12-year effort to explore and document photographic practices in 10 countries, from colonial to contemporary time. In the chapter "Vietnam", Zhuang also starts with the pioneers Dang Huy Tru and Khanh Ky, to war photojournalists and artist photographers, to post-Doi Moi visual artists and documentarians. But what is the Vietnameseness in photography in Vietnam and does it exist at all? Zhuang Wubin speaks about his approach to this ambitious project and the attempt to record "unofficial histories" of the region.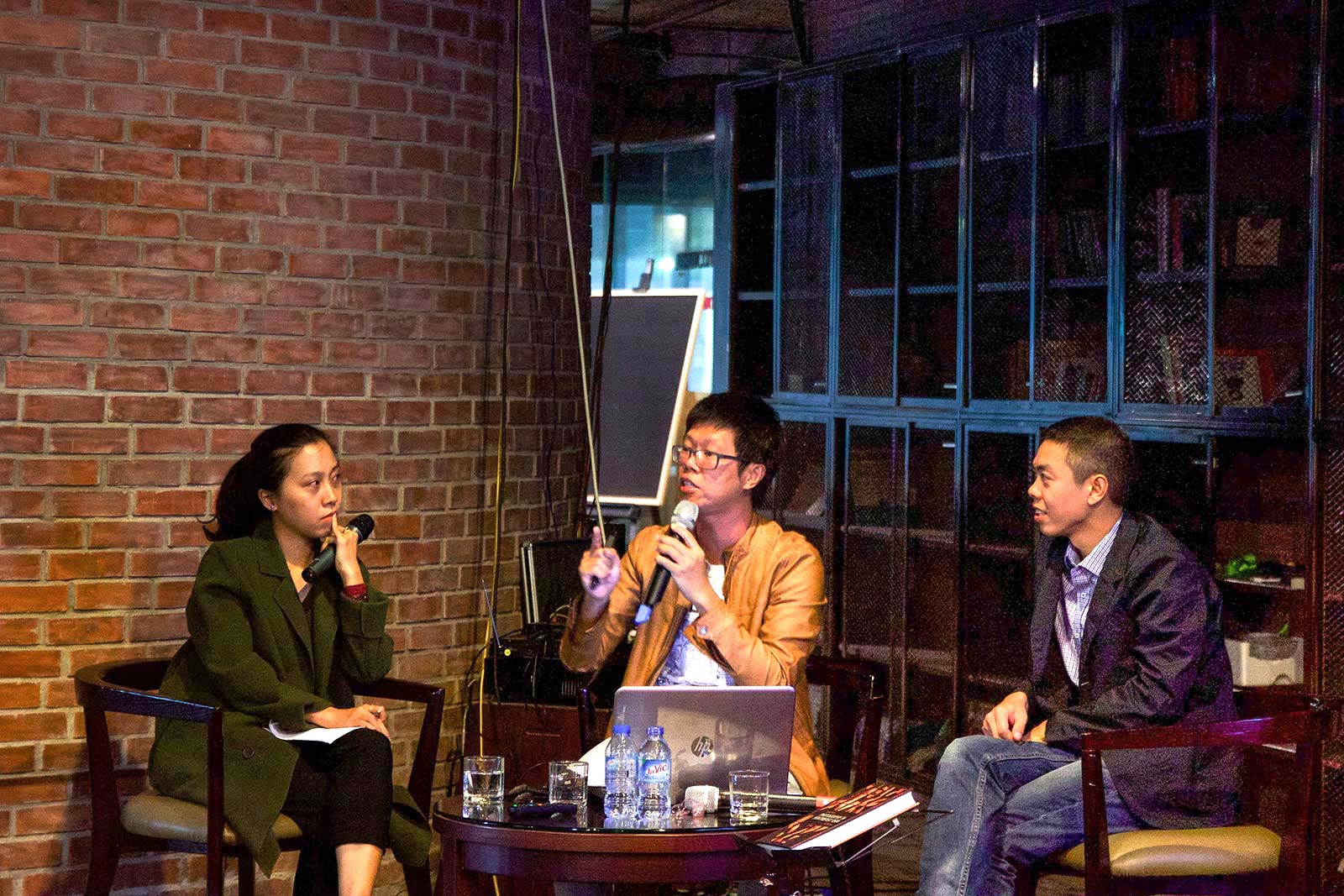 This project lasts for more than a decade, largely without any institutional and financial support except for the 1-year grant from Prince Claus Fund. There must have been some other motivations besides your innate curiosity and emotional attachment to South East Asia.
I don't want to sound too self-indulgent, it's not an indulgent project. But I have the skills of writing, reading, interviewing and taking photographs, and I want to make use of these skills to do something that will be helpful in the future. For me, staying motivated for a long time is not a big challenge, as most of my writing or photographic work is usually long-term. Maybe it's because I'm a Capricorn.
Why do you choose to divide the book by nations and what's the pros and cons of your approach?
I decide to do chapters by nation, but I know that it is problematic. Photography was invented before the idea of the nation or the idea of the region, so both Vietnam and Southeast Asia as we know them now did not exist at that point. How do you write about Vietnamese photography if the idea of a reunified Vietnam is only 40 years old? If you look at the narrative of Vietnamese Association of Photographic Artists (VAPA), it is always about the essence of Vietnam or Vietnamese photography. Think about it: photography was invented in France. You take a Western-invented medium and bring it to Vietnam, how is it Vietnamese? What is Vietnameseness anyway? Can you include the Hoa (Chinese) studio photographers in Cho Lon, are they part of the Vietnamese history? That's the difficulty of defining Vietnam as a country, as a chapter.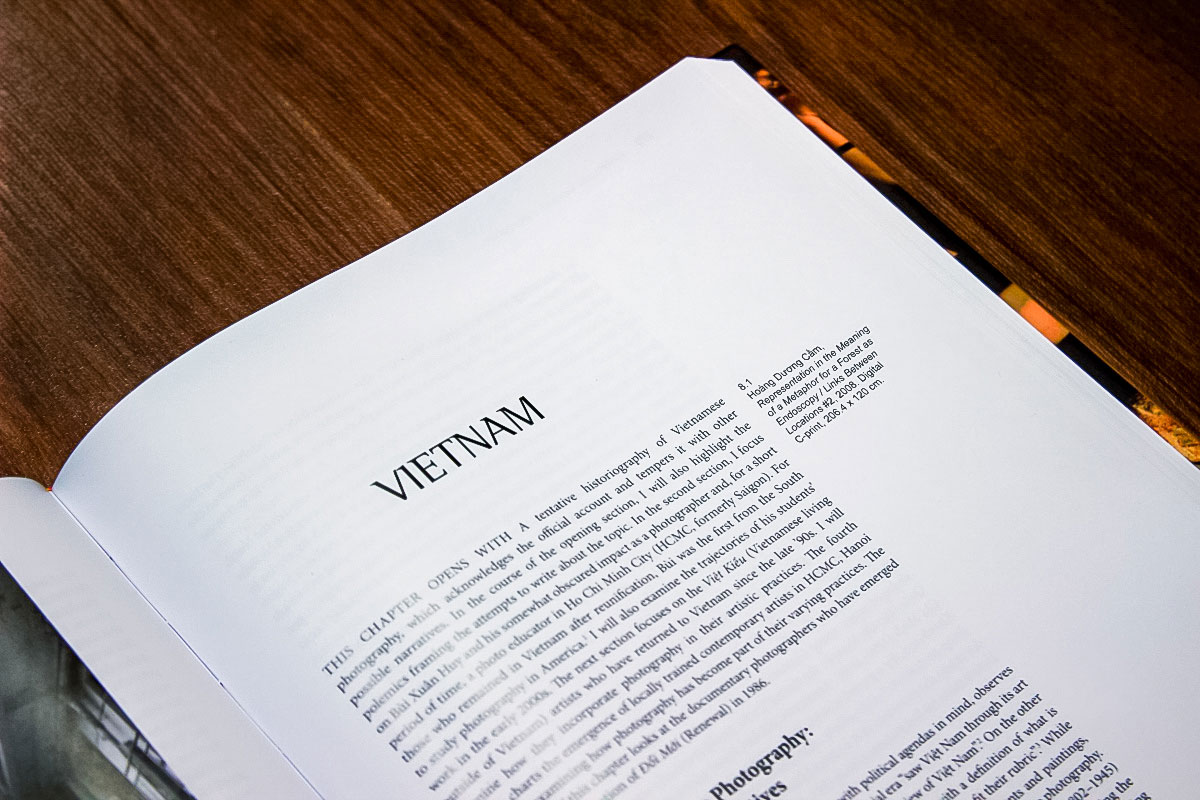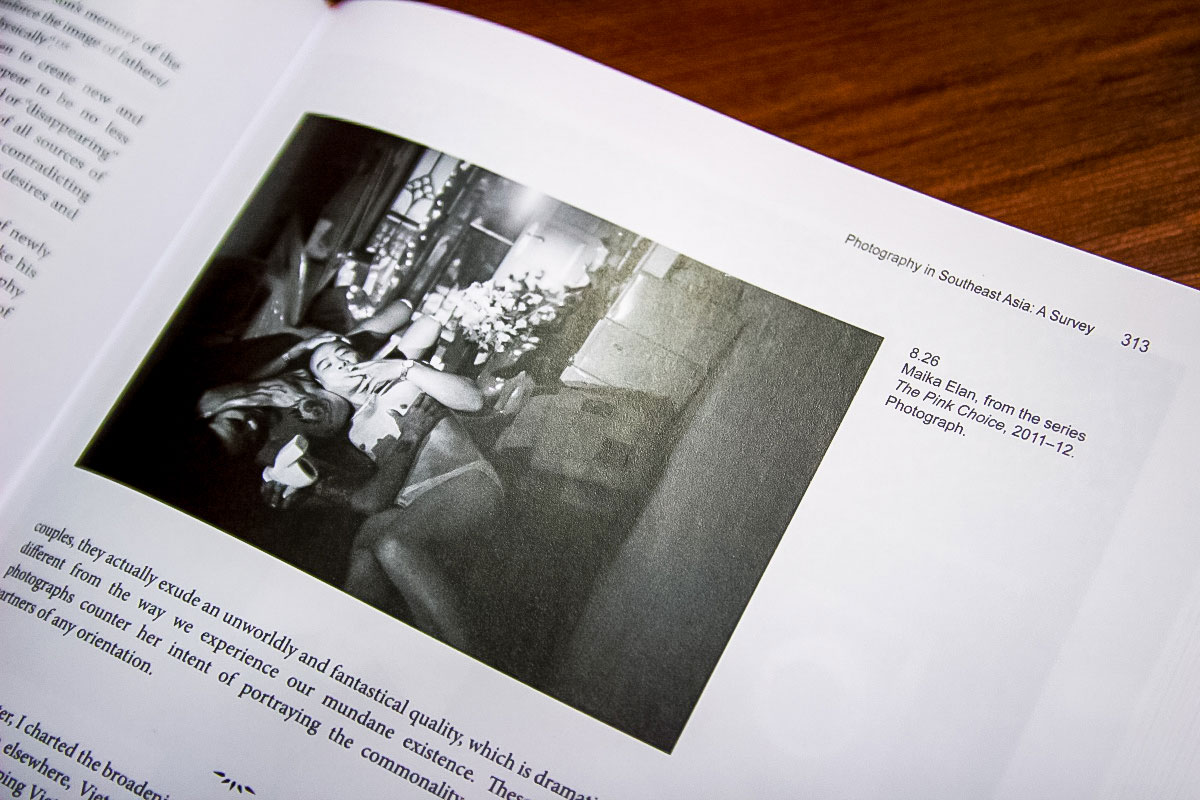 Can national borders influence the practice of local photographers? Is there anything particularly Vietnamese about Vietnamese photography?
Writing about photography is interesting in the sense that it always involves something else. The conversation about Vietnamese photography is actually one about Vietnamese culture. The funny thing is, anytime I come to Vietnam to do a workshop, surely there'll be someone saying "I want to do something that shows the essence of Vietnamese culture". I ask, "Ok, what do you want to photograph?". "Temples". "Are temples really Vietnamese?". "Ah no no, food. Banh mi". "Is banh mi really Vietnamese?".
The problem with a book like this is I seem to give an impression that there is something unique to Vietnamese culture or photography. Of course, you have your own historical events that shape the identity of Vietnamese photography. But we have to think of photography as an international medium. Even a practice like salon photography is international.
What you call "salon photography" is actually termed art photography in Vietnam, to differentiate from photojournalism. Can you specify your use of the term?
The original term is Pictorialism, a movement popular in the West in the late 19th century. The idea is to elevate the status of photography to art and its followers differentiate themselves from commercial photographers who take postcard photos and all that.
Salon photography is the term from Hong Kong – the number 1 center for salon photography, where there are people like Fan Ho. It is widely used in Hong Kong, Taiwan, Malaysia and Indonesia.
How salon photography becomes popular in Vietnam is more or less the same in Southeast Asia. As a salon is a gathering place for artists, the thing with salon photography is that they always set up clubs, like Vietnamese Association of Photographic Artists (VAPA) or Hai Au, a collective for female Vietnamese photographers. And then, competitions. If you submit your photos to a competition and win, you can say you are an award-winning photographer and do commercial work, work for the newspaper or the government. In Vietnam, a lot of photojournalists have original training in salon photography – even Vo An Ninh, the founding father of modern Vietnamese photojournalism. In an interview with scholar Nina Hien, he said his main practice is landscape, particularly photographing Mui Ne sand dunes. It doesn't matter if you want to do commercial work or photojournalism, you don't have much option but to join VAPA. That's how salon photography becomes influential.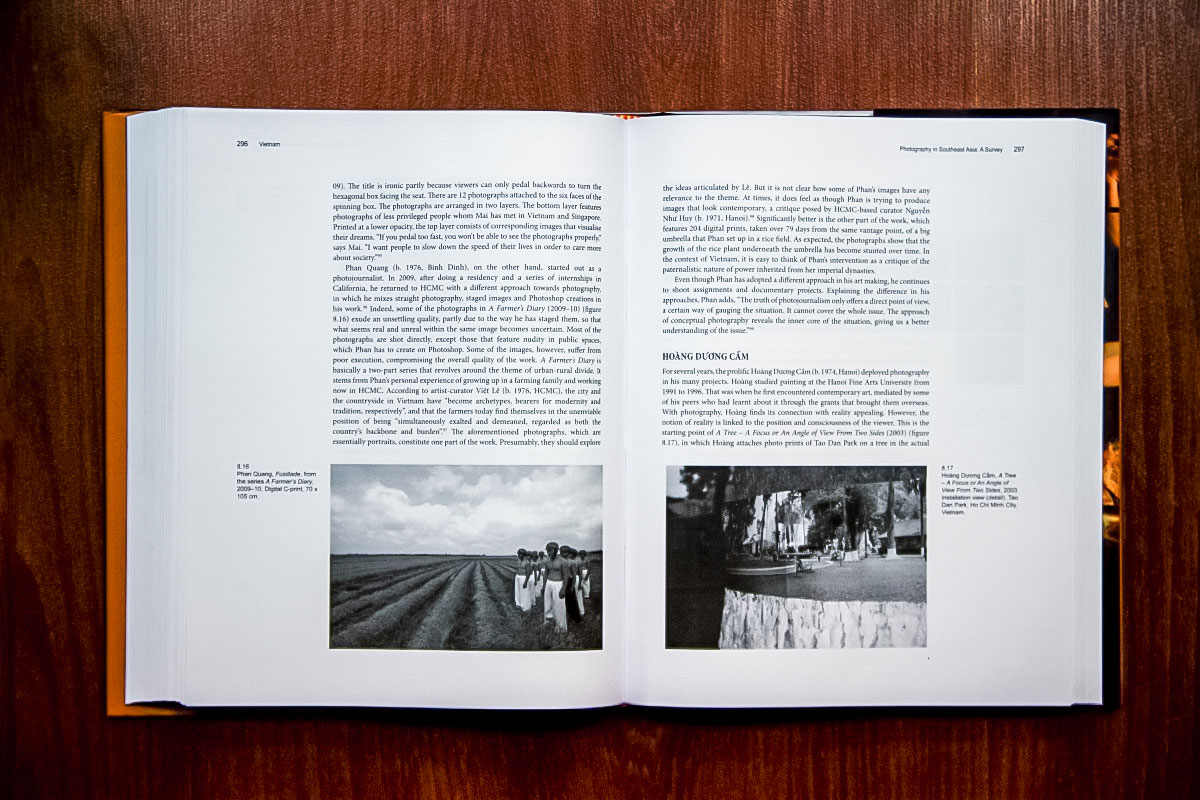 A lot of Vietnamese learn photography from the Internet and look at work of Western photographers. Elements like the decisive moment, juxtaposition between shadow and light and multiple layers become the standard. What's your take on that?
On one level, it's inevitable that Vietnamese photographers try to emulate Western photographers. It is much easier to find people like Salgado, Cartier-Bresson and Robert Capa on the Internet than Daido Moriyama for example. You need Chinese to find photographers from China and Bahasa to find photographers from Indonesia. English influences what access you have. It is my problem too because I have no command of Vietnamese, but trained as a journalist, I always try to do as much field work and fact-checking as possible.
I cannot blame photographers for trying to copy Western photographers. Western photographers are easier to find, but at the same time, there is this desire to make it in the West, to be published on New York Times, National Geographic, TIMELightbox…. And how do you succeed in the West? You try to satisfy Western audience. It's simple.
As a Vietnamese who has an interest in the local photography scene, I am unfortunately not familiar with half of the photographers featured in the Vietnam chapter. And sometimes it's impossible to find work of a major figure like Bui Xuan Huy online. I feel that there is a knowledge gap, that some parts of the photography scene remain undocumented. Do you feel the same while working on this book?
You have to realize that VAPA have been trying to write Vietnamese photography history for many years with their books and publications. But at the same time, while they write the official history, there is also an unofficial, unrecorded history.
I don't go with the idea of trying to write a biblical record of Vietnamese photography history. From my limited time and limited information, I'm only trying to give readers a sense of the diversity that has existed. Of course there will be other Vietnamese photographers that I don't know. But the important job for local photographers now is adding to the conversation. That's how knowledge works and ideally you want a Vietnamese to do this.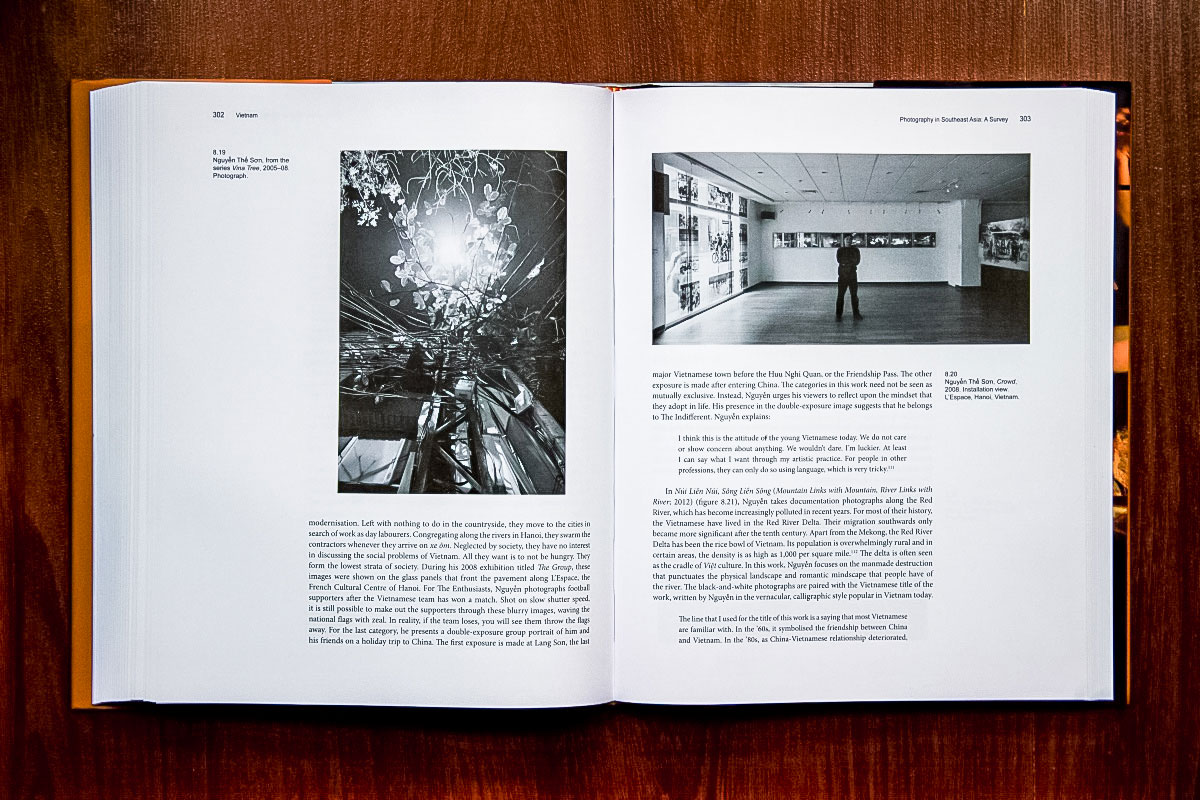 You interview quite a lot of Vietnamese photographers but only a certain number makes it into the book. What is the rationale behind your selection?
The book is a limited project. It only has 524 pages. I want to include photographers from the North and South and Hue, the Viet Kieus and the locals, war photographers and art photographers. If you ask me, now I'd like to add a wave of female photographers in Saigon.  
I include photographers and visual artists who use photography in their practice, and many of these people are not even working professionals. I don't care if you're professional or famous, I only look at what you do as an image maker, whether it's interesting, whether it helps me to map the diversity there is. Diversity is important because it challenges the one-line narrative of VAPA. If you think of VAPA as the main, central narrative, the book could be a record of various attempts to move away from such practice.