In the last afternoon of October, I am finally able to find the most veteran film camera repairer of Saigon at Phi Bang store at Huynh Thuc Khang st, district 1. As his address changes all the time, I have to struggle with outdated information on the Internet, not having any mutual personal connection with the old technician.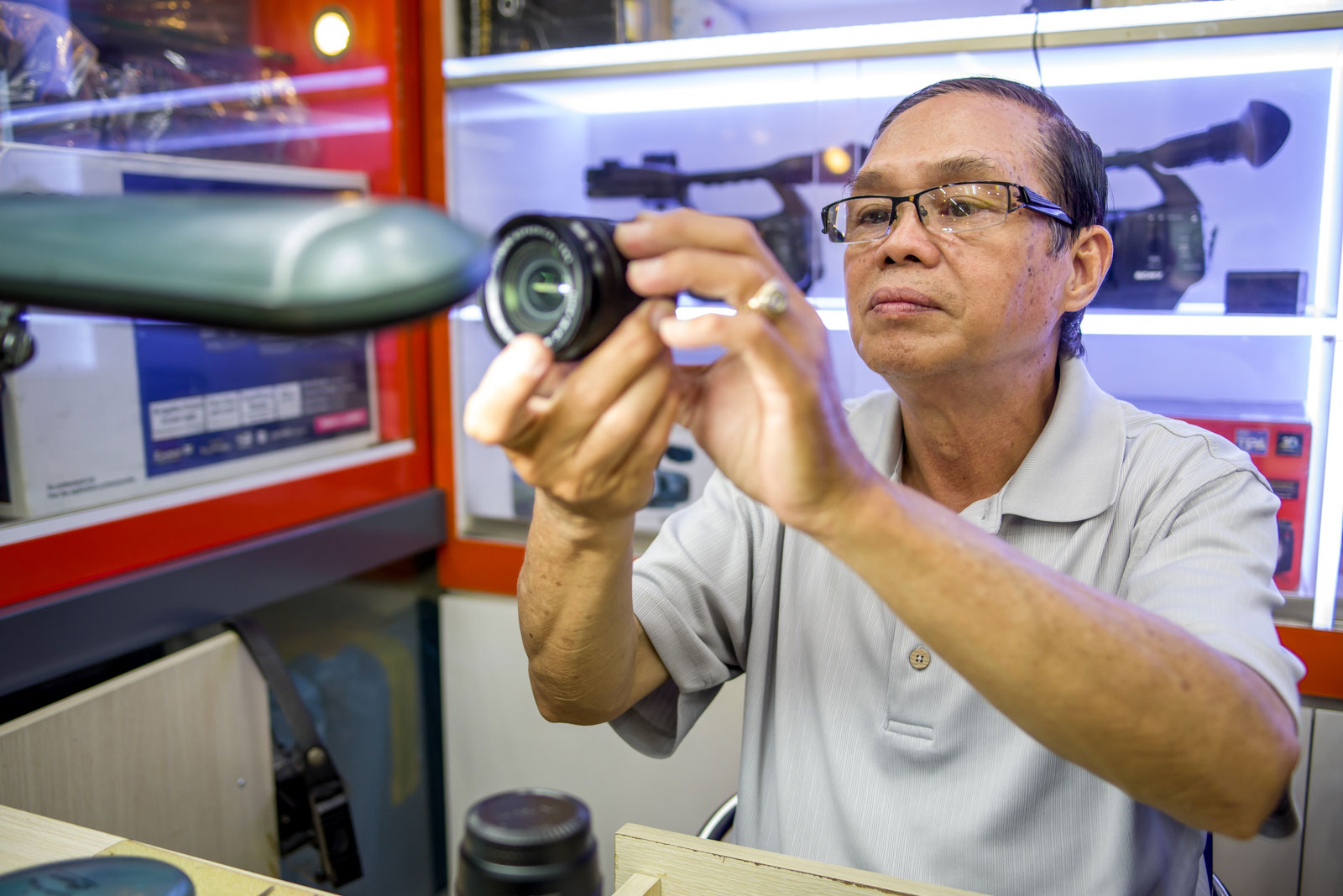 There he is, sitting in a small corner behind a closet where his tools lie, attaching a cardboard that reads "Repair cameras". I walk in the moment he is just done fixing one. After exchanging a few words and knowing my intention to interview him, he smiles and quietly cleans up his tiny workspace. Our conversation continues on the background of distant sounds from the radio. A sense of nostalgia fills the atmosphere.
This is a story of a young boy originally from Hai Duong who grows up here in Saigon and takes up camera repairing by chance at the age of 20. It is 1972 then. The boy's name is Nguyen Van Tan, now 65 years old, who is referred to as "uncle Tan camera repairer" by the film photography community.
45 years ago, uncle Tan learns the craft from two masters Nguyen Van Cua and Loc Thanh in Saigon, who are perhaps only known by photographers of the past generation. After 5 years studying under their tutelage, he starts working independently in 1977. He has sticked with the career ever since, not giving up even once. Repairing cameras to uncle Tan is not simply a day job but a vital part of his life. "Analog cameras are really interesting, they are complicated and have many problems to fix. The more I do it, the more I enjoy it, I would feel bored without doing my job", he shared.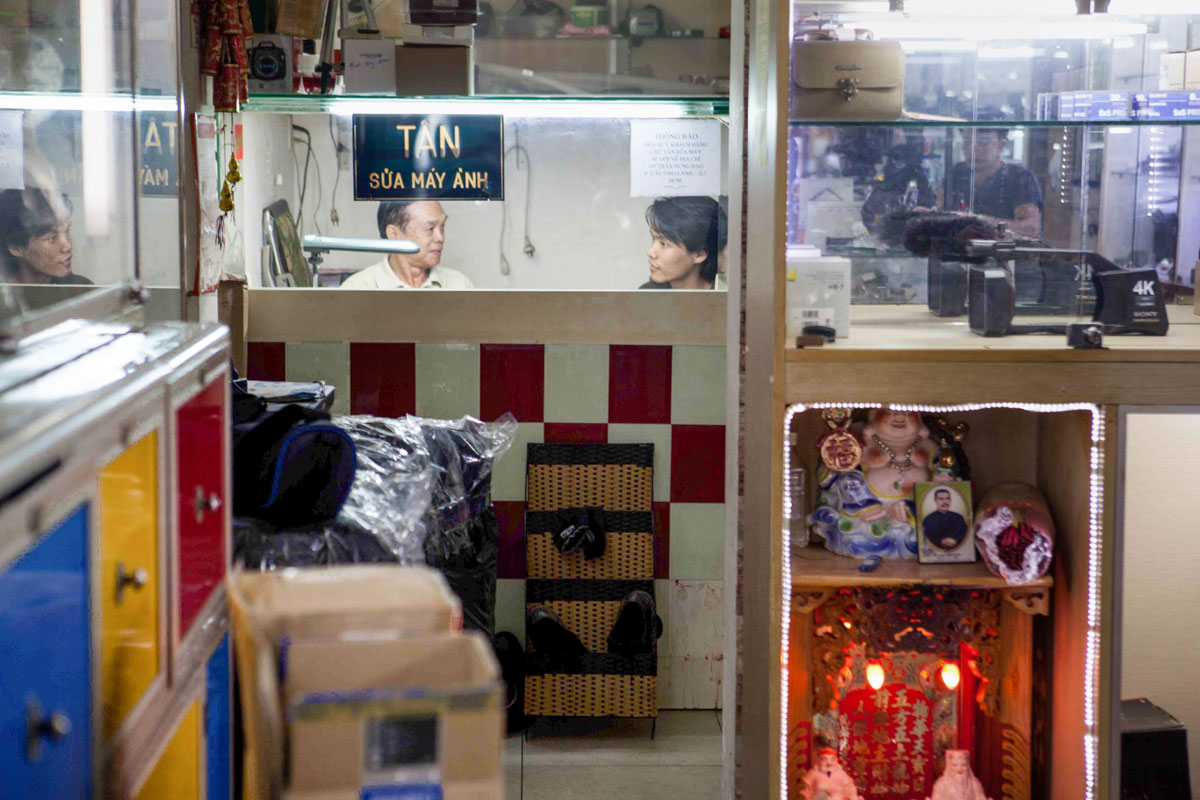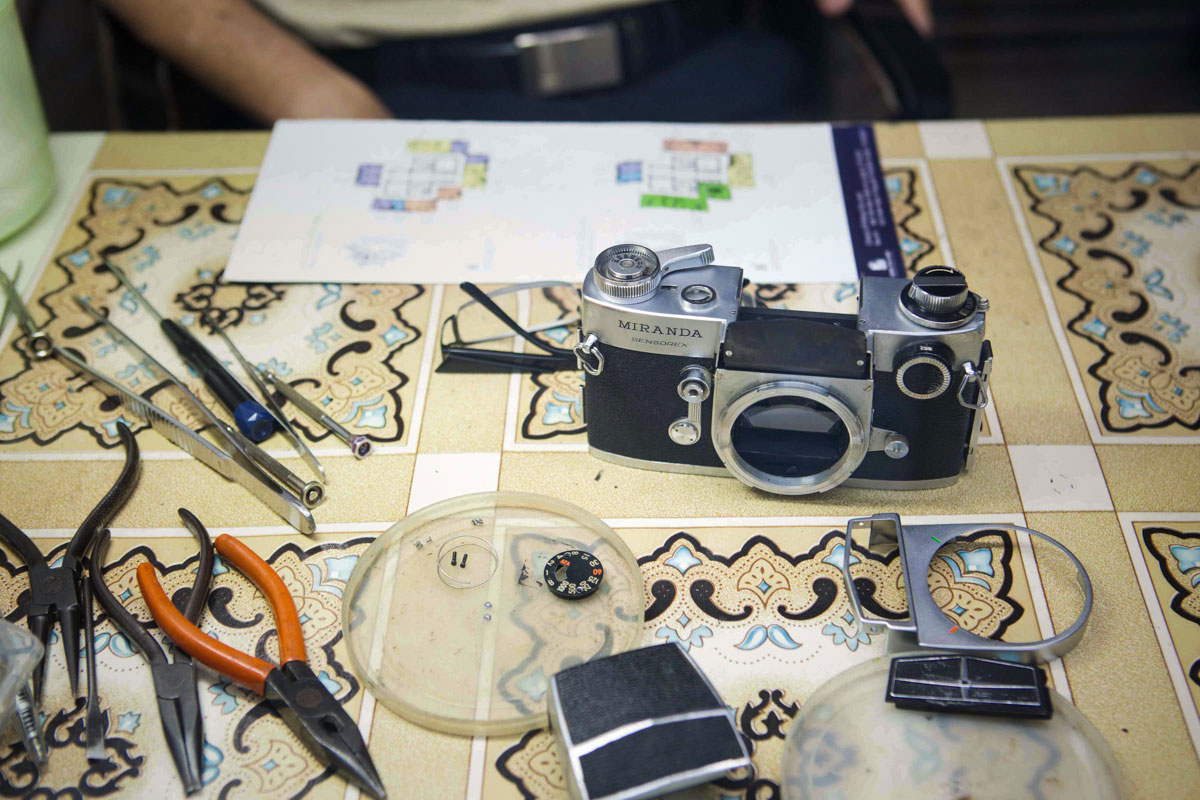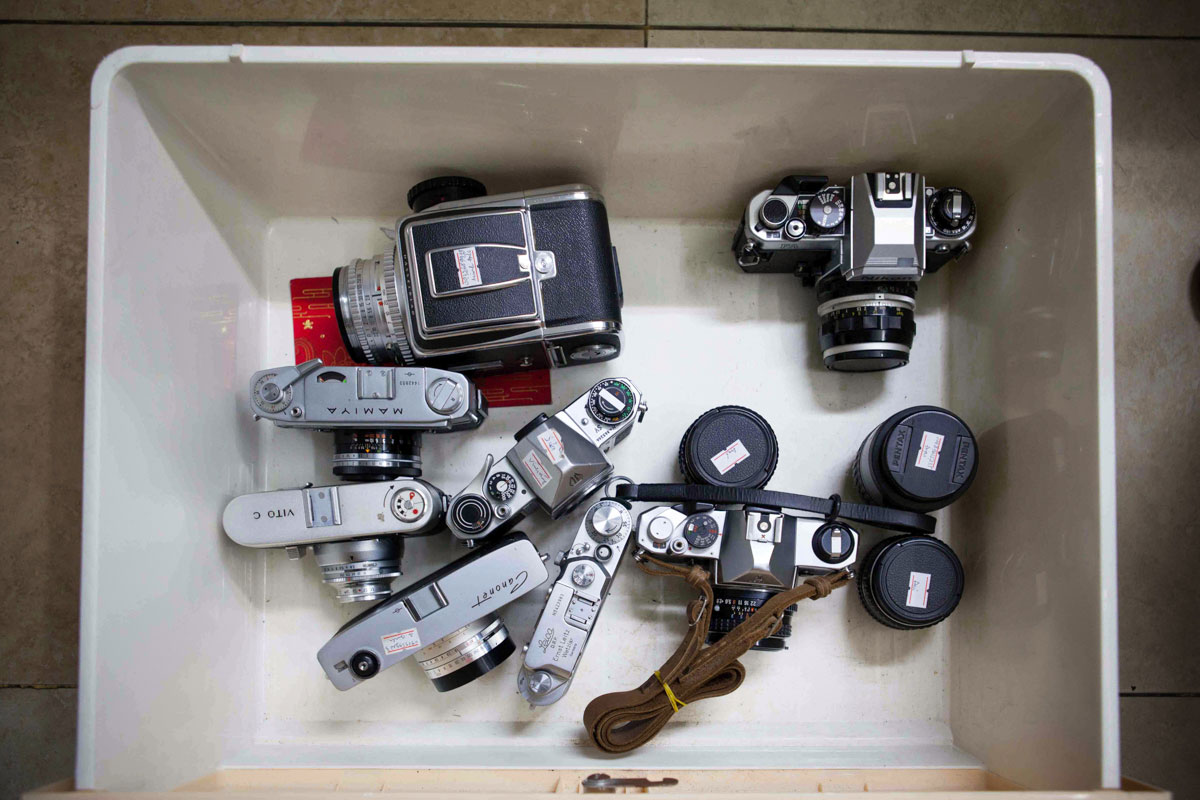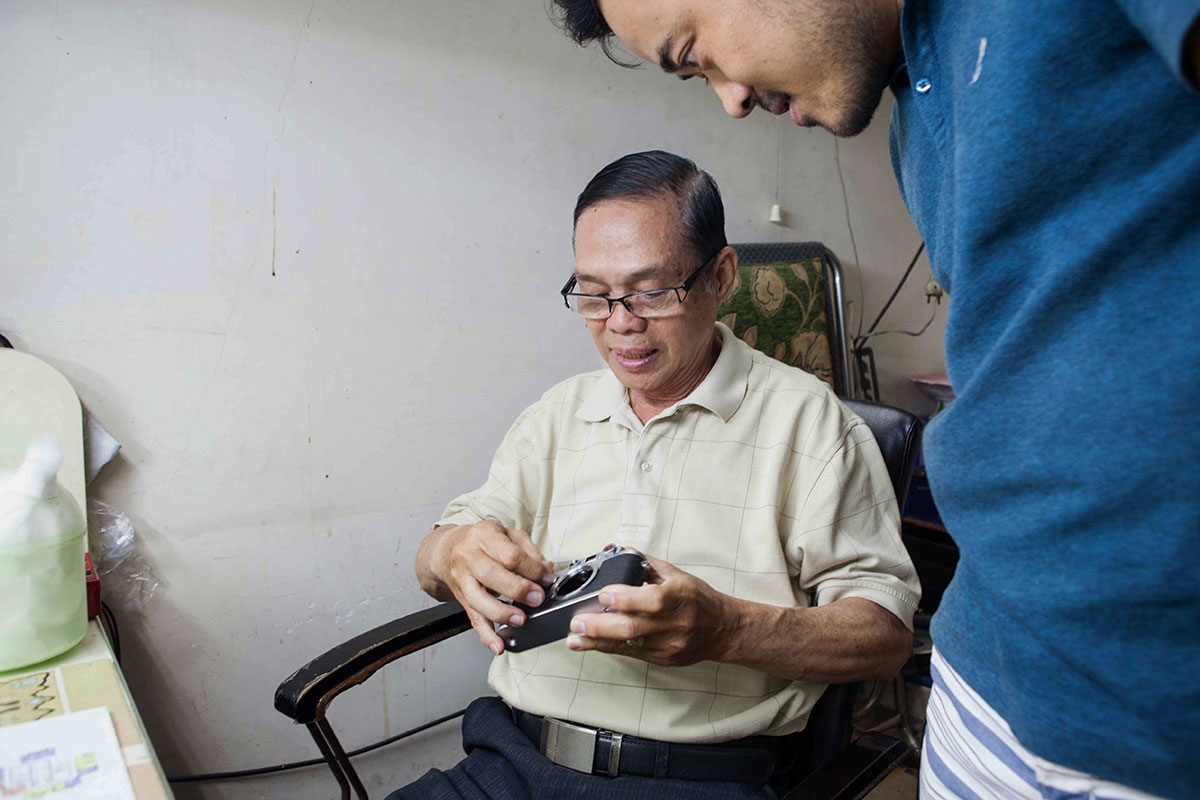 After mastering fixing analog cameras, he has experimented with other types of cameras only to return to analog again, which he considers the most intriguing machine. To uncle Tan, when digital cameras break down, the parts will most likely be replaced with new ones so that cannot be called repairing. But with film cameras, he can take the parts out, fix them, put them back again. There are also more functions that need troubleshooting like the aperture, speed and light meter. After many years of experiences, now he only needs to glance at a camera to know if it will work again. He would polish it until smooth and shiny before returning it to the customer. "I treasure my customers' cameras like my own, even if I'm done fixing I cannot let them be dirty. It feels so good to hold a completely amended camera", he smiles.
Investing that many emotions in cameras, he rarely turns down anyone's order except those that have been tempered with too many times and have no chance of working again. Adept with techniques after many years of practice, his only concern now is whether he would return them in time to customers in great hurry. Sometimes there are people who urgently need their cameras, but he would need a little bit more time or find out more problems to handle. Customers' dissatisfaction is where his job pressure lies.
From strangers like me to frequenters, uncle Tan regards everyone as a friend to strike a conversation. "The more the merrier. There are people who come here once, twice, and keep coming back". People living elsewhere also know about him, and try to send their camera by shipping them to their relatives in Saigon who will then bring it directly to uncle Tan's shop. One of his customers from afar is photographer Long Thanh in Nha Trang, who often sends his precious gear in for cleaning and calibrating.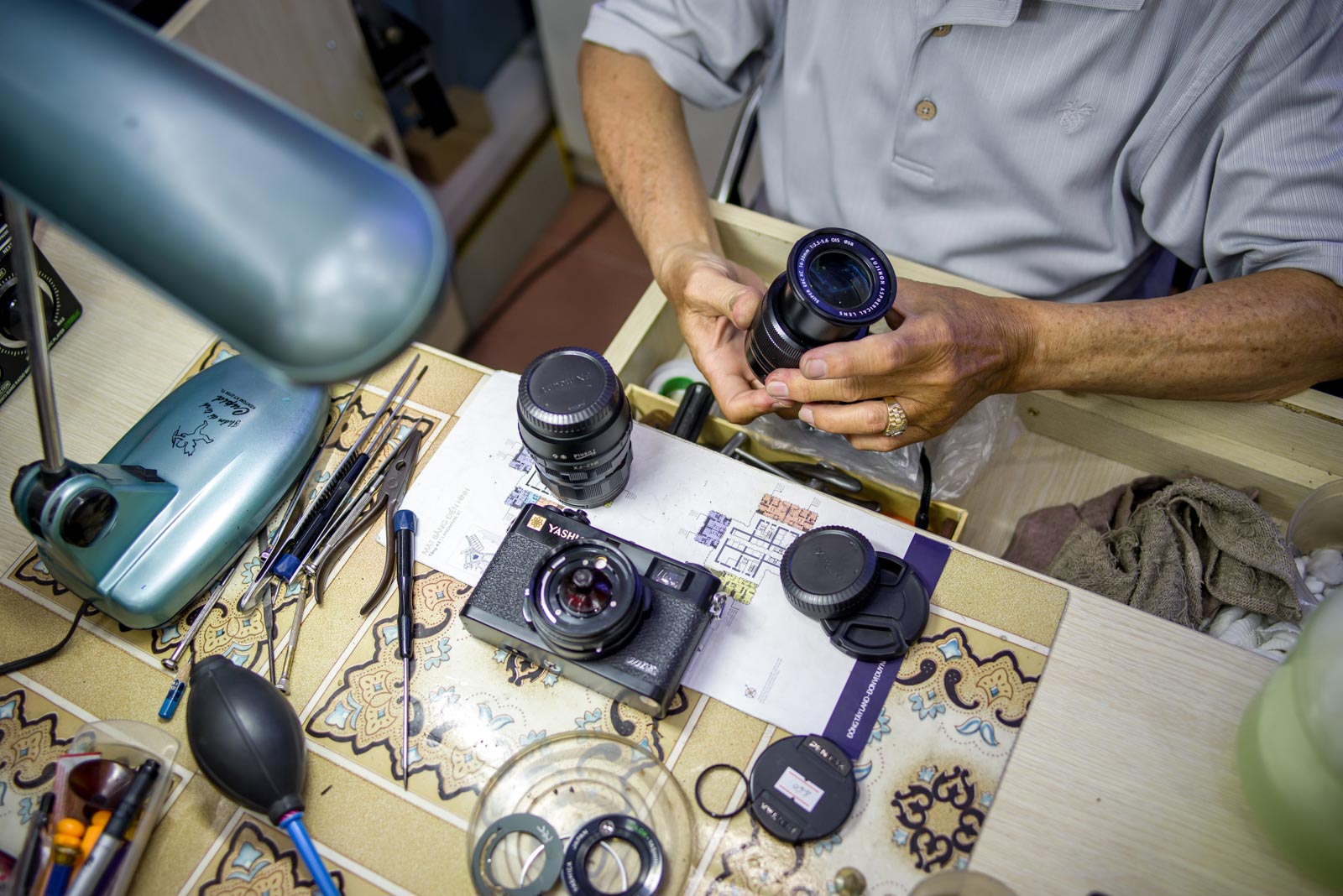 Curious, I ask him further about the ups and downs in the analog camera market and how the dominance of digital cameras have impacted his lifelong career. He reminisces about Saigon in the 70s where camera repairers are scattered around the city. But as long as digital cameras take over, both analog shooters and technicians see a sharp decrease in number. In changing times, most of them move on from this low-profit job for camera sales or other lines of work. When film cameras recently make a comeback among young photographers, professional film camera repairers are few and far between.
He has to switch his address often for many reasons. Partly because he cannot afford his own space, partly because working in a film lab or a camera store benefits both him and the other owner. But when that store moves to another place, he either has to tag along or find a new space. Uncle Tan has sticked with Nguyen Hue – Dong Da area for the longest time and stayed in Huynh Thuc Khang for more than a year now, but is soon moving to Tran Hung Dao st. As a matter of fact having to move is not so convenient, but to a person so invested in his job, it does not really matter.
I also ask him about the future of this line of work and whether he wants to pass down his knowledge to anyone. He shares with a hint of regret: "A few people have asked me to teach them but they only do it for the money, they even want a salary while being trained, so I turn them down". But uncle Tan is by no means pessimistic. He believes that if young people like exploring and love analog photography enough, they will naturally learn to repair cameras, as the tools are very simple and easy to find. The job only takes a passionate heart.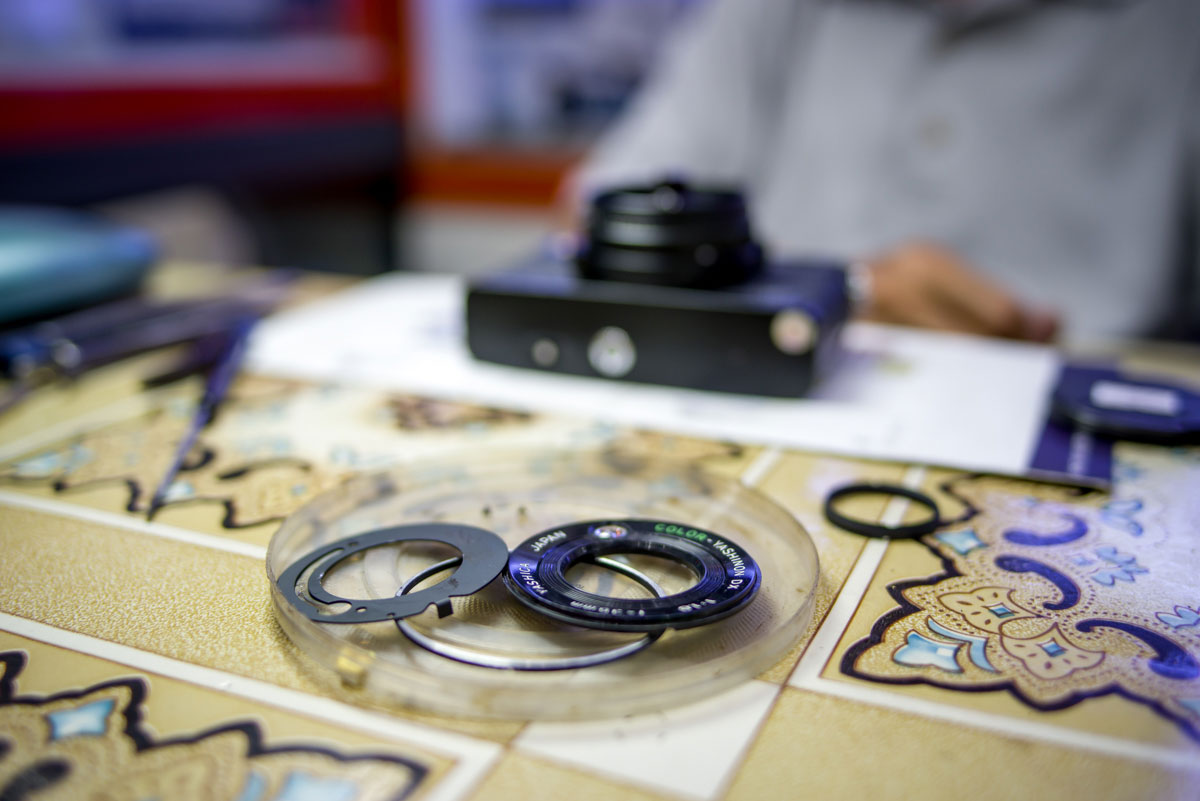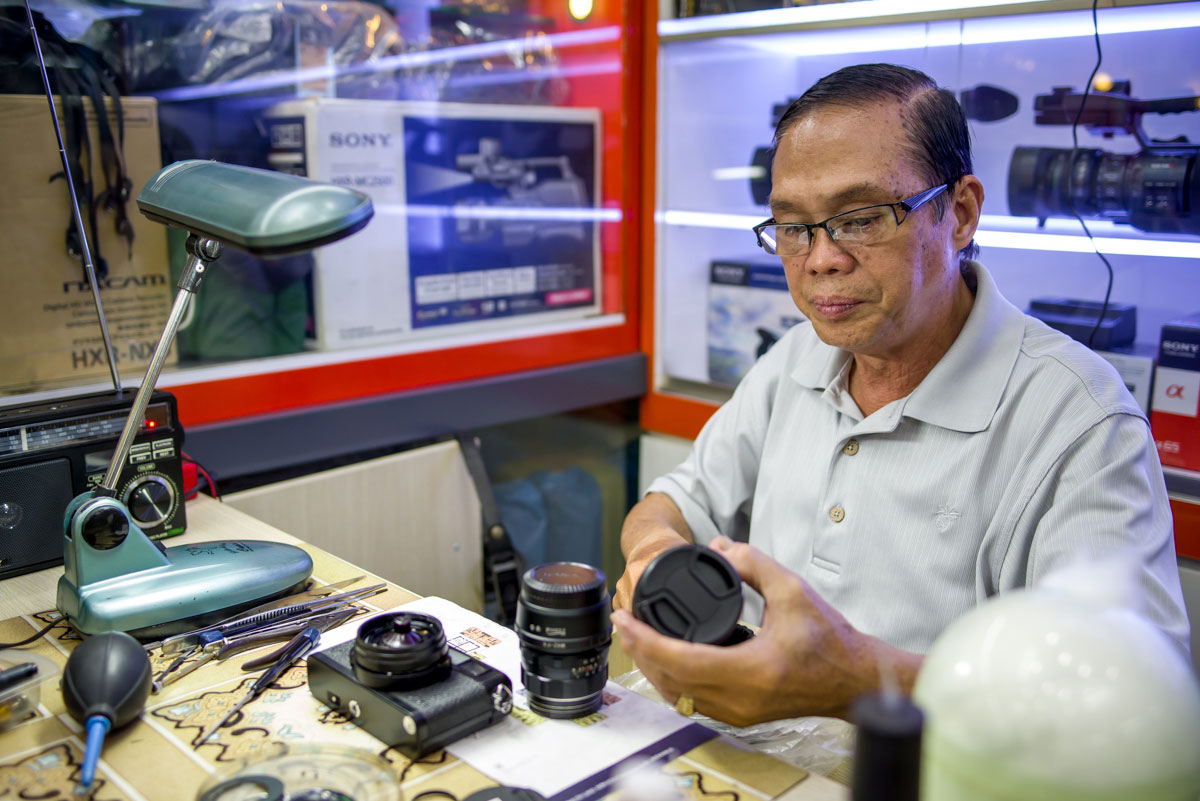 I say goodbye by wishing him good health. Fortunately after many years of dedication, he is still in good shape and able to repair two cameras a day. He does not push himself to hard and tries to adjust his schedule so that he can eat, sleep and exercise in time. After half a decade, his passion for repairing cameras remain intact. "I only fear my health won't allow me, I'm quite old you see, if I'm always healthy I'll keep working forever."
*By the time of this article, uncle Tan has moved to 107 Tran Hung Dao, district 1 together with Phi Bang store.
Lê Nguyễn Phúc Nguyên (Nguyen LNP) is a freelancer writer who loves photography. Born in Dong Ha, Quang Tri, he studies in HCMC and is working there.
Connect with Nguyen via Instagram and Facebook.