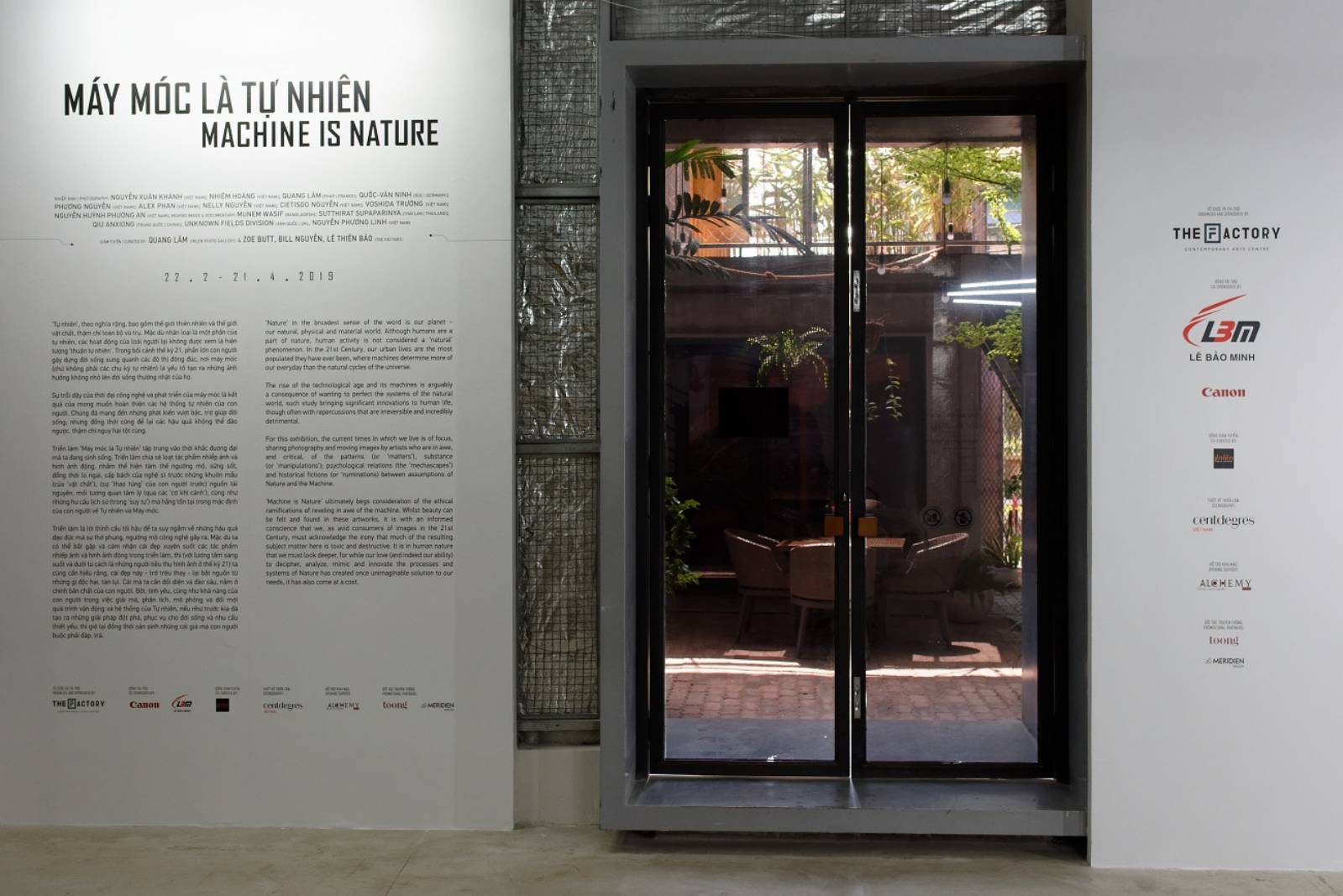 Group photography exhibition Machine is Nature is currently showing from 22/02 to 27/04/2019, at The Factory Contemporary Arts Center – one of the most active contemporary art institutions in Vietnam. With the participation of 14 artists, supported by four curators and a scenography designer, the show is large and ambitious.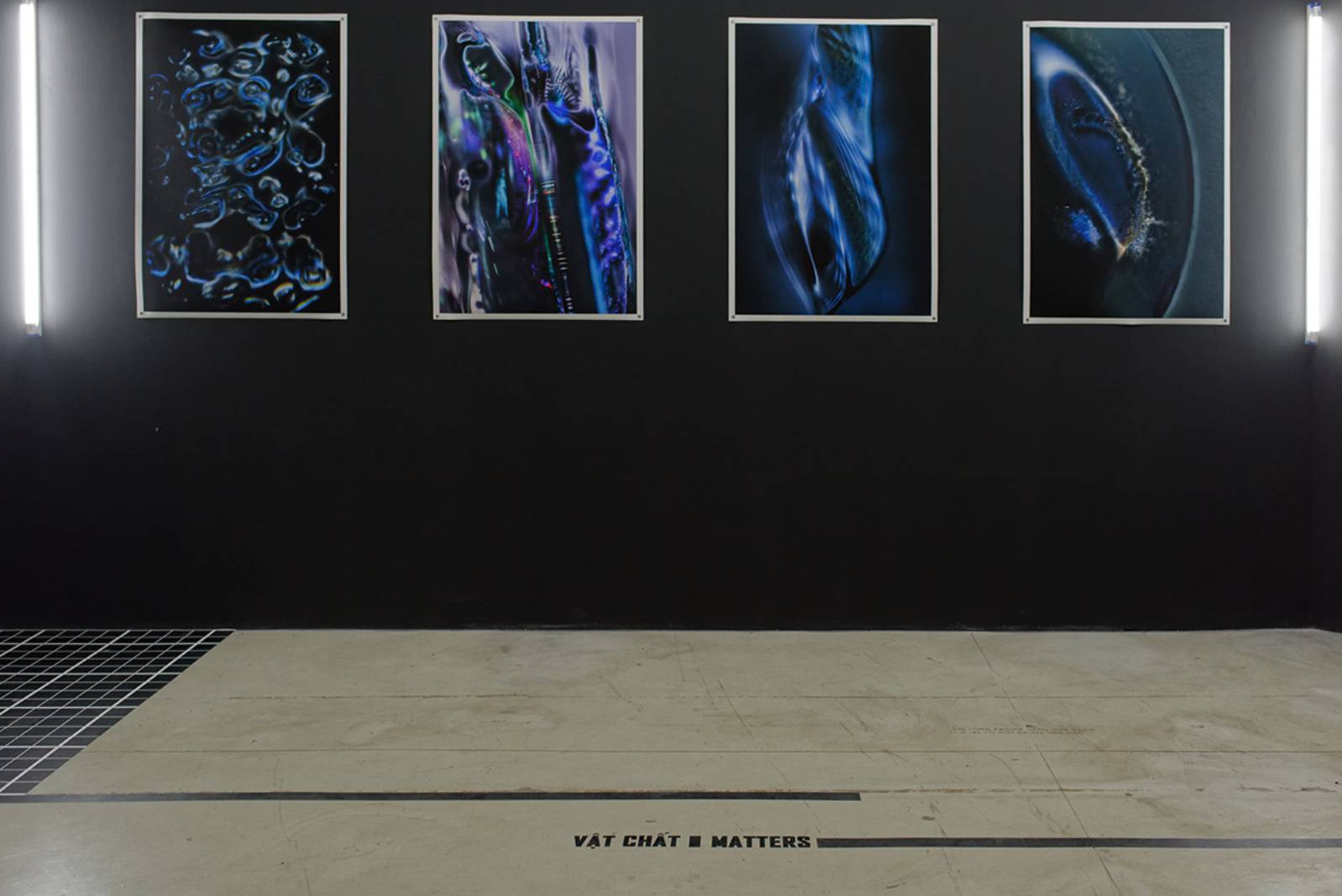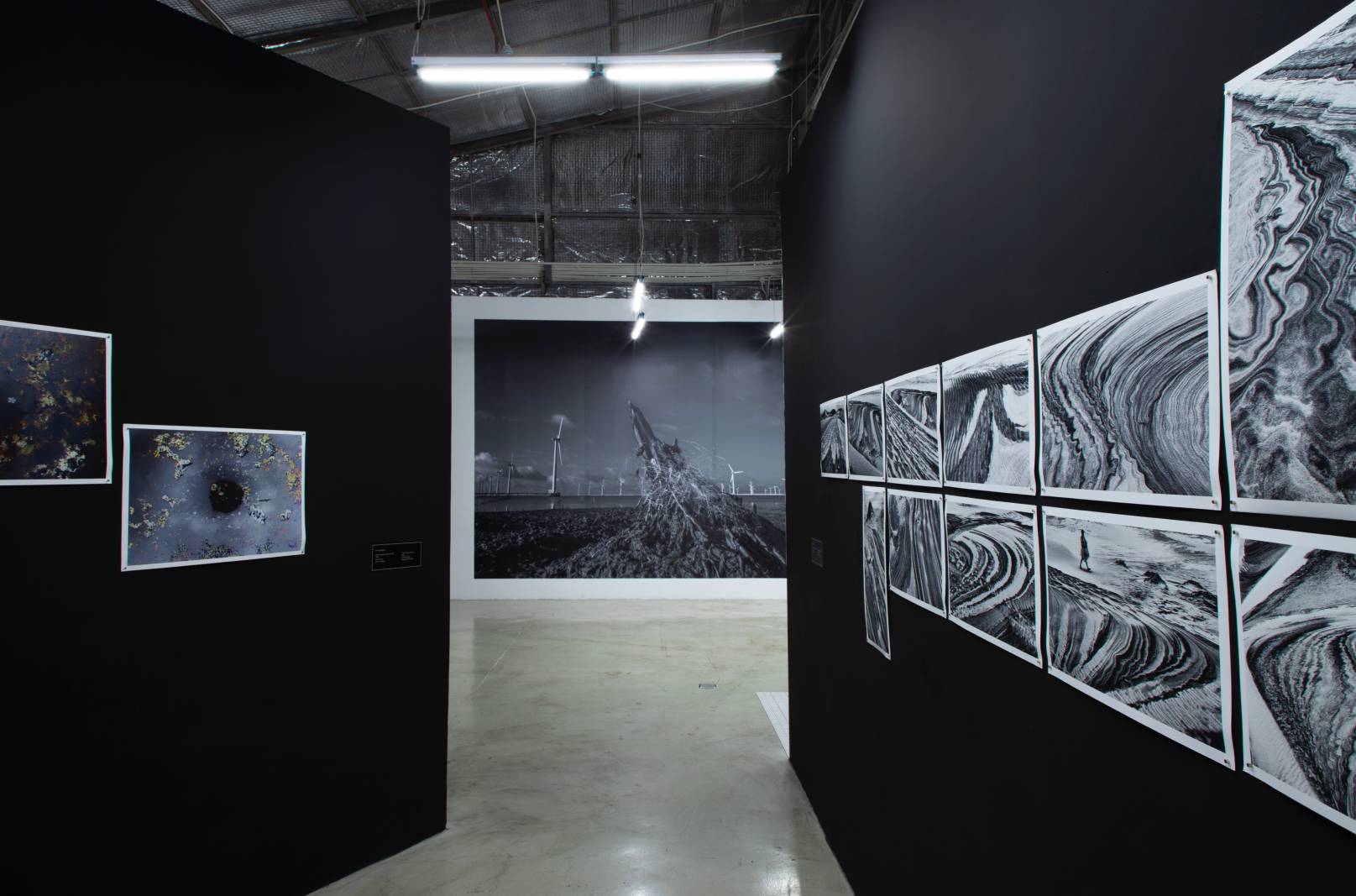 The curatorial essay reads, "This exhibition seeks to engage the behavior and consequence of thinking that machines have become the 'Nature' we study and prioritize. It examines the current times in which we live, sharing the work of artists who are both in awe, and critical, of the patterns, substance, psychological relations and historical fictions between assumptions of Nature and the Machine." This central theme continues the discourse on the human-nature relationship as explored in past exhibitions at The Factory, such as Tuan Andrew's Empty Forest, Tuan Mami's In One's Breath – Nothing Stands Still, and Lena Bui's Flat Sunlight. To Bill Nguyen, curator at The Factory, this highlights a common concern from both the organizers and participating artists, as art practitioners and as citizens. Curator Quang Lam, director of Inlen Photo Gallery, works closely with artists and oversees the production of this exhibition.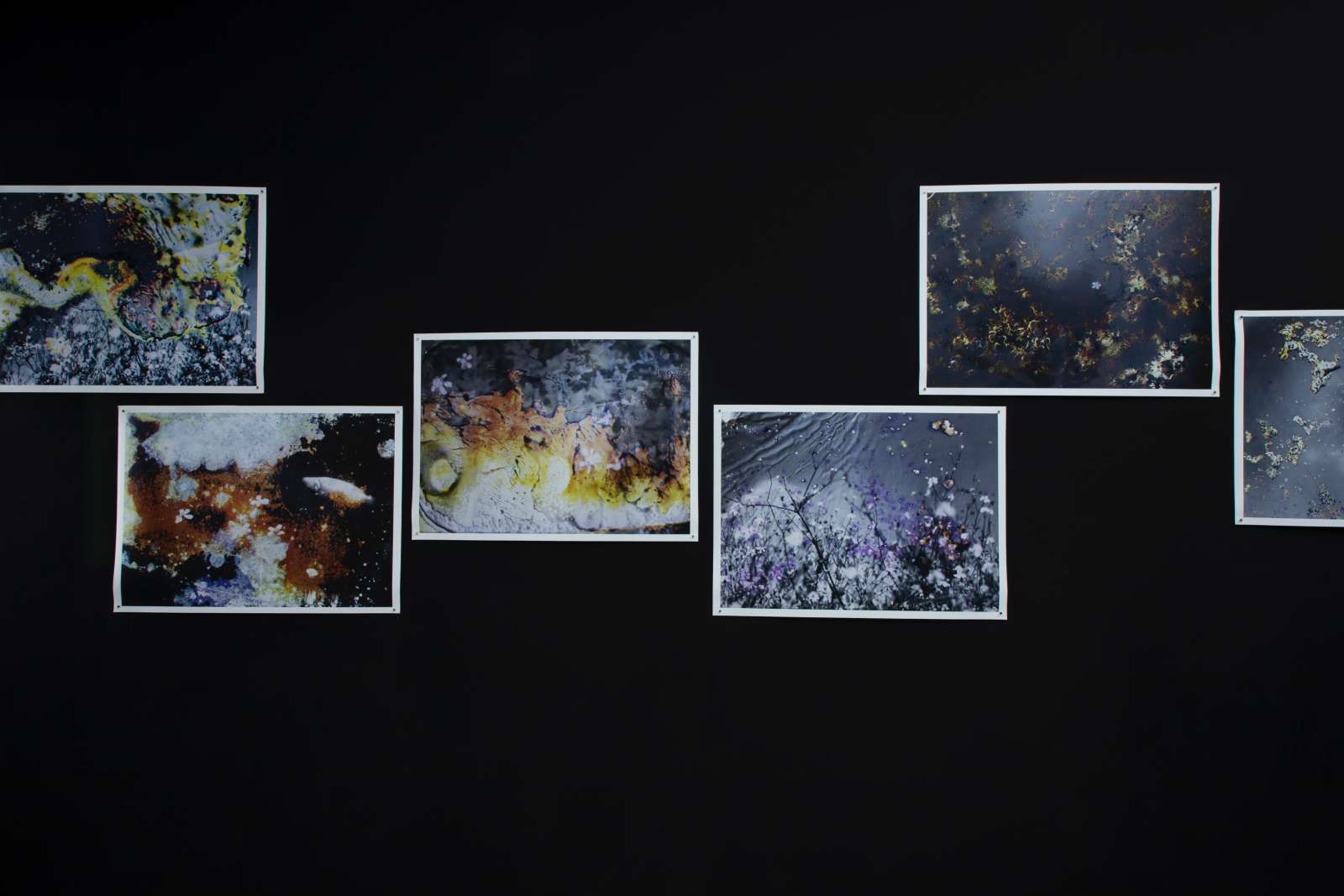 Works from 14 exhibiting artists are divided into four subsections: Matters, Manipulations, Mechascapes, and Ruminations. Respectively, the sections dive beneath the surface of what we know, or think we know, and then step back to allow a re-evaluation of the landscape we currently live in.
Machine is Nature brings together diverse bodies of works, ranging from documentary and conceptual works, to physical experimentations with the prints. Tuyet Tinh Coc series by photographer Nguyen Phuong uses prints eroded from the polluted water of this popular destination in Hai Phong. Photographs of the lake's scenic blue water are destroyed by the very toxic substances that formed its beauty in the aftermath of rock mining. Renowned photographers Nguyễn Xuân Khánh and Nhiệm Hoàng showcase classic monochromatic documentary series: undulating patterns in Nguyễn Xuân Khánh's photographs are polluted sand drifting in the water, and Nhiệm Hoàng's large print of a wind farm asserts the irony that in the act of becoming more environmentally sustainable, we must clear paths in the existing natural landscape in order to produce renewable energy.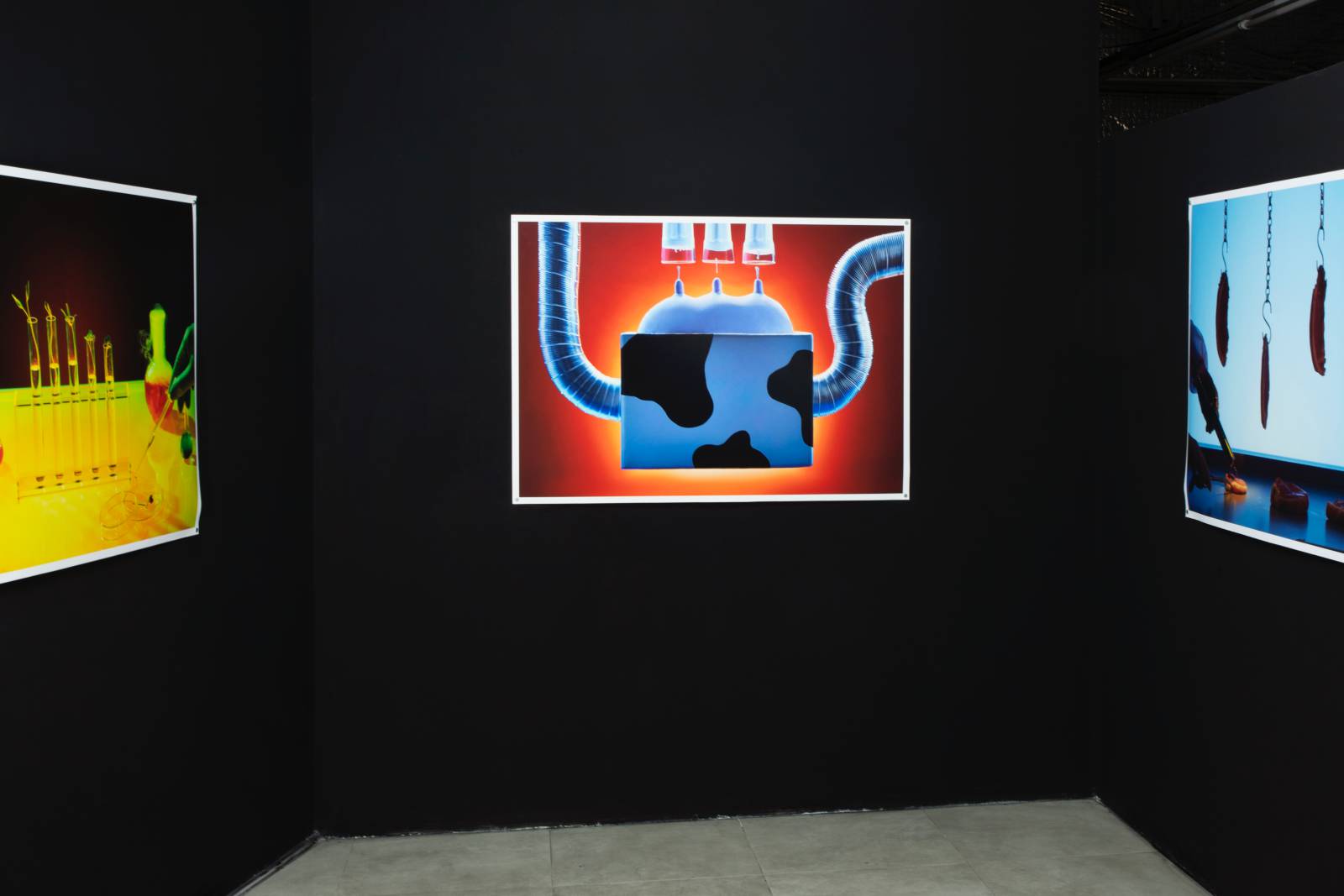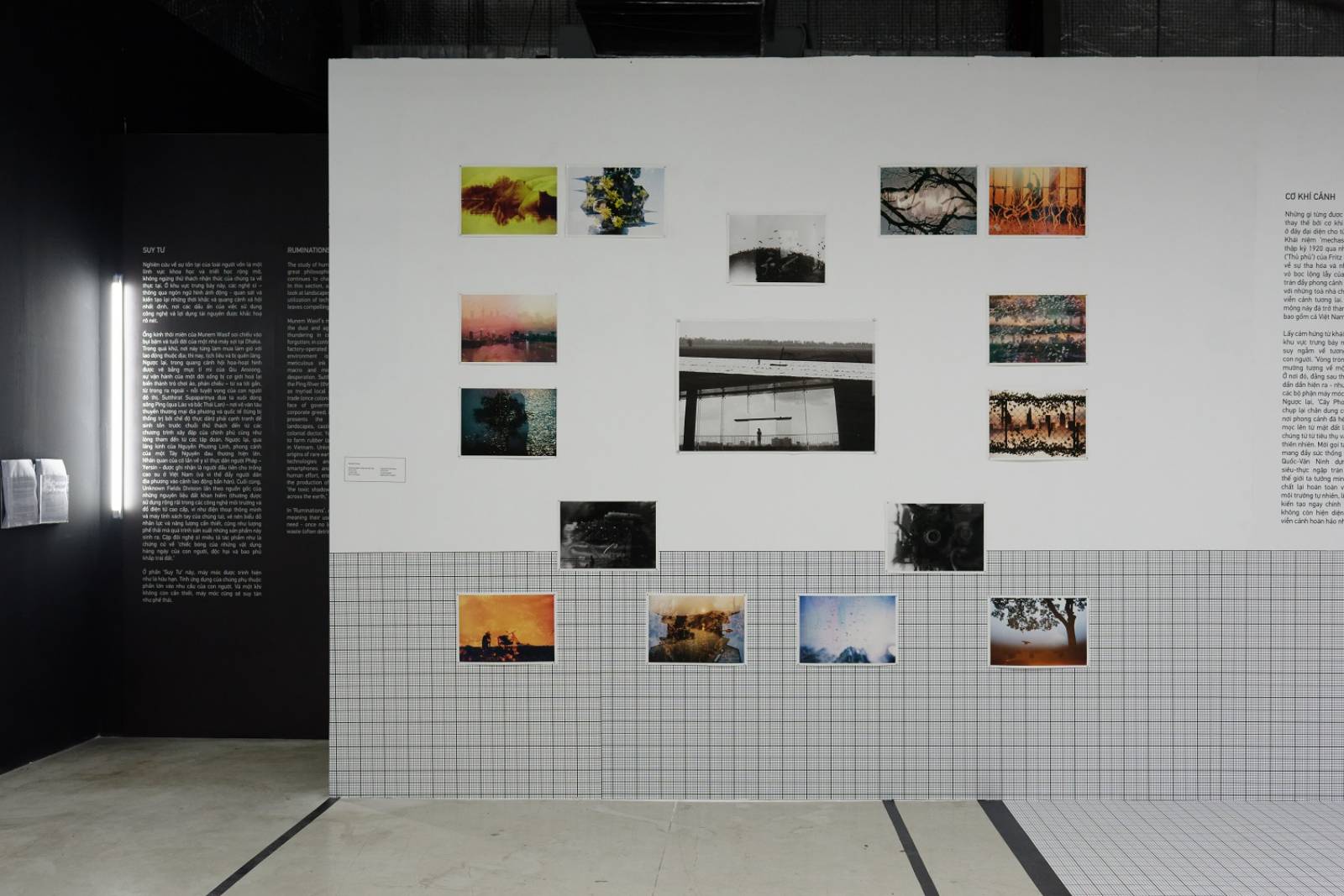 At the end of the last subsection is Food Lab by photographer Nelly Nguyen, created in her own commercial photography studio to visualize her concern about food production. On a dystopian glowing red background, a cow's udder produces milk that flows backwards into glasses. The cow itself is reduced to a single box, fed by giant tubes, as if it is hanging from the ceiling at a highly industrialized milk factory.
Nevertheless, not all bodies of work are persuasively considered. Voshida Truong's Colored Circles is loosely edited, in which the theme of urban landscape is interrupted by unrelated images of sunflowers superimposed on top of Notre Dame, or a girl's silhouette on blue water…
The categorization of subsections in the existing space of The Factory provides a directed and systemic approach for viewers, and the use of fluorescent lights throughout the show succeeds in creating a cold, clinical environment like that of a factory of a laboratory. However, there are certain drawbacks in visual presentations that affect the viewing experience.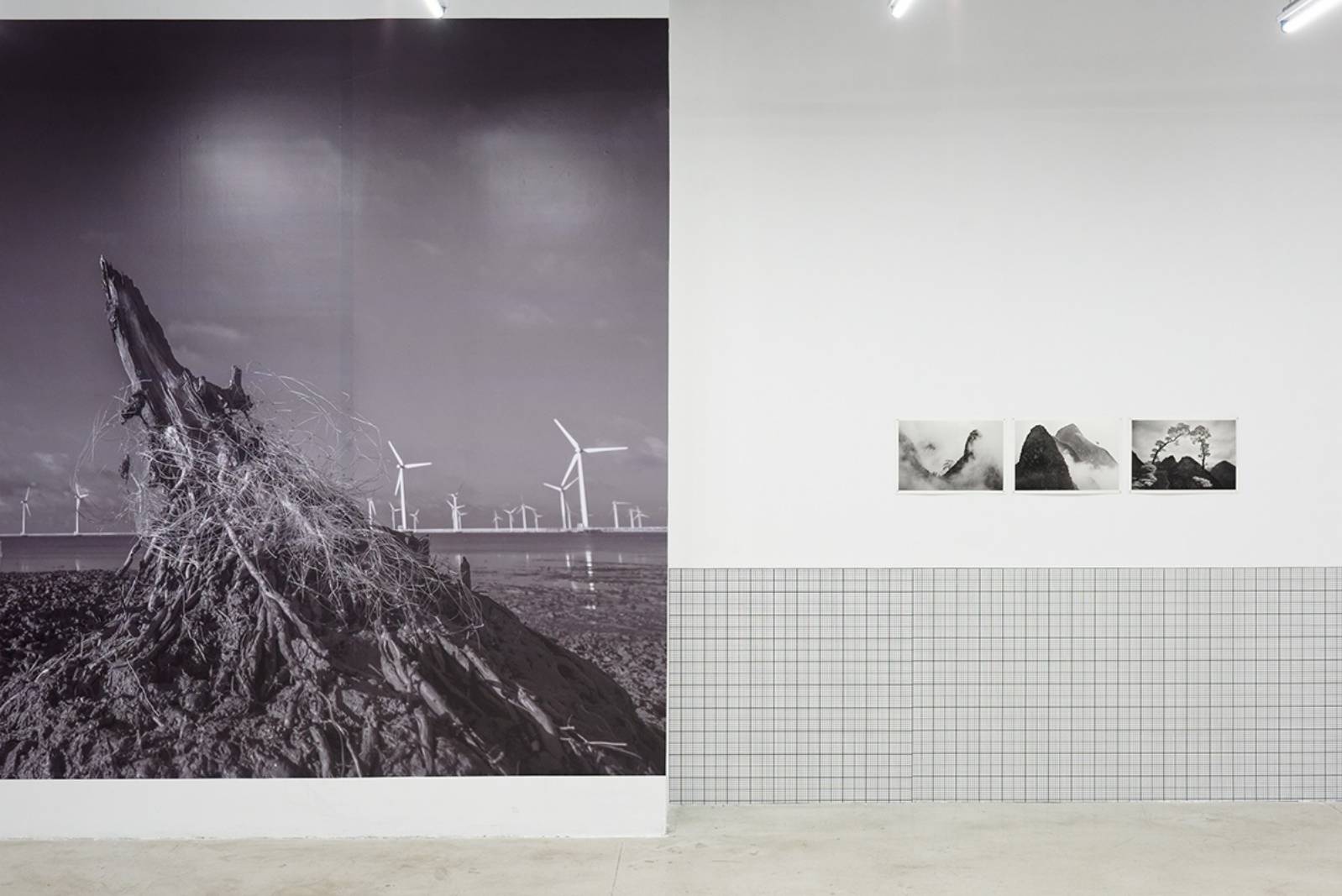 It is easy to notice the grid wallpaper that repeats throughout the show. According to curator Bill Nguyen, the grid represents rigid measurement units applied to our modern productivity-prioritized lives. For Quang Lam, they also function as a way-finding system: the grid varies in sizes in different subsections to signal the zooming in and out of perspectives. As this effect is already achieved by the effective distribution of space, the addition of the grid becomes unnecessary and confusing as viewers struggle to connect them to the exhibiting works.
There are a few examples in which the presentation of the works can be improved. For instance, Nguyen Xuan Khanh's formal compositions of textural polluted sand can be better highlighted if printed larger, or more emphasized with black framing. In another example, Nhiem Hoang's print Turbines is made by connecting three large prints, resulting in obvious lines when put together.
Without reservations, curators Bill Nguyen and Quang Lam share the challenges they face in making an exhibition at the scale of Machine is Nature. With The Factory, this group show of 14 artists is a difficult mathematical quest, as its budget is equivalent to that of a solo show. In this case, the photographers do not have much autonomy in deciding the final presentation of their work, as its production is limited by factors outside of their control. Curator Quang Lam explains that as this is a group show with a designated budget and deadline, tasks need to be clearly distributed: photographers provide the works, and the curators and designer decide the display. Nevertheless, the presentation inevitably affects how a photographic work is perceived; so perhaps the photographer should have the right and responsibility to collaborate with organizers to decide the outcome of their own works.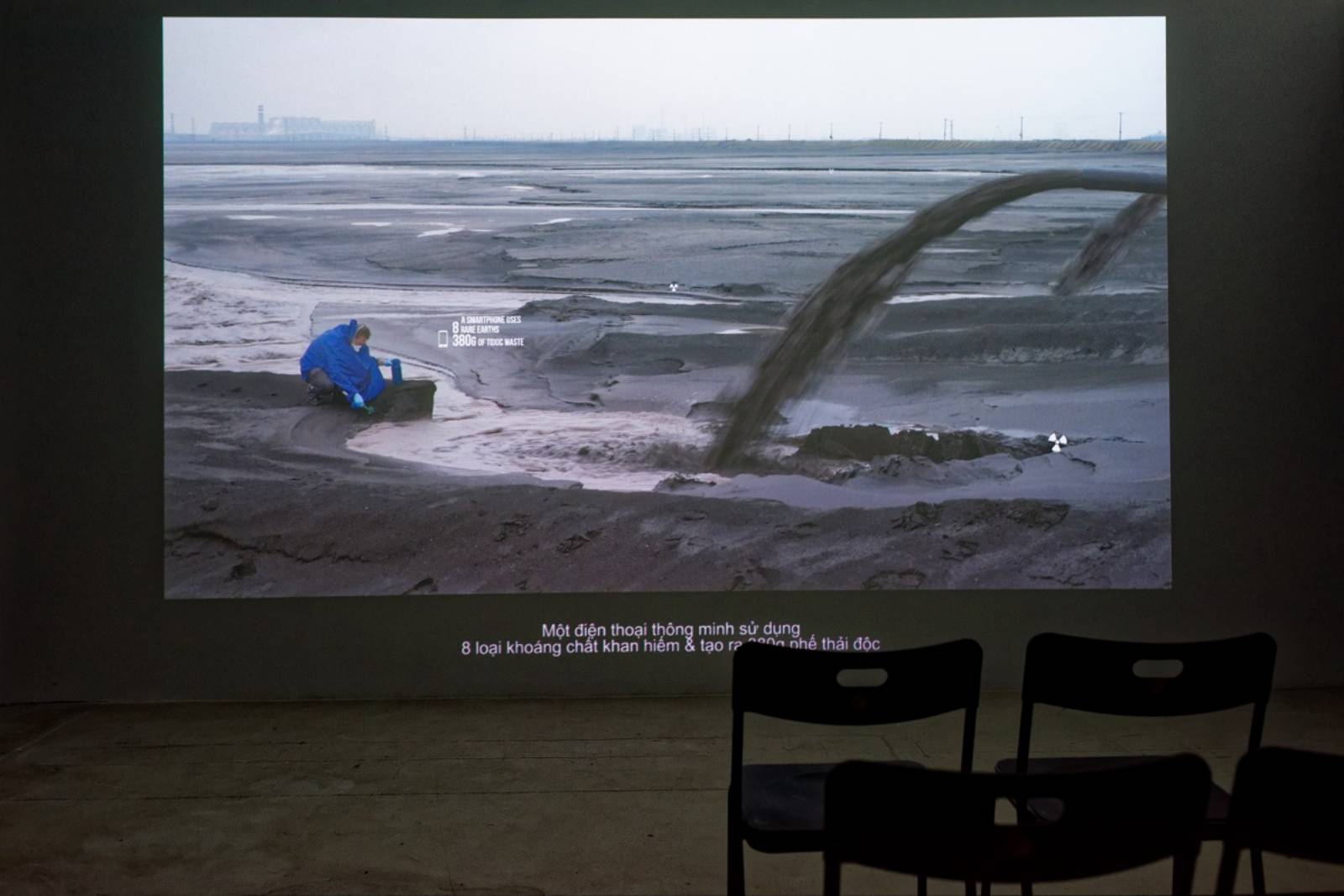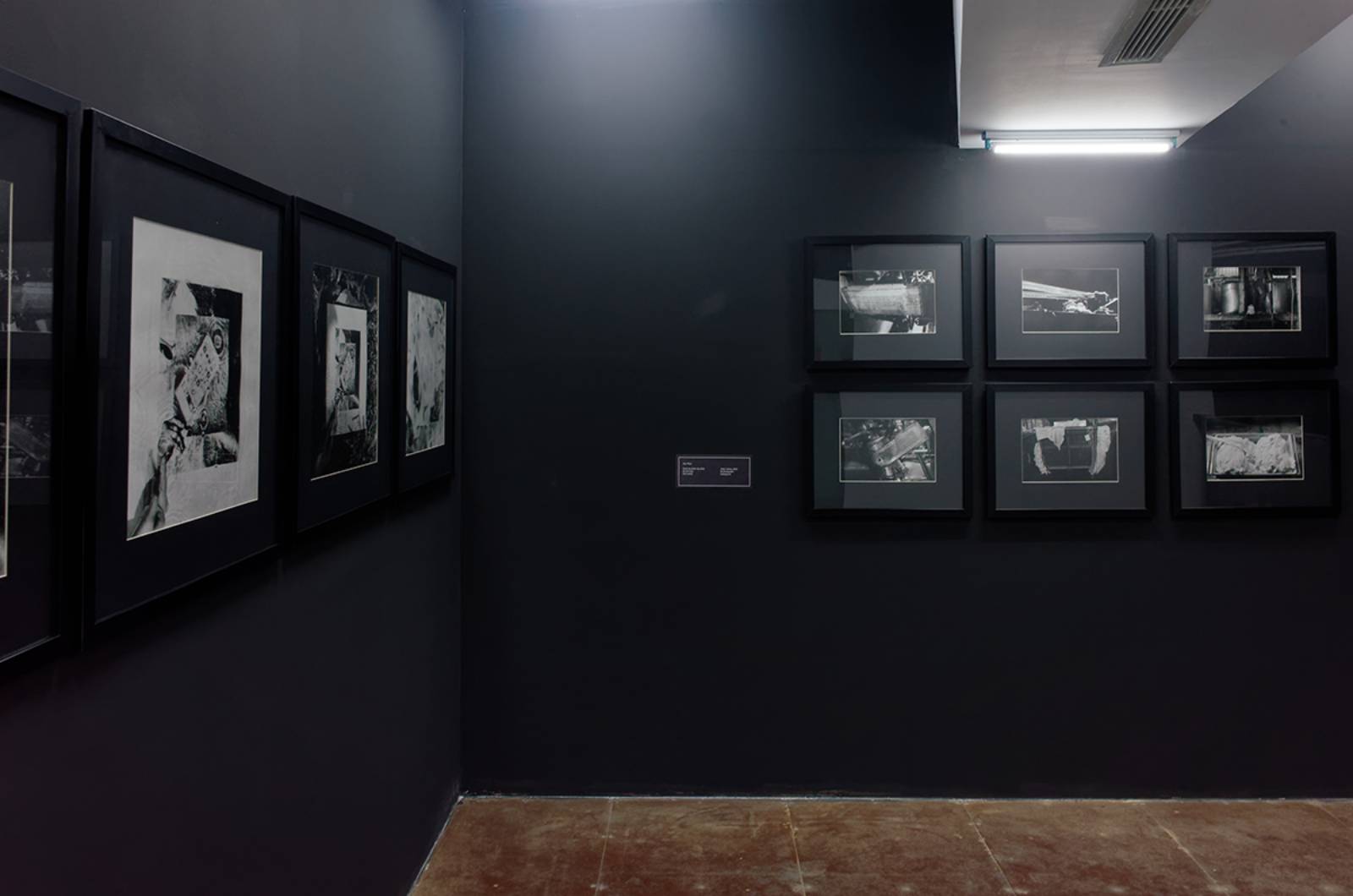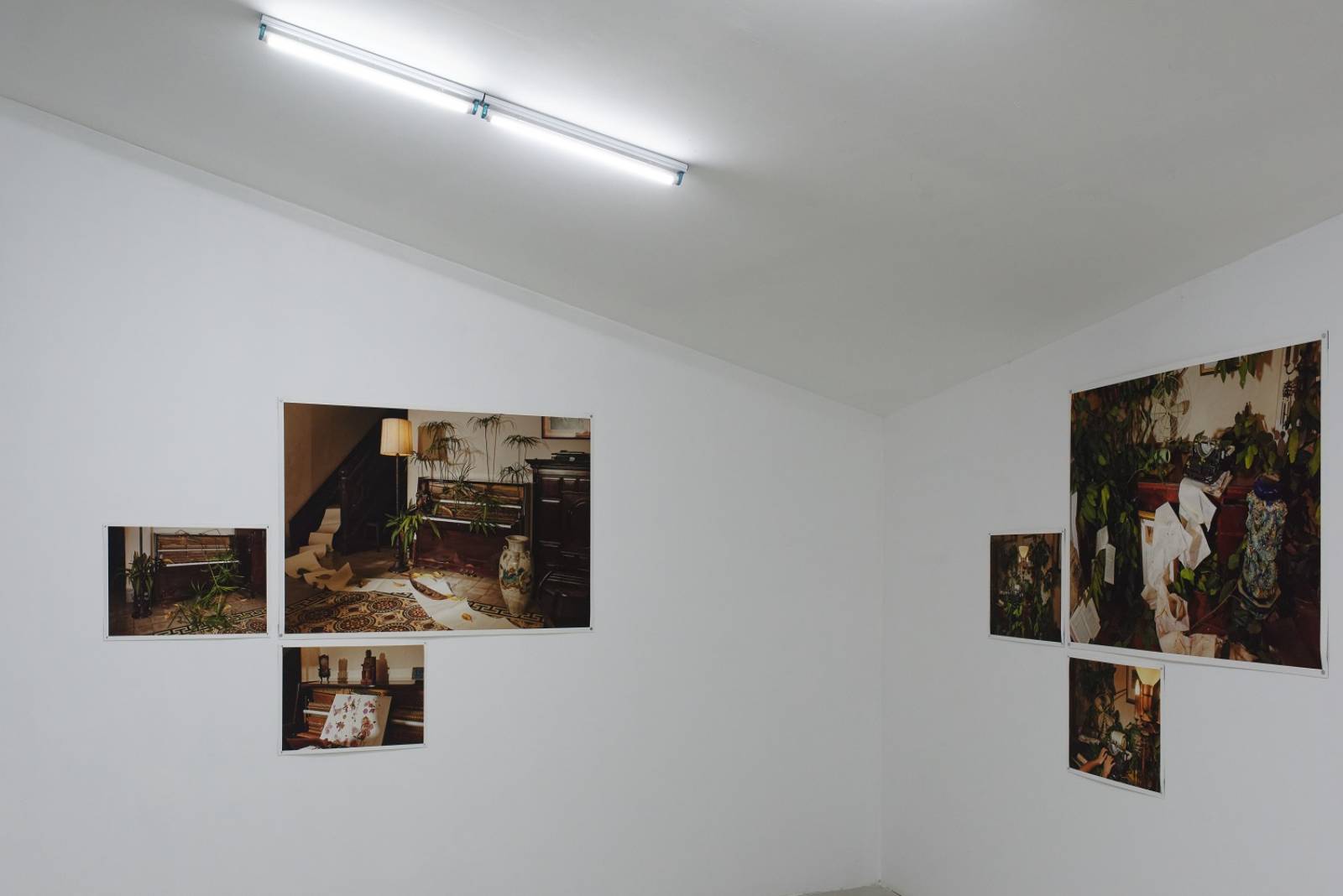 It is important to note that Machine is Nature is a rare, if not unprecedented, opportunity for local photographers to work with a contemporary art institution at the scale of The Factory. The exhibition is the result of many months of work by the artists, curators, and scenography designer. It is an exciting occasion for artists coming from different geographical and generational backgrounds to come together. The list of artists is highly diverse, including both emerging and established photographers, who come from traditional, contemporary, and commercial practices.
Established landscape photographer Nhiem Hoang reflects on being in a group exhibition: "Personally, I learned a lot… I see that other artists approach the topic in different ways, deeper, and broader. To be self critical, I think my work is a bit too straightforward. Sometimes, we need to broaden our view, so that our creativity can be opened and not become stuck." The variation in approaches in Machine is Nature provides a multifaceted response to its complex topic, that can be of great value to not only the audience, but also to the photographers themselves to examine their work as part of a bigger picture.
Machine is Nature brings us closer to a future where local photography will be seen in a contemporary art context, instead of strictly editorial or commercial. Curator Bill Nguyen poses questions of photography as a medium associated with capturing the truth, "But what is the truth here? How much is the truth? Who controls the truth, and who benefits from it? What is hidden, and what is exposed?" He shares his optimism in seeing that young participating artists pose similar questions in their process of creating the works, that they don't simply pick up a camera, but examines the very act of doing so.
*Photos from Quang Lam / The Contemporary Arts Centre and Lien Pham.