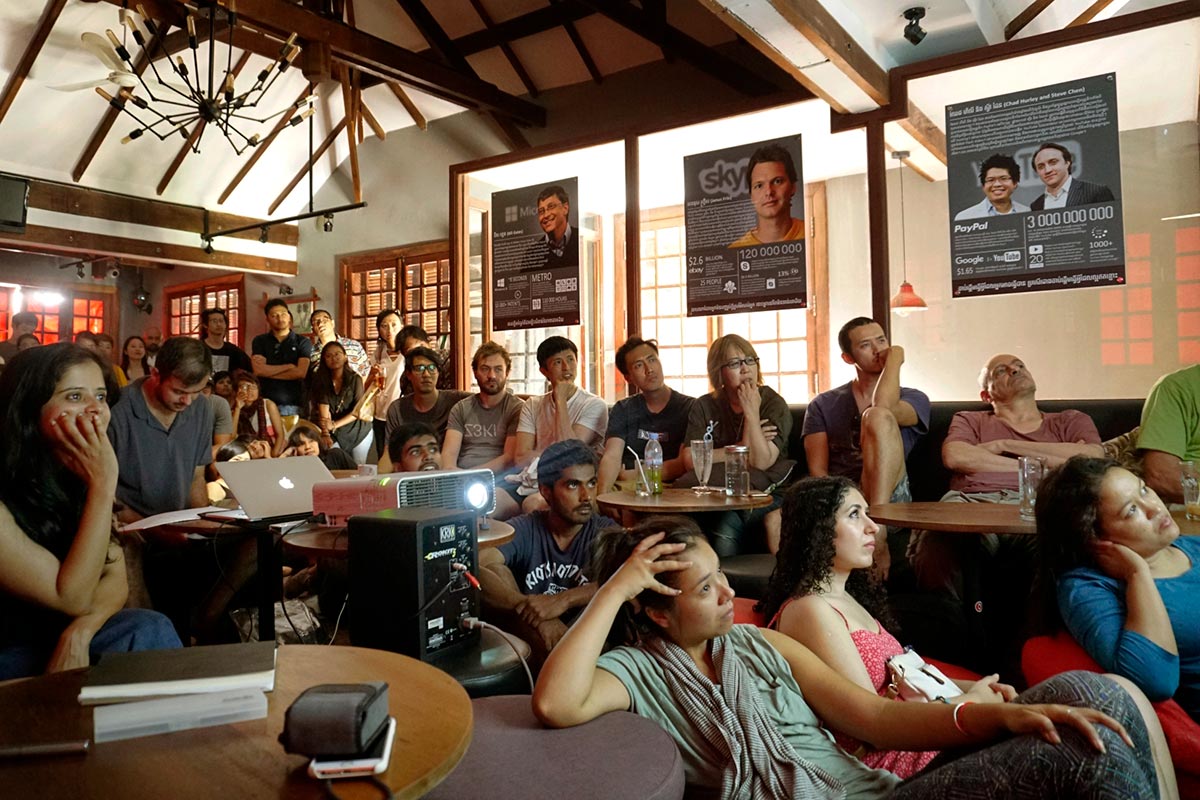 Angkor Photo Festival & Workshop has been raising a generation of aspiring photographers from Asia for more than a decade with their annually-held workshop run by top photographers in the world. The 13th workshop this year witnesses a record-breaking number of participants from Vietnam. Let's see what 3 fresh faces Nguyen Ngoc Hai, Dat Vu and Ha Dao have learnt and produced during an intensive week in Siem Reap.
Nguyen Ngoc Hai – Group of Sim Chiyin & Ian Teh.
After introducing ourselves and our future photographic vision, each participant had to pitch a topic to pursue in the next 5 days. This was incredibly difficult for me, as I did not fully research about the place and have a limited command of English. I told that to my mentors, and was advised to choose what is feasible within my ability, but also to challenge myself by trying to do something I had never done before. I chose to depict urbanization, focusing on the relationship between people and the environment, as well as the effects of tourism on Siem Reap. I rented a bicycle and planned to go around the city to shoot.
But at the next meeting, I was truly disheartened to hear feedback from mentors. My photos only had the "drama" often seen in street photography, they were too direct and could not convey the message. I have to choose between still pursuing the same topic but in a different vein, and looking for a new topic, probably one more simple and suitable for my style.
I was really stressed out and met with my friend Dat to discuss with him. Next morning, I woke up early and biked around the river across the city named Siem Reap. I saw children and working people along the bank and thought to myself why not document the activities along this river. I presented my photos and this simple idea, and to my surprise, mentors liked it and encouraged me to work on it right away to save time. My teammates' enthusiasm and their sense of responsibility also motivated me. Eventually, the series was completed, of course not without the mentors' great help in editing.
On the last day of the workshop we had a general meeting. When asked what I would remember most at Angkor Photo Workshop, I said that besides learning a great deal about photography, being  surrounded by people who share the same passion and ideals had cemented my belief in my chosen path.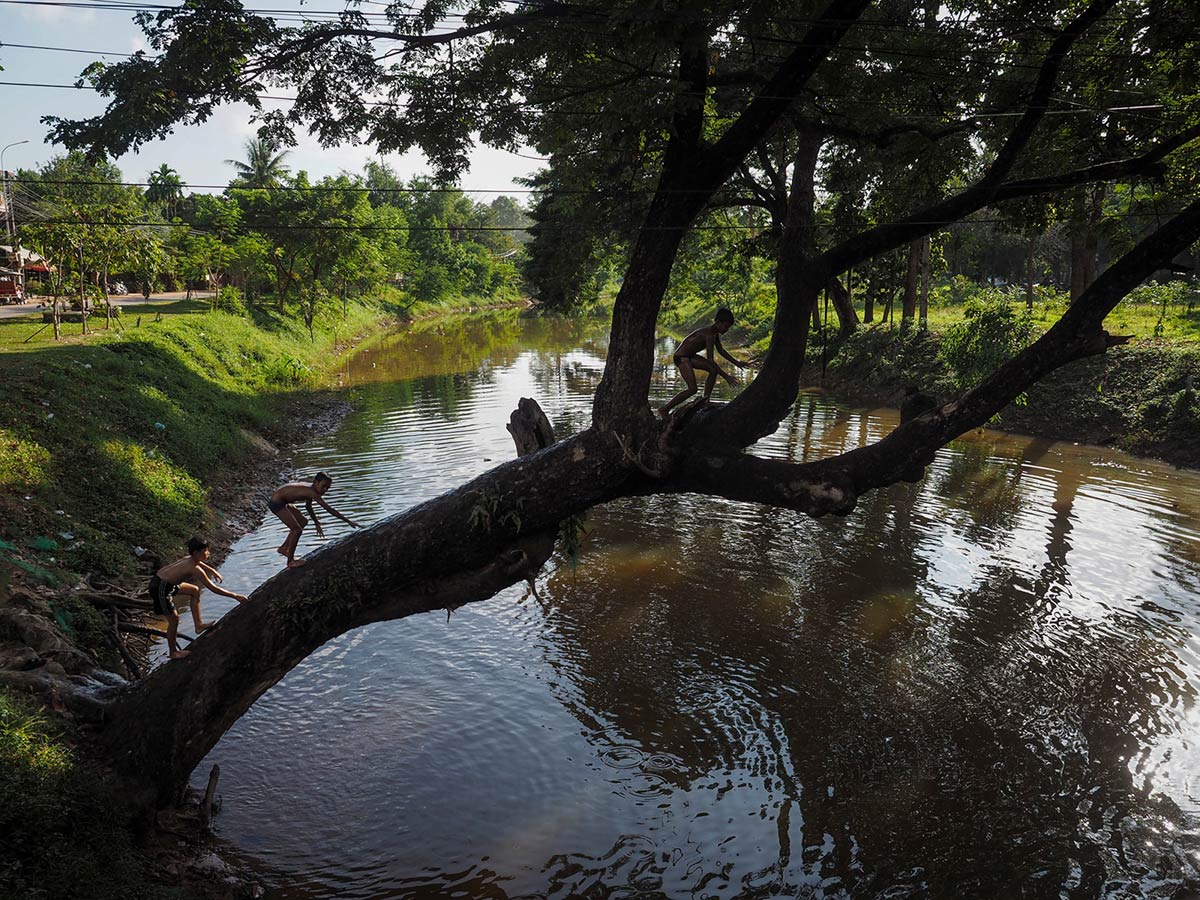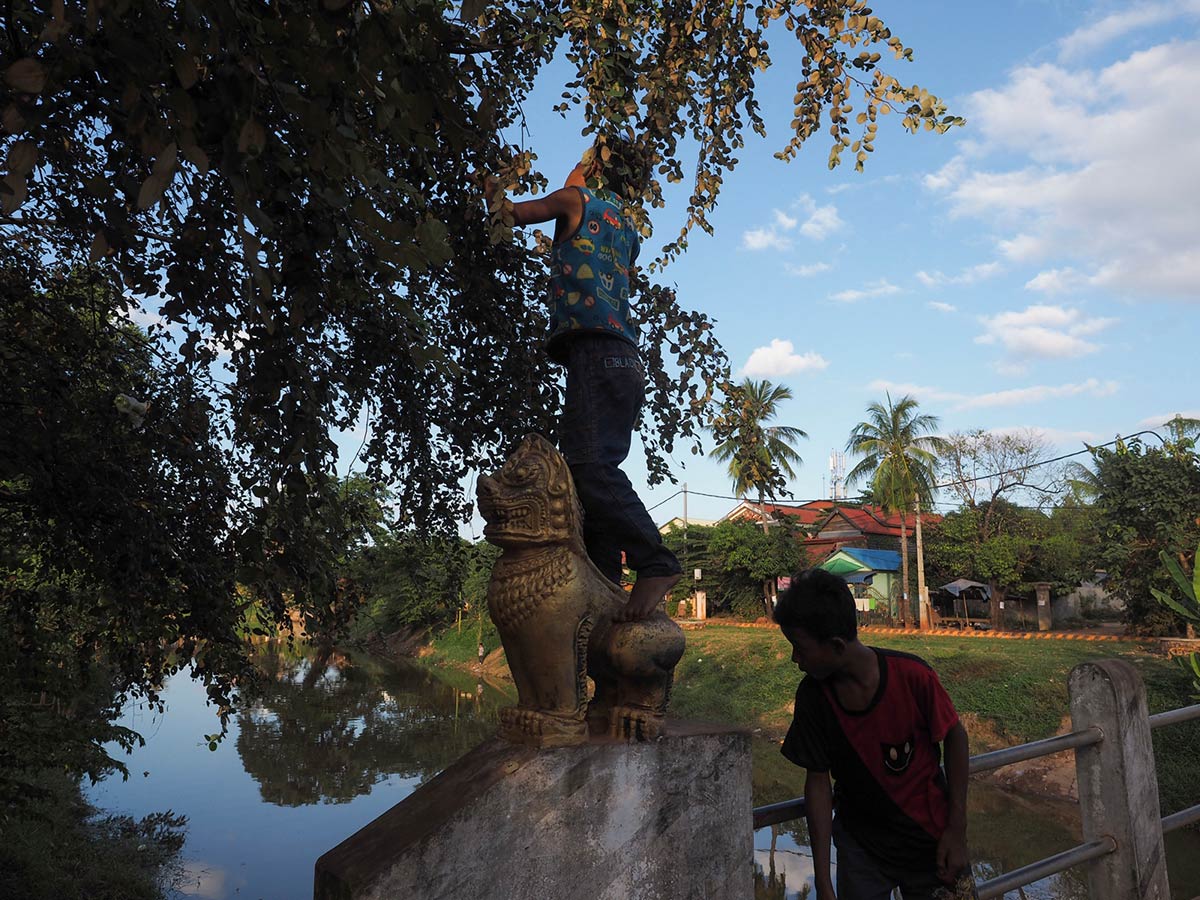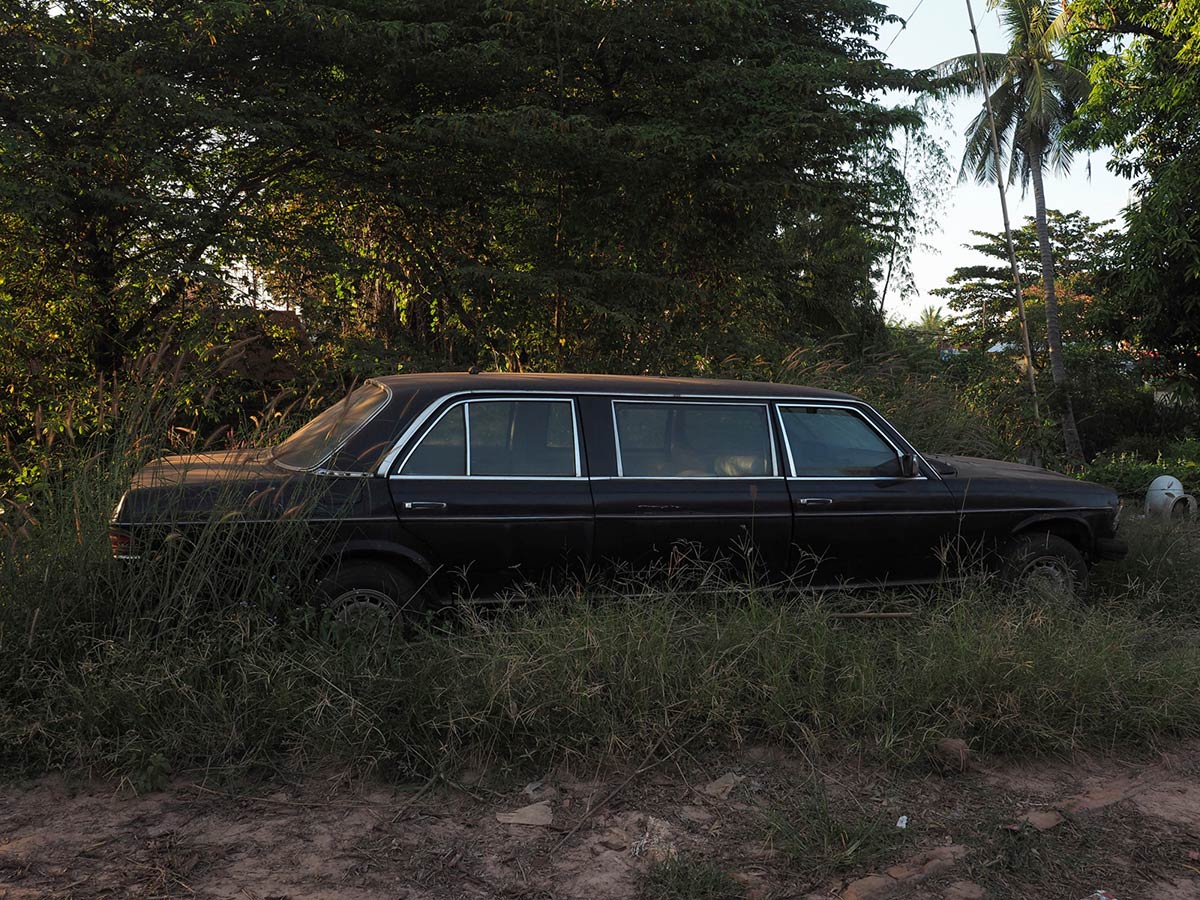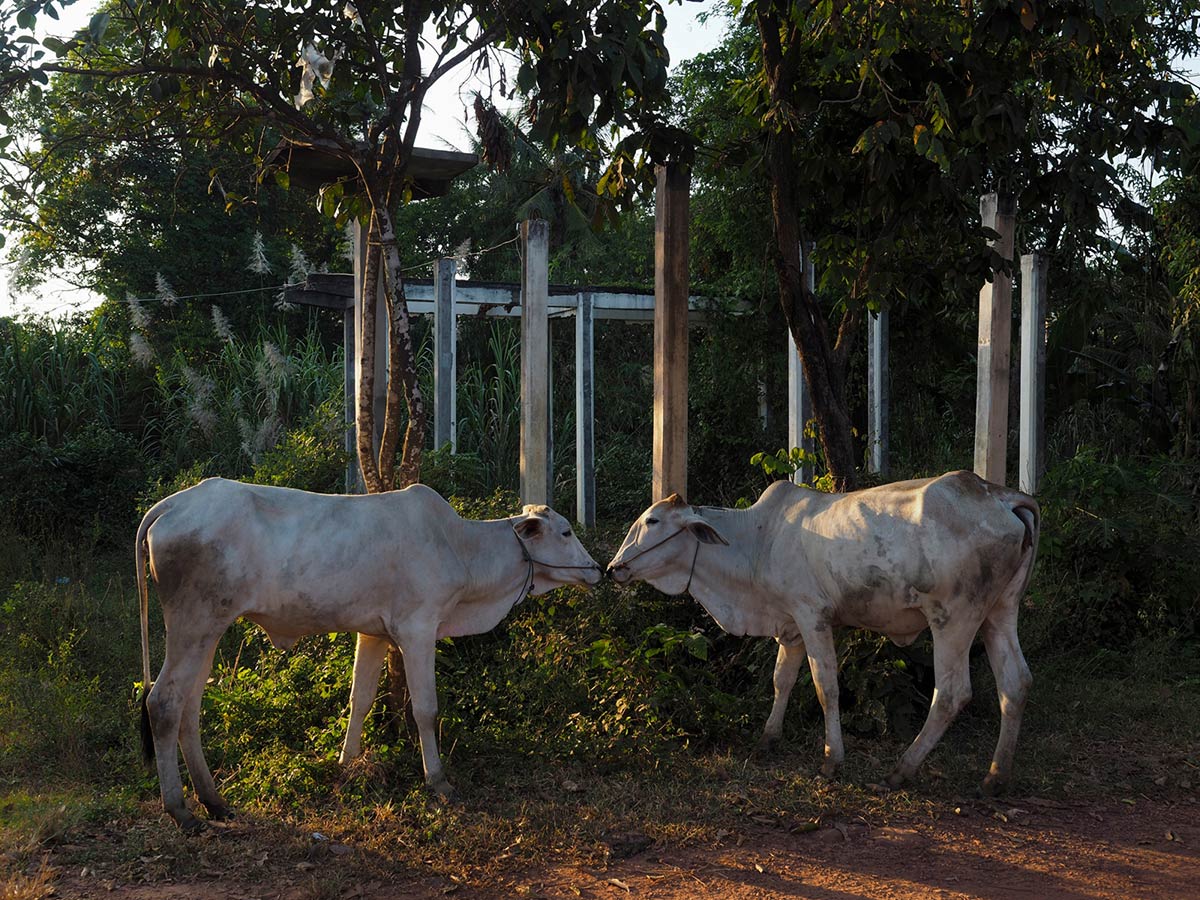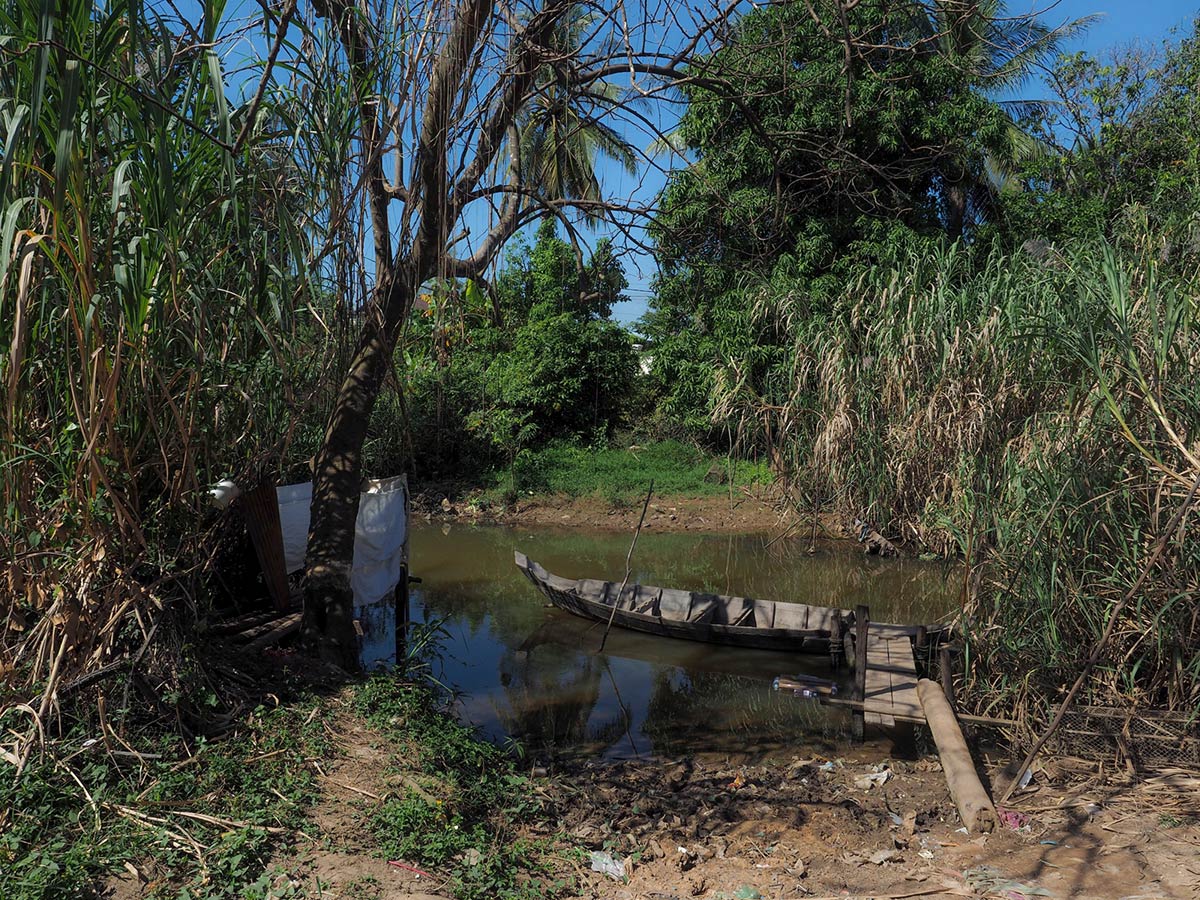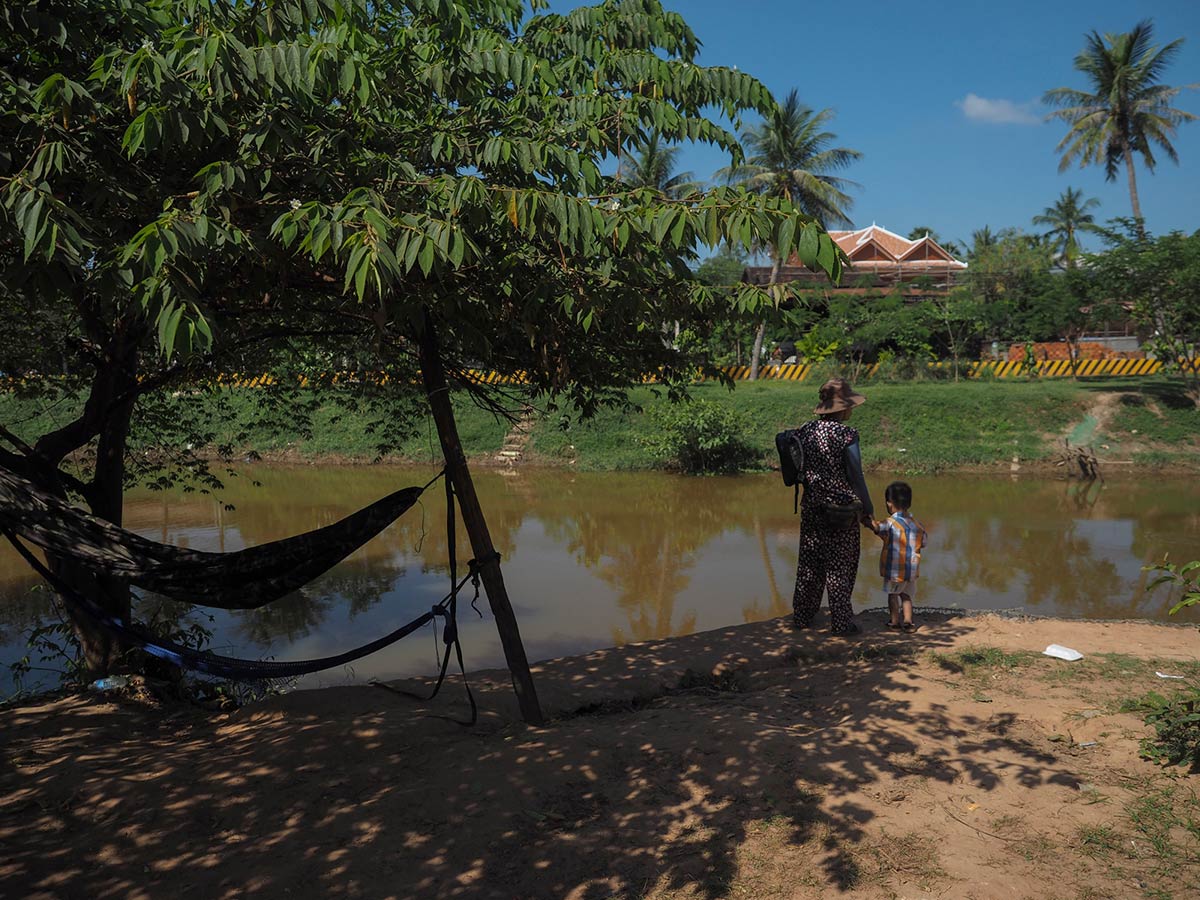 Dat Vu – Group by Kosuke Okahara & Katrin Koenning.
I applied for the workshop this year because joining the festival last year was quite fun, and it's a rare chance to be sponsored to work on a project. Mentors would want to push participants to do something different from what they usually did, so of course there were many difficulties. The workshop was intense, but also very rewarding.
I walked across the National Highway 6 to get to know public spaces there. It was only until day 3 that I focused on a group of tuktuk drives who played volleyball in an open field. This series is about the space where they play volleyball and the National Highway 6 where they commute to work everyday. I had to fight with my mentors a bit, because they wanted me to just focus on the tuktuk drivers while I also wanted to incorporate scenes from the National Highway, meaning to do something more suggestive and less straightforward.
The most important thing I have learnt is to enjoy and be friendly. Although there were language barriers, one had to try to approach others, by using body language for example. I greeted them, and tried to speak a few broken Khmer sentences. Then they invited me to a dog meat feast, we got closer and they let me photograph them while taking a shower. I took more portraits this time, which was nice, because I had to slow down and think more deeply.
My mentors really cared about participants' work. They spent time discussing with us and tried to understand what each wanted to do, which is very important in imparting knowledge.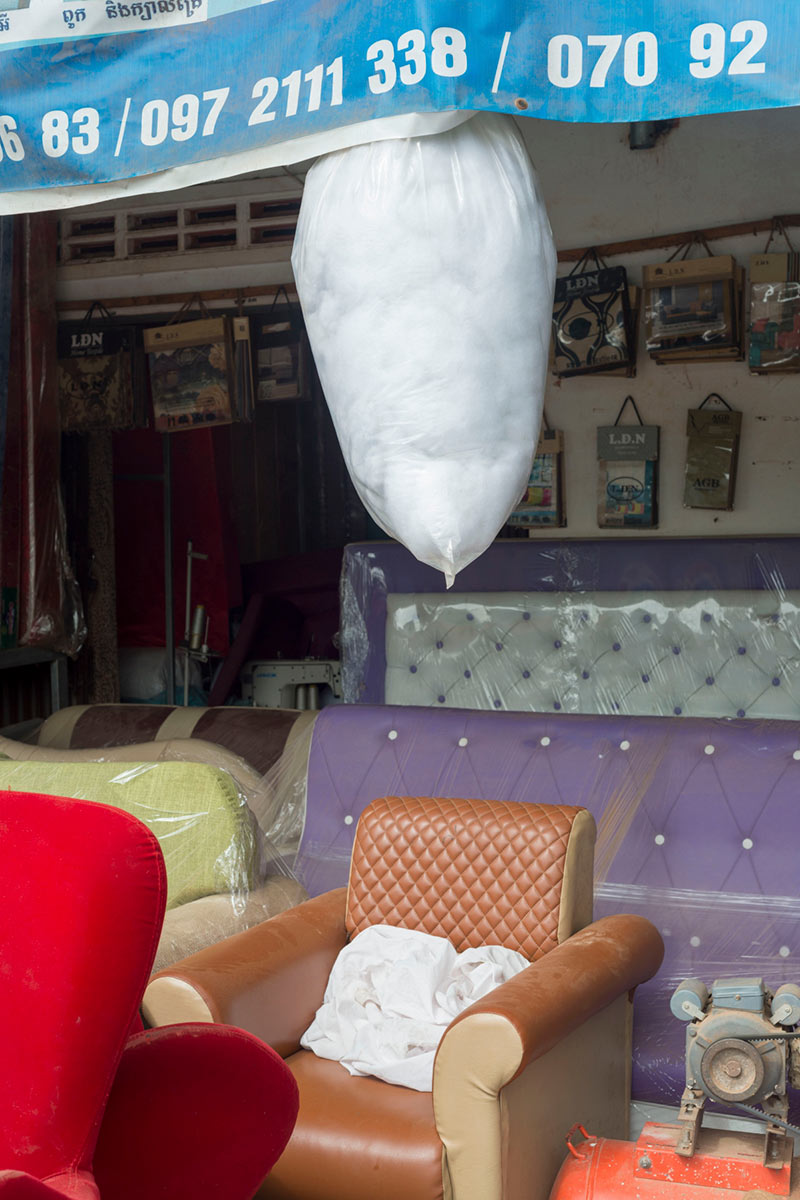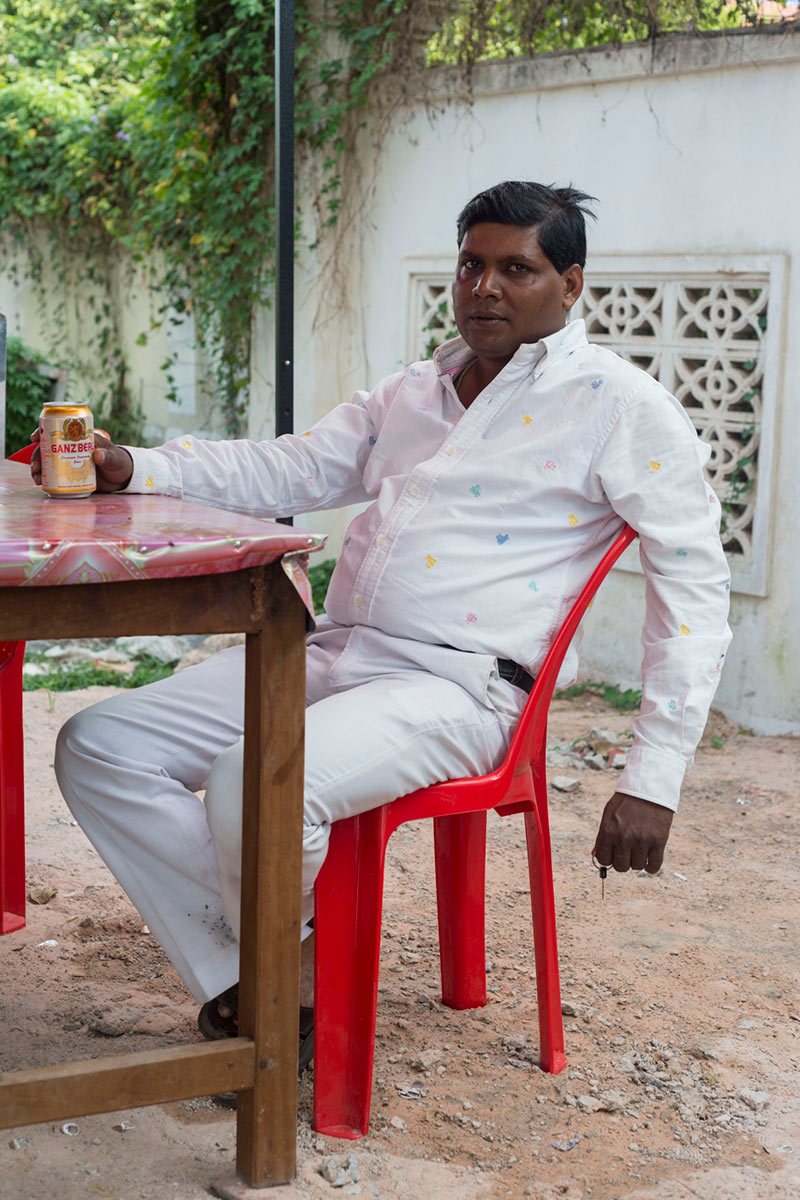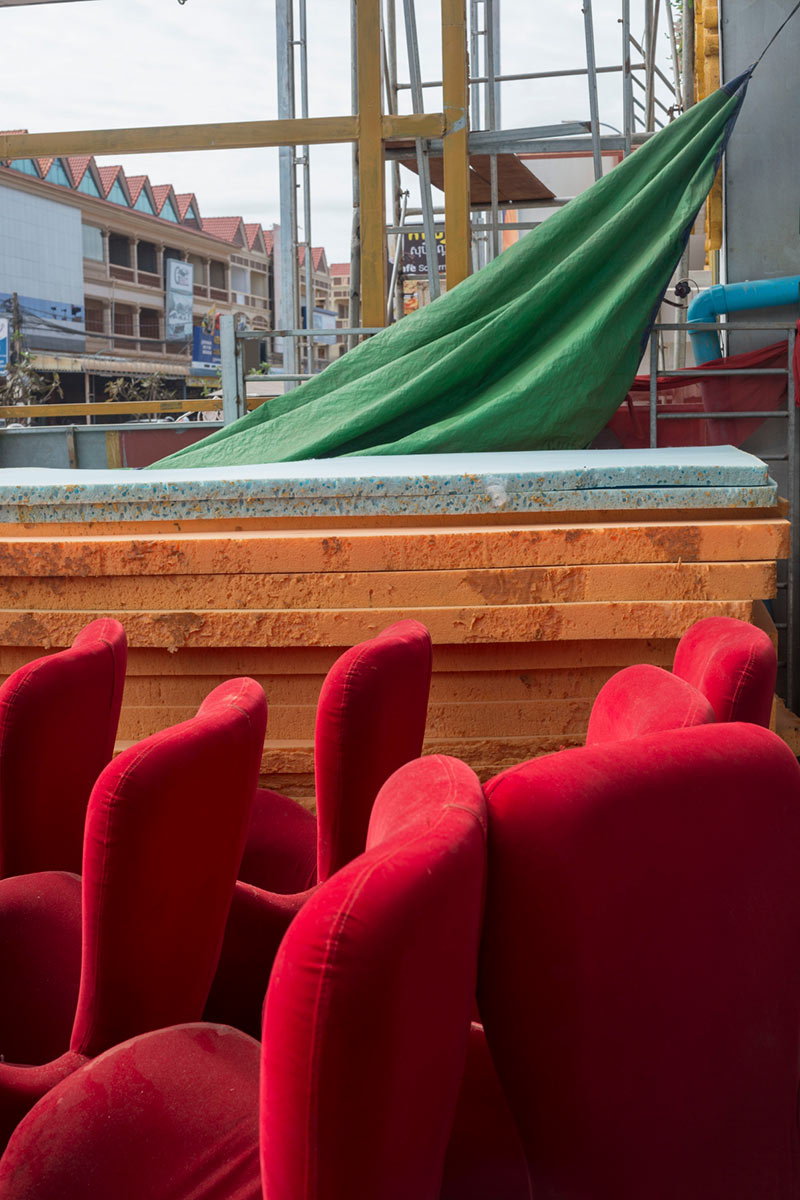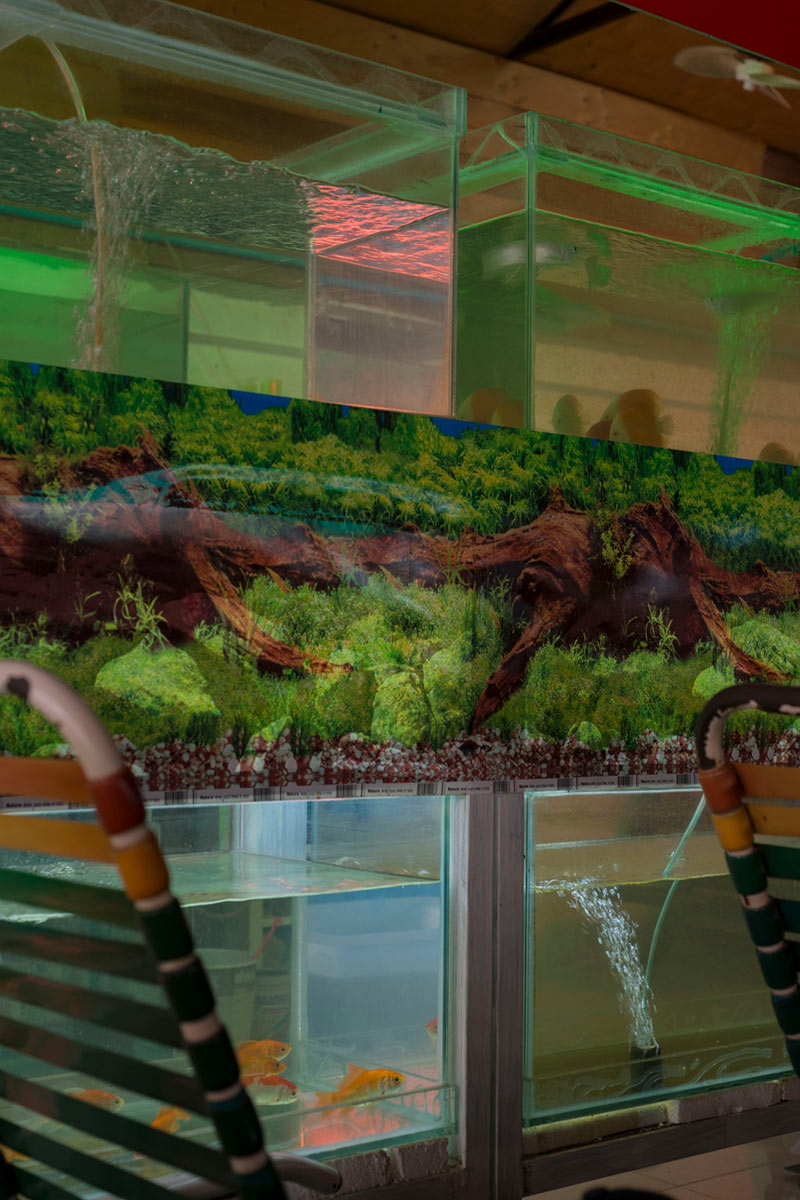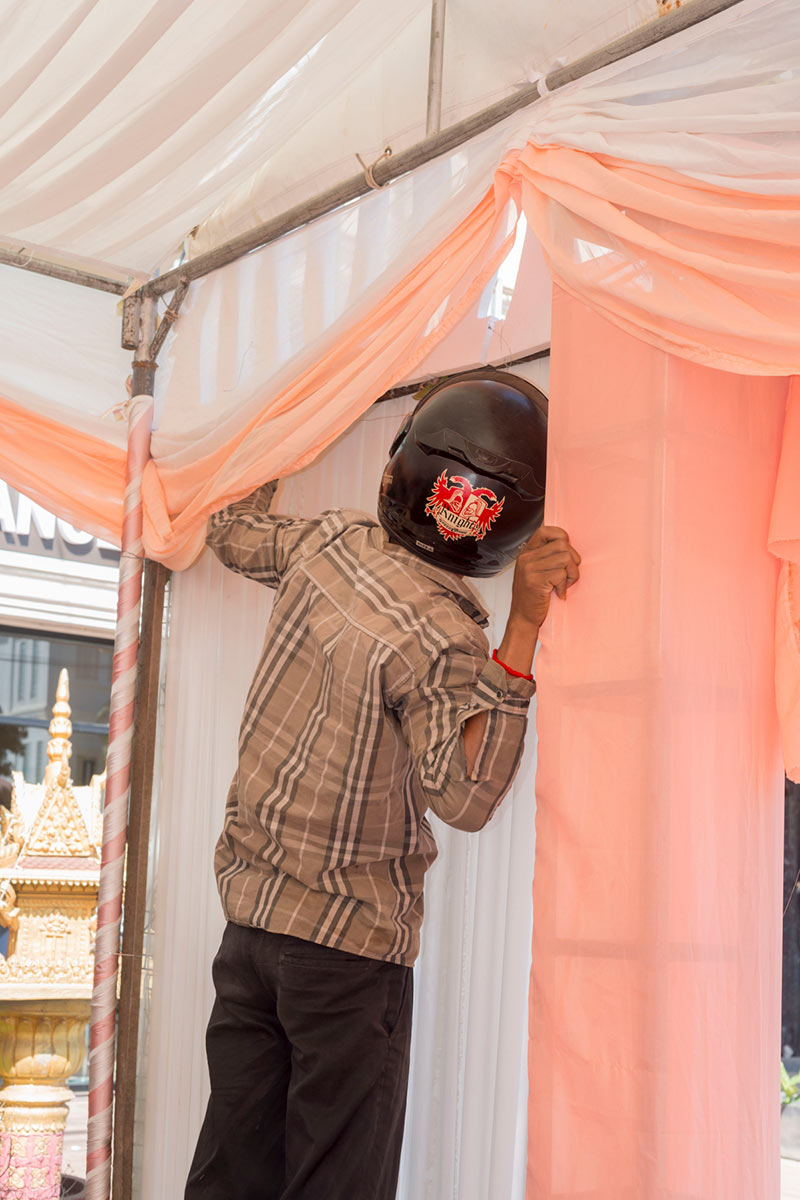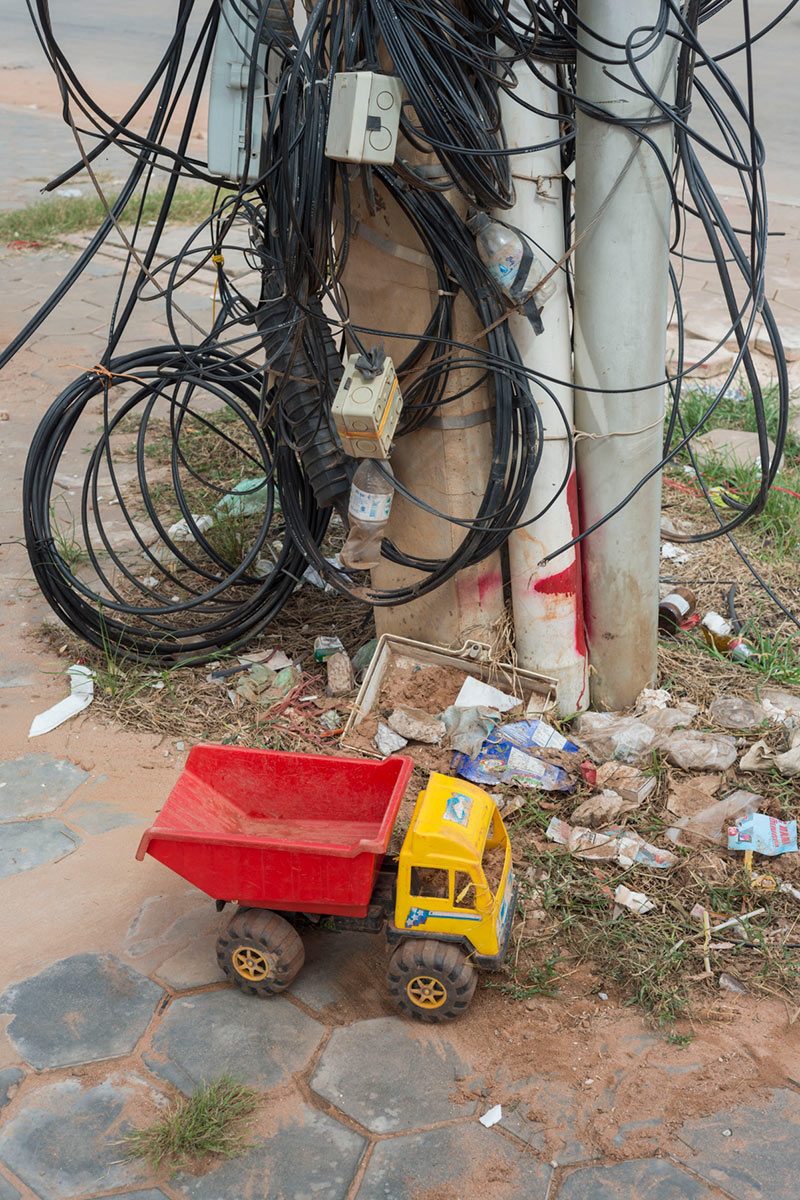 Ha Dao – Group by Sohrab Hura, Tania Bohórquez & Antoine d'Agata.
I was fortunate to be picked into the group of Sohrab Hura and Antoine d'Agata, two photographers whose work I have admired from the very first day getting to know photography. I predicted that to produce a body of work in such a short amount of time would be stressful, but only when I was there in person could I comprehend the pressure and the intensity. For 6 consecutive days, participants will meet mentors from 11 AM to 6 PM, had a quick dinner, then headed out to shoot until 3, 4 AM, then came home to edit their photos to show the next morning. Both Antoine and Sohrab were known to be tough, so when the other groups already finished submitting their final files, our group had to shoot for one more night. I was physically tired but inspired to be willing to explore and make work everyday.
The mentors emphasized the importance of engagement and willingness to take risks. I wanted to take portraits of girls whose profession required them to wear makeup and dress in a certain way, so I tried putting on a dress and heavy makeup, went out to bars frequented by locals and tourists to drink all night, and even performed in a karaoke bar. I talked to girls in the beauty salon, working girls in karaoke bars and women who sold themselves on the street. What I have observed and the stories they shared with me shaped how I looked at women's work in a city that relies heavily on tourism for survival.
My idea was approved on the first day, but I struggled until day three to find a suitable approach. A simple, straightforward portrait could not say much itself, so I had to find subjects with a particular expression or details on their body, or a place with a kind of light that can visually translate the feelings I want to share. There are photos that I like because of the stories behind them, but were downright rejected by mentors as they were not precise enough. The time sitting down with them and going through 5000 bad photos to pick out the best one has been invaluable, because they have seen a narrative and my own visual style about which I was doubtful sometimes. Mentors particularly focused on every individual so that each can further their personal vision instead of doing something not true to themselves out of pressure.