March in Hanoi witnesses the taking place of two solo exhibitions by photographer Le Nguyen Duy Phuong (Vietnam) and Nana Chen (Taiwan). Two long-term projects explore the same theme of urban sprawl, and coincidentally, both artists choose to chart the rapid, unplanned development of Saigon through images of landscape and still life. Not opting for a photojournalist approach of reporting destruction and construction in the making, Duy Phuong and Nana Chen present the aftermath through a whimsical eye, showing effects of human activities without directly incorporating their presence.
In recent years, urban encroachment has inspired many local visual artists who closely witness or are affected by the changes of their living environment, namely projects about the city's transforming facade like Lost In the City's Jungle and City and Memory by Nguyen The Son, or photographs of rundown apartments by Bao Zoan. A common thread that ties these projects together is their focus on the most easily recognizable feature of urbanization: architecture. However, Nana Chen and Duy Phuong weave this topical subject with lyricism, their own memories and points of view.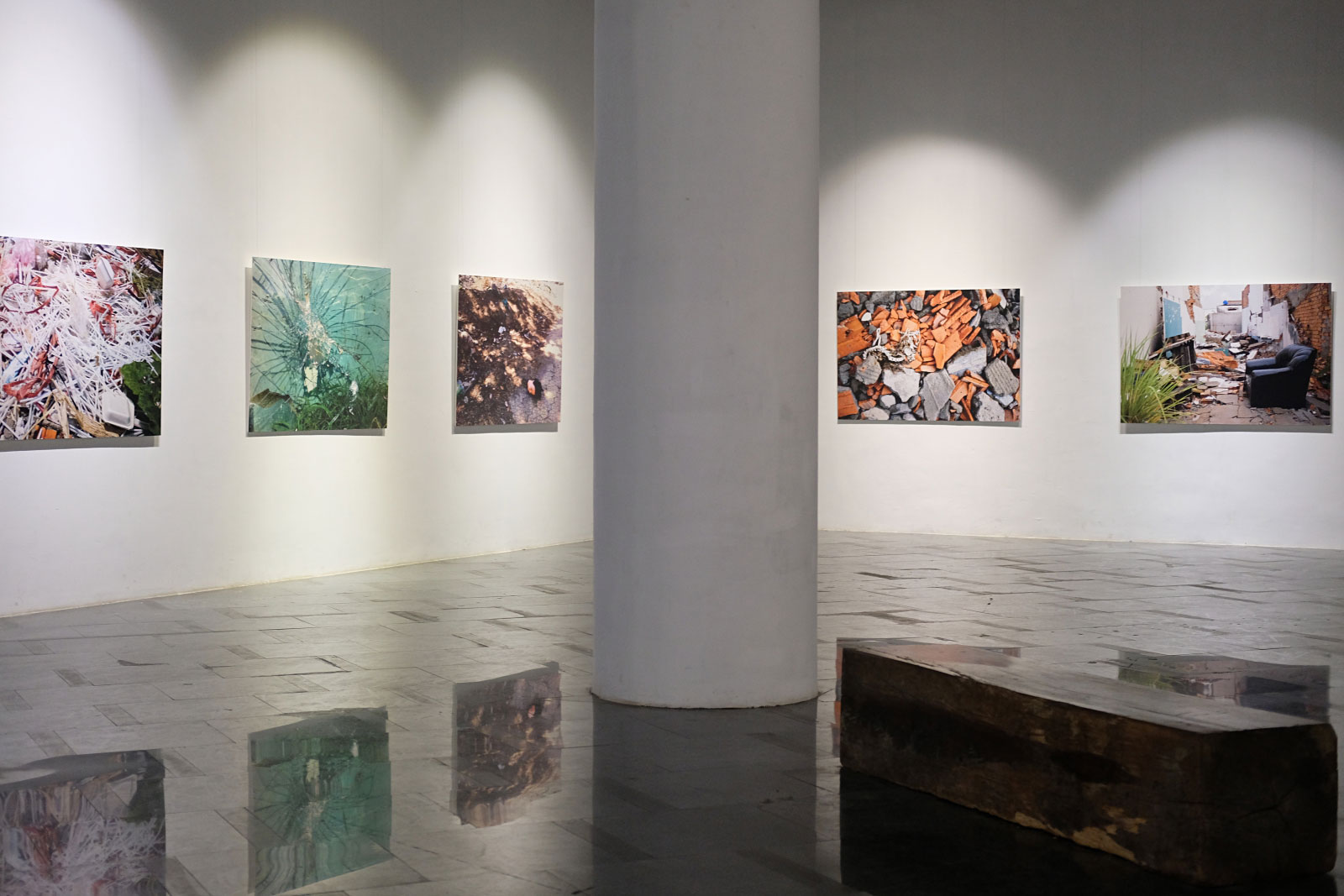 Nana Chen's first solo photography exhibition in Vietnam titled Discarded is taken in Saigon where the artist has been living for 7 years. After coming across a completely demolished housing area while wandering around District 2, she was prompted to look for and document what people leave behind when they move to a new place. These once held dear, now unwanted items are linked with Nana's personal recollection of constantly moving and never having a stable residence ever since she was a child.
Walking into the exhibition of Nana Chen, one is most likely to notice the swelling background music (composed by the artist herself) and the vast empty space. The ample gallery hall of Heritage Space holds only 12 medium-sized photos from the series, mainly close-up shots of artifacts belonging to former inhabitants of various land clearance area, such as household appliance and children's toys.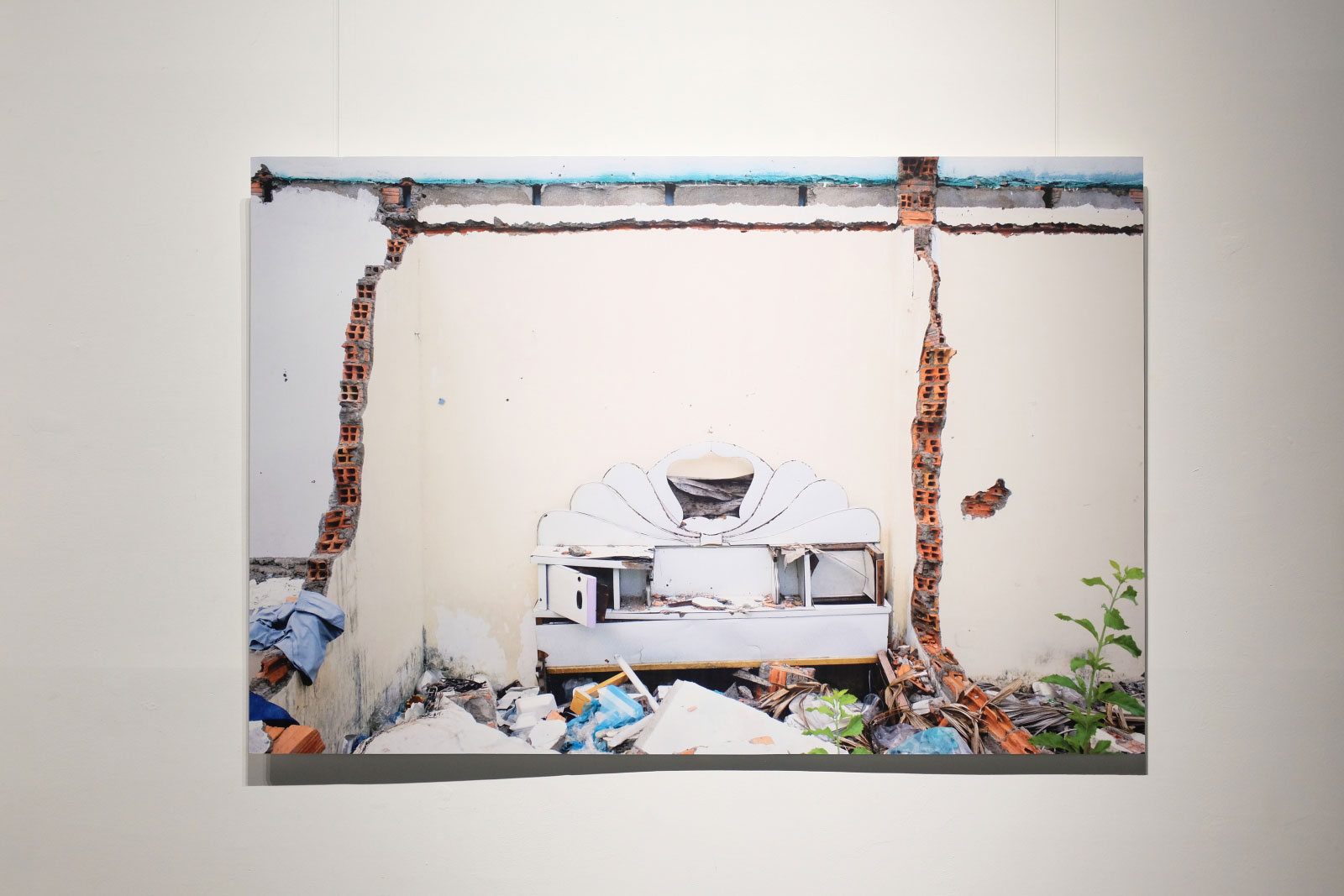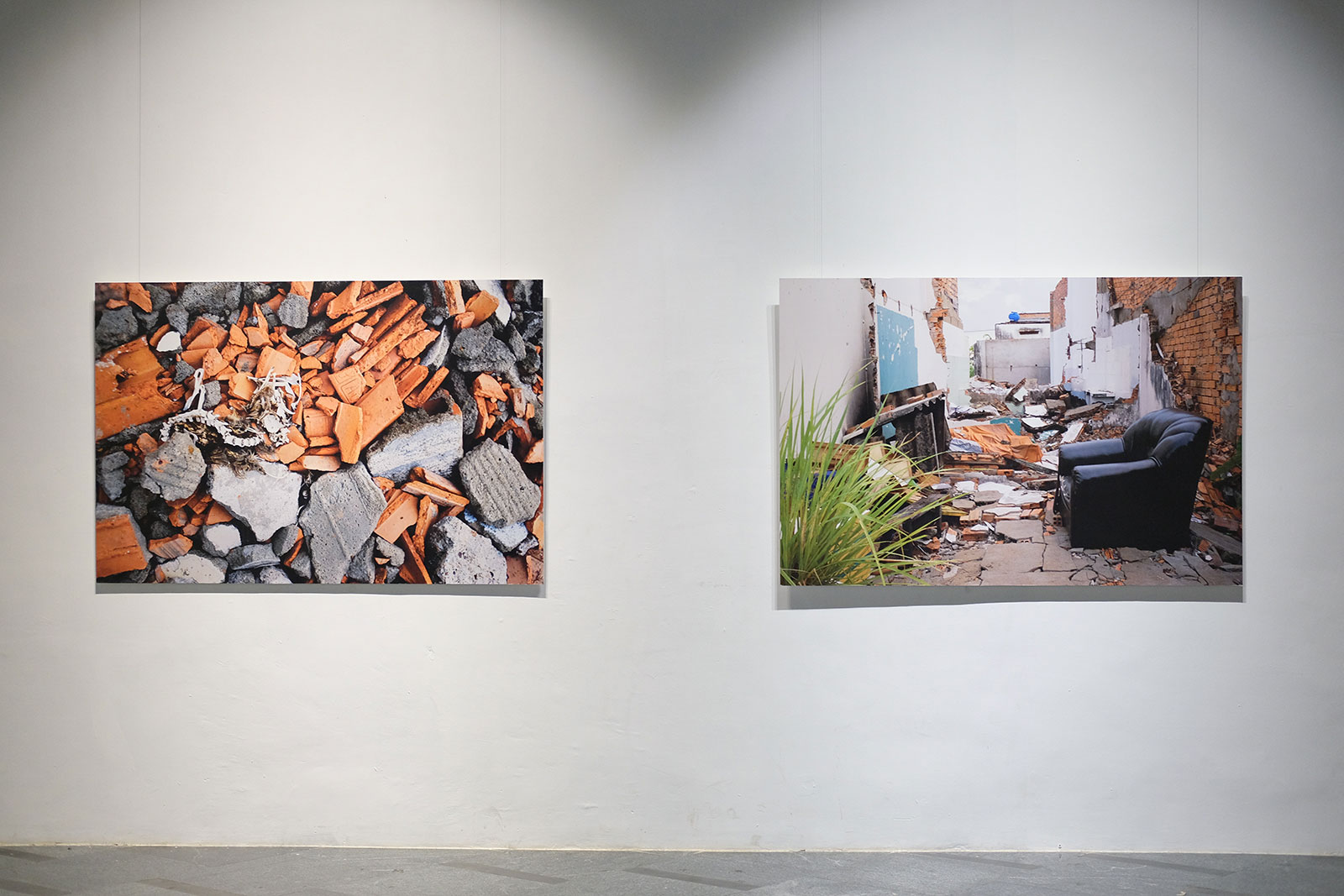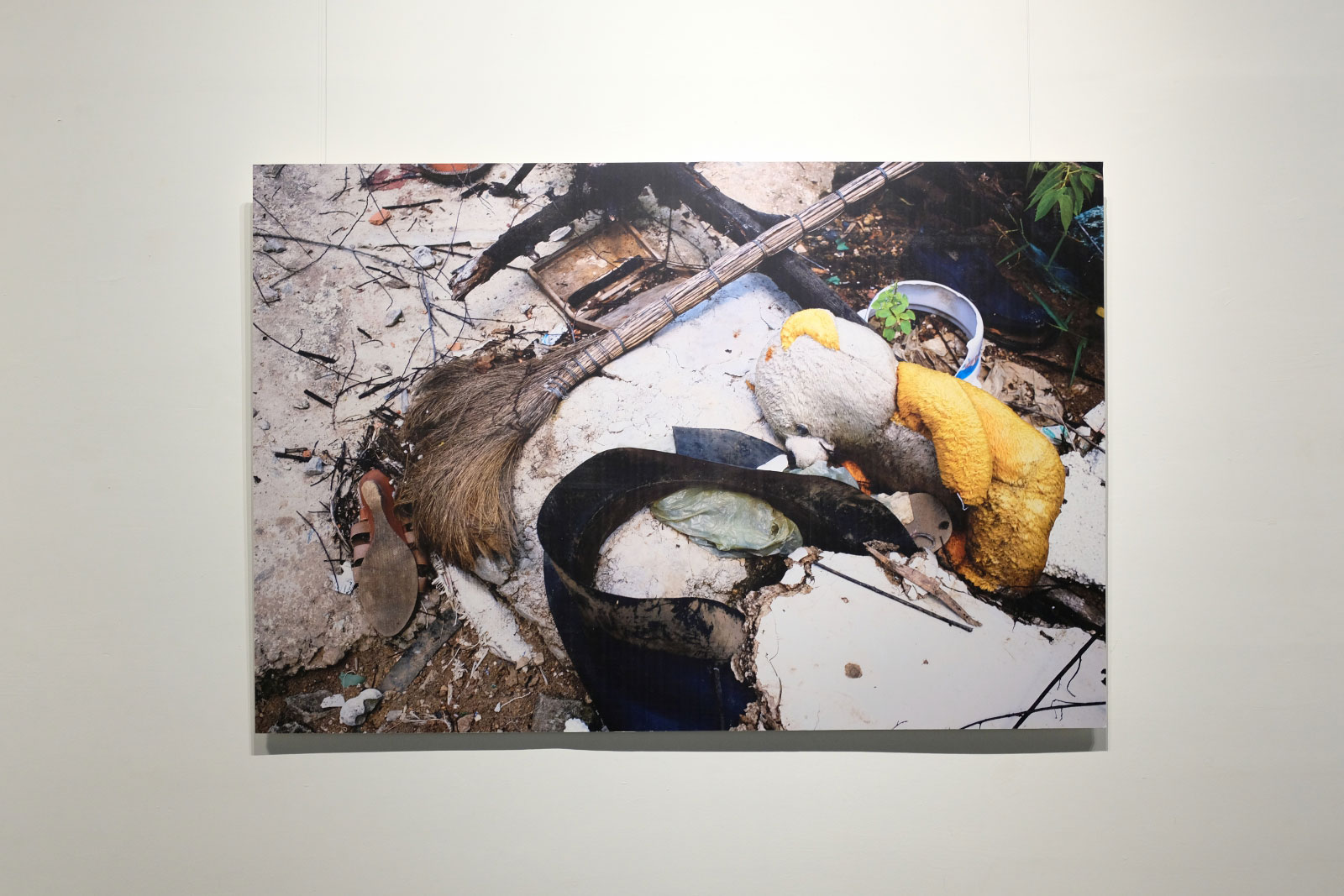 Choosing to magnify these small items is perhaps the artist's intention to let viewers meditate on the details of these found objects. However, without showing a wider point of view and only displaying a limited number of photographs, the exhibition quickly fails to keep the interest of gallery goers who search for a particular narrative. There is no information of the location and previous occupants, such as how they had to move and why they chose to leave behind some belongings. The body of work is left without context on purpose, as the artist does not aims to report on a problem but to evoke feelings from viewers and allow them to independently interpret the imagery. However, the tightly composed, straightforward images and melodious tune are full of pathos, which makes it hard to read the work otherwise.
Nana has also held several art tours in which she attempts to bridge the distance between the artist and audience, encouraging them to ask questions and share how they relate to the work. While facilitating the audience's engagement is of monumental importance, in order to do so, the visual content of the work needs to be appealing or at least relatable. Since photography is a quiet medium, Nana's choice to omit the context of the work leaves viewers at a loss. Nana has an original concept and a strong statement, yet the final execution could not deliver the artistic intention effectively.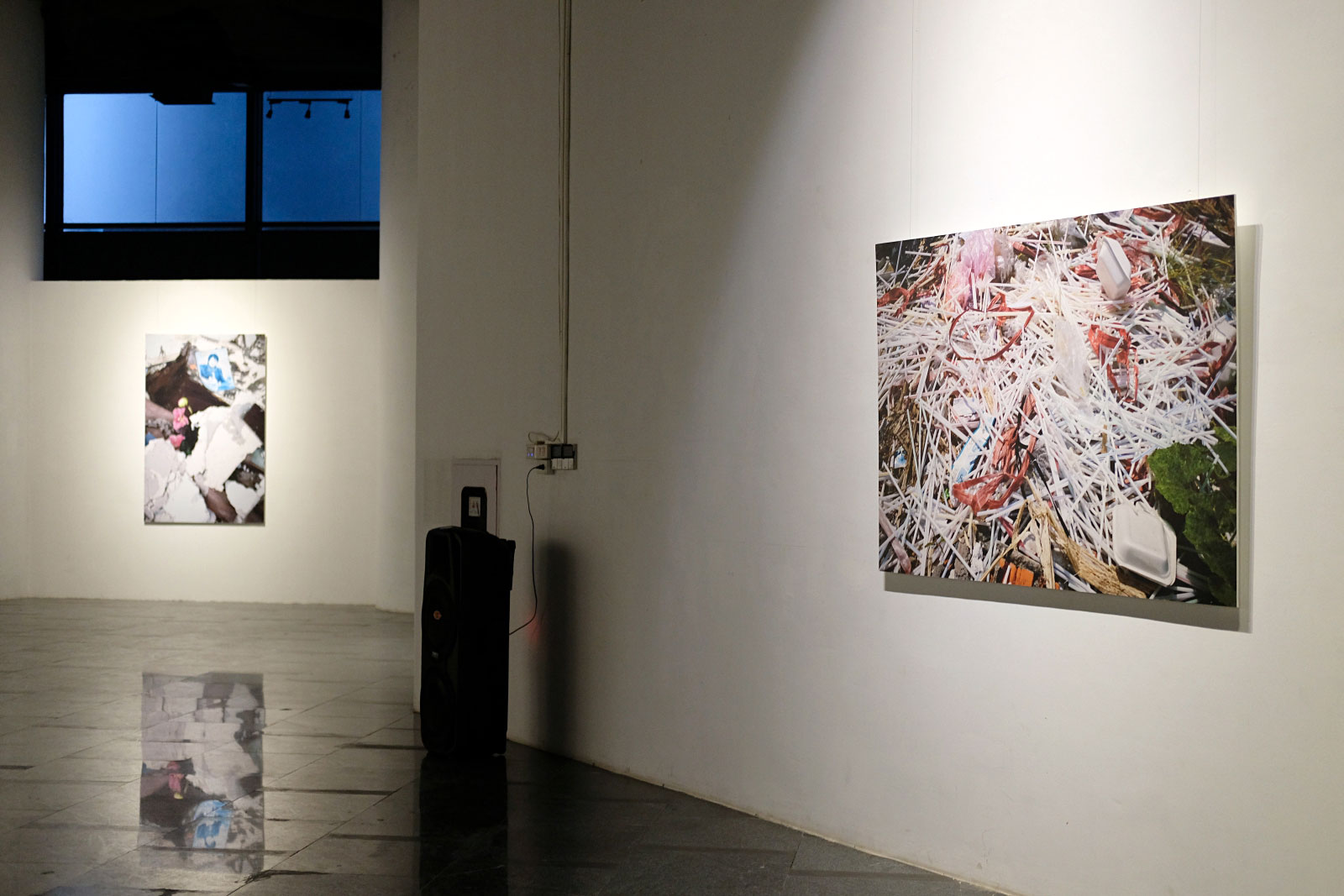 A few days later, Duy Phuong's Volatile States exhibition took place at L'Espace, also a long-term documentary project taken in Saigon where he used to live and study. With the sponsorship from L'Espace and having a home-run photo lab, Duy Phuong could produce more than 40 high quality prints in his exhibition. Most are small-sized photos arranged in an erratic manner on the main wall with the rest printed bigger and suspended in midair in the hall. While refusing to provide his opinion on urbanization, Phuong's photographic observation explores and interrogates the pitfalls of the city evolution.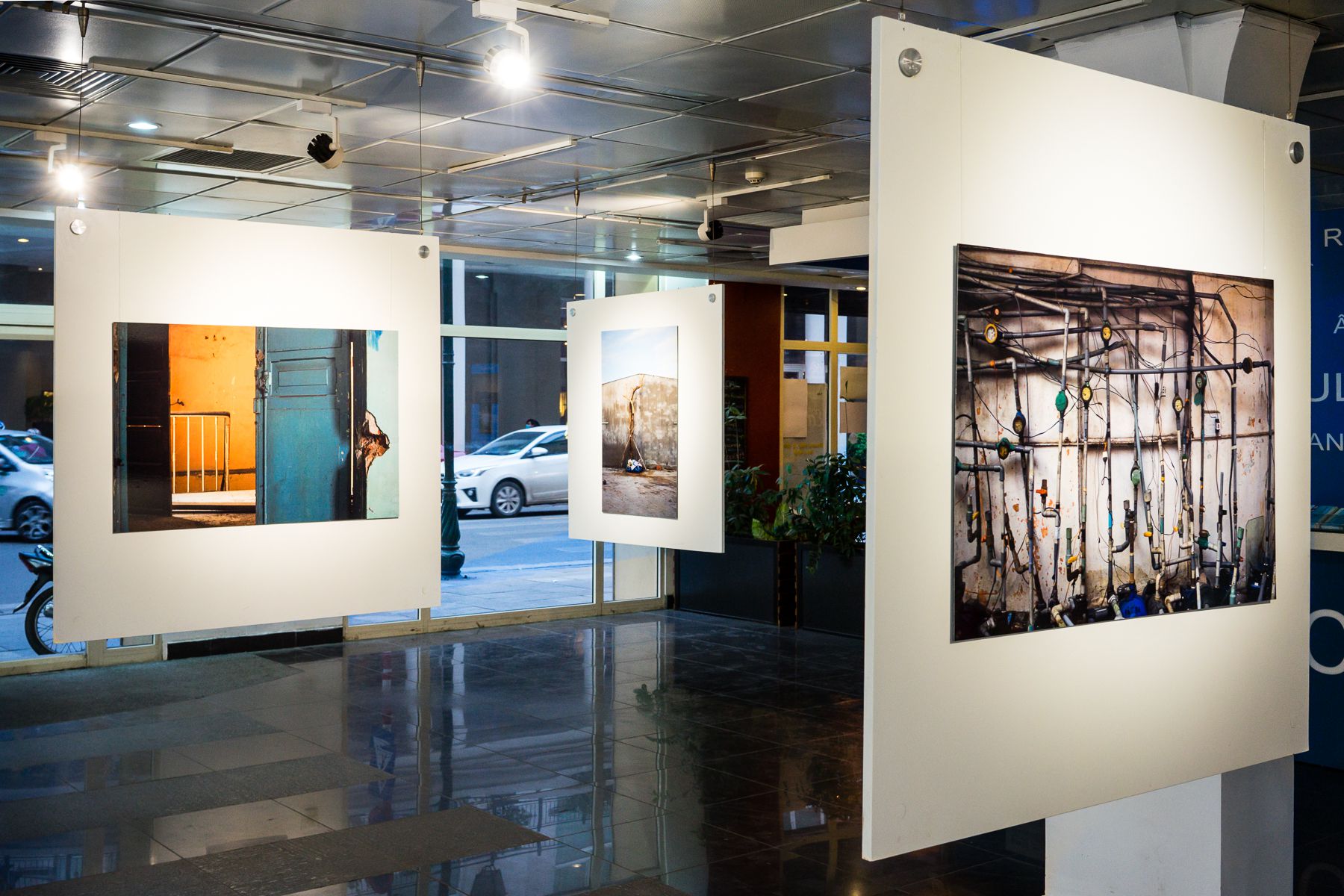 Using daily scenes as metaphors, Duy Phuong tells the story of people stuck in a limbo, between doubt and confidence before the promised prosperous future. Because of their small size and erratic display, the photographs make viewers come closer and read between the lines for clues. At first glance, the majority of his photographs seem to depict still-life and cityscape, with ironic details that hint at the tension between what has been and what to come: construction tools scattered on the half-lit ground, a perplexing system of rusty water pipes, a plastic bag hanging on a tree branch.
While this can easily lead viewers into thinking the project is about environmental impacts of urbanization, as one takes a deeper look, we realize Duy Phuong has playfully included a human element within his work. Here is a group of construction workers having lunch next to a Buddha statue, there is a woman holding her baby emotionlessly in a waterlogged building site. On the backdrop of gentrification, these ambiguous moments mirror shifting sentiments in Vietnam, where people are left at a crossroads between age-old traditions and a culture that is increasingly consumerist, and where the rise of modern buildings and amenities caters to a group of high-income residents.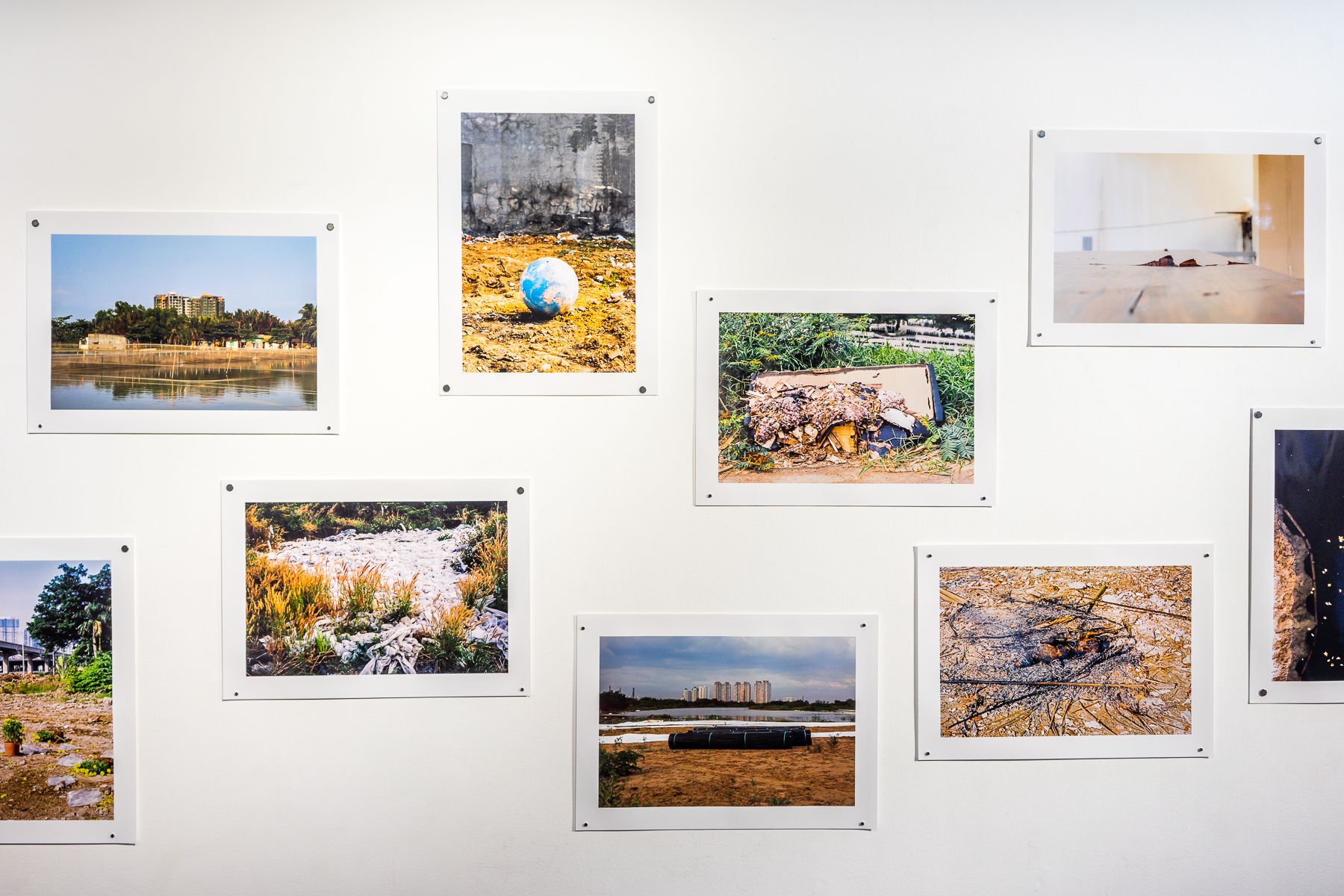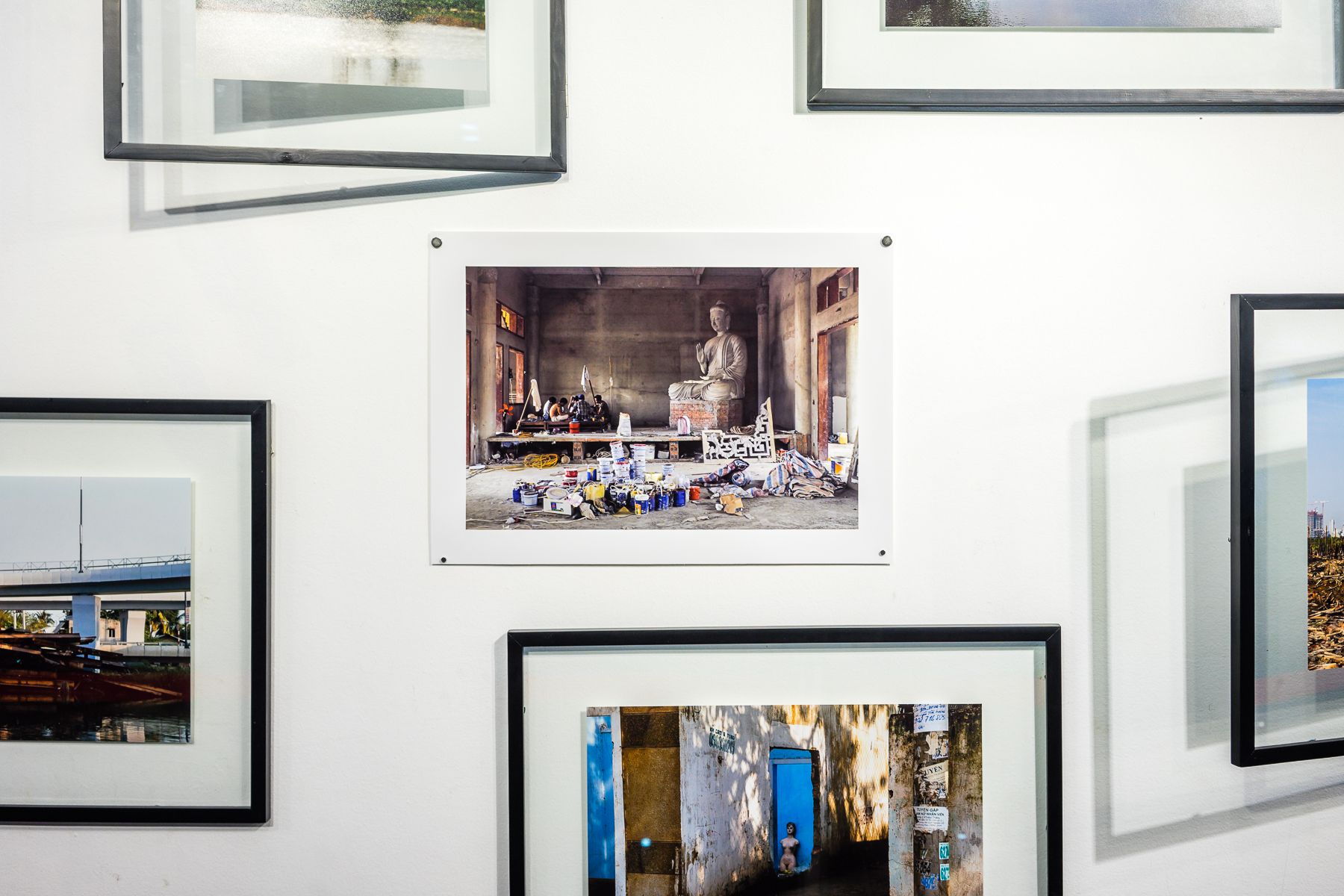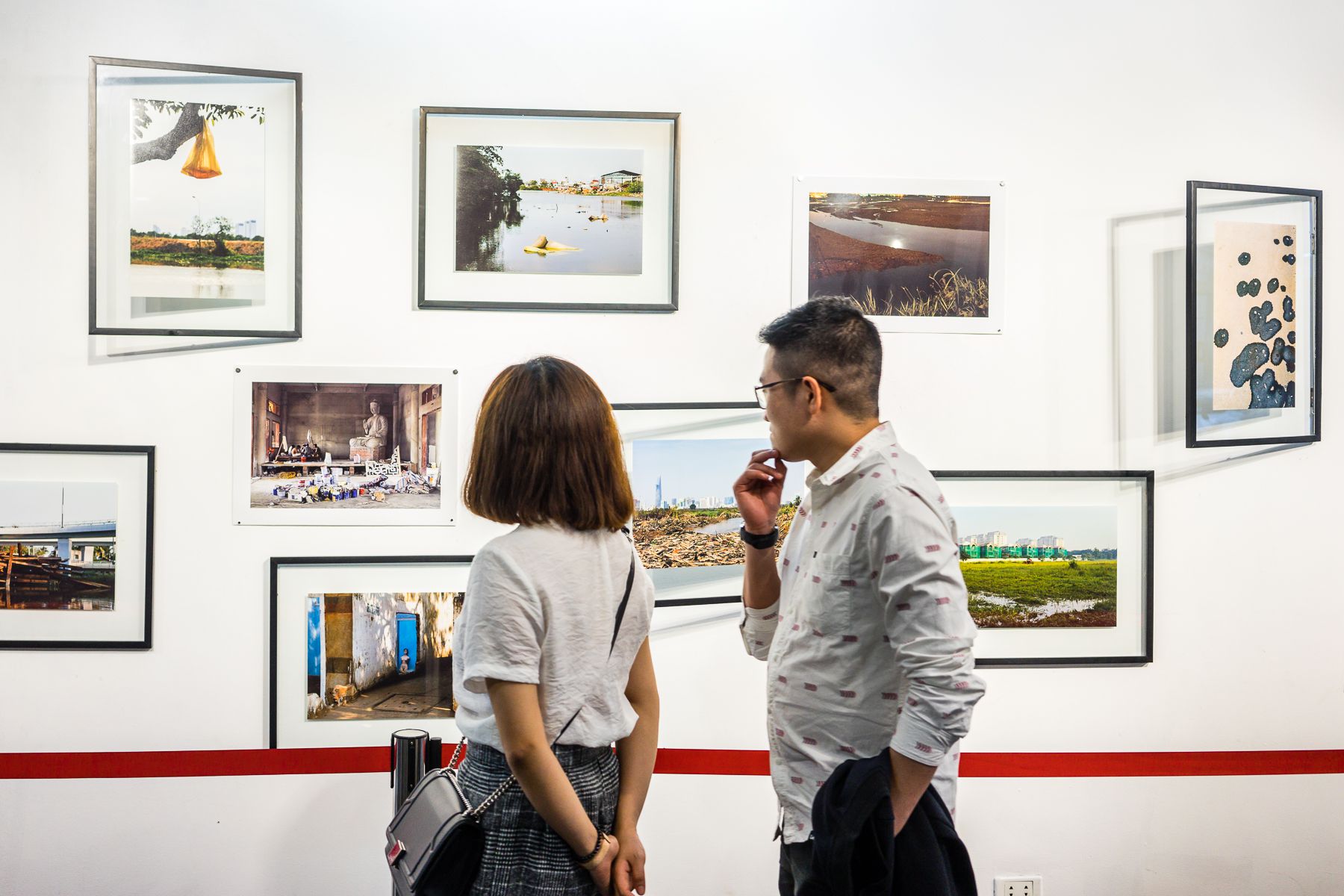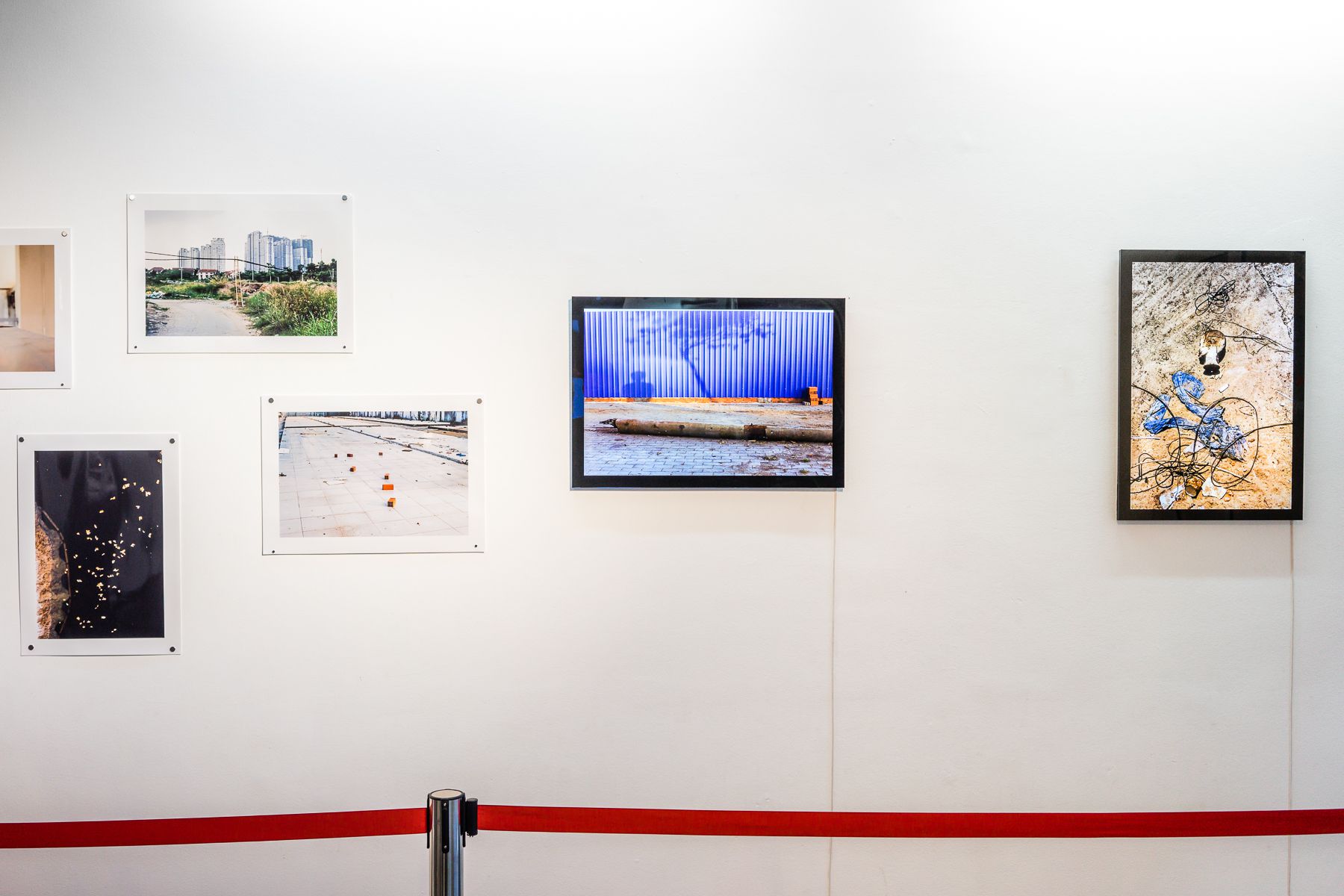 Although both artists investigate the same topic using the photography medium, Duy Phuong chooses to include iconic landmarks in Saigon, as if setting up a deliberate stage with characters. The recognizable features and diverse content and presentation of Phuong's work creates an engaging viewing experience. He is indeed successful at bringing his intention forward in the photographs, setting the mood and expressing the artist's standpoint on urbanization from the very first picture till the last. However, this at the same time leaves little leeway for viewers to have their own opinions. The exhibition is set in a public space with many people coming in and out, where the mood is easily disrupted.
Saigon is among many cities in Asia struggling to manage its urbanization effects on the lives of residents. In such context, the potential of photography to document the patterns of cities needs to be recognized and made use of. This personal form of storytelling like that of Nana Chen and Duy Phuong can become a disciplined way of seeing, investigating our living environment, expressing perceptions, and even starting civic discussions. As viewers, we should also recognize the capacity to express what we like and dislike about our surroundings, to respond with delight, nostalgia, optimism or fear, and to cast a critical eye at what we have gained and lost along the way to development.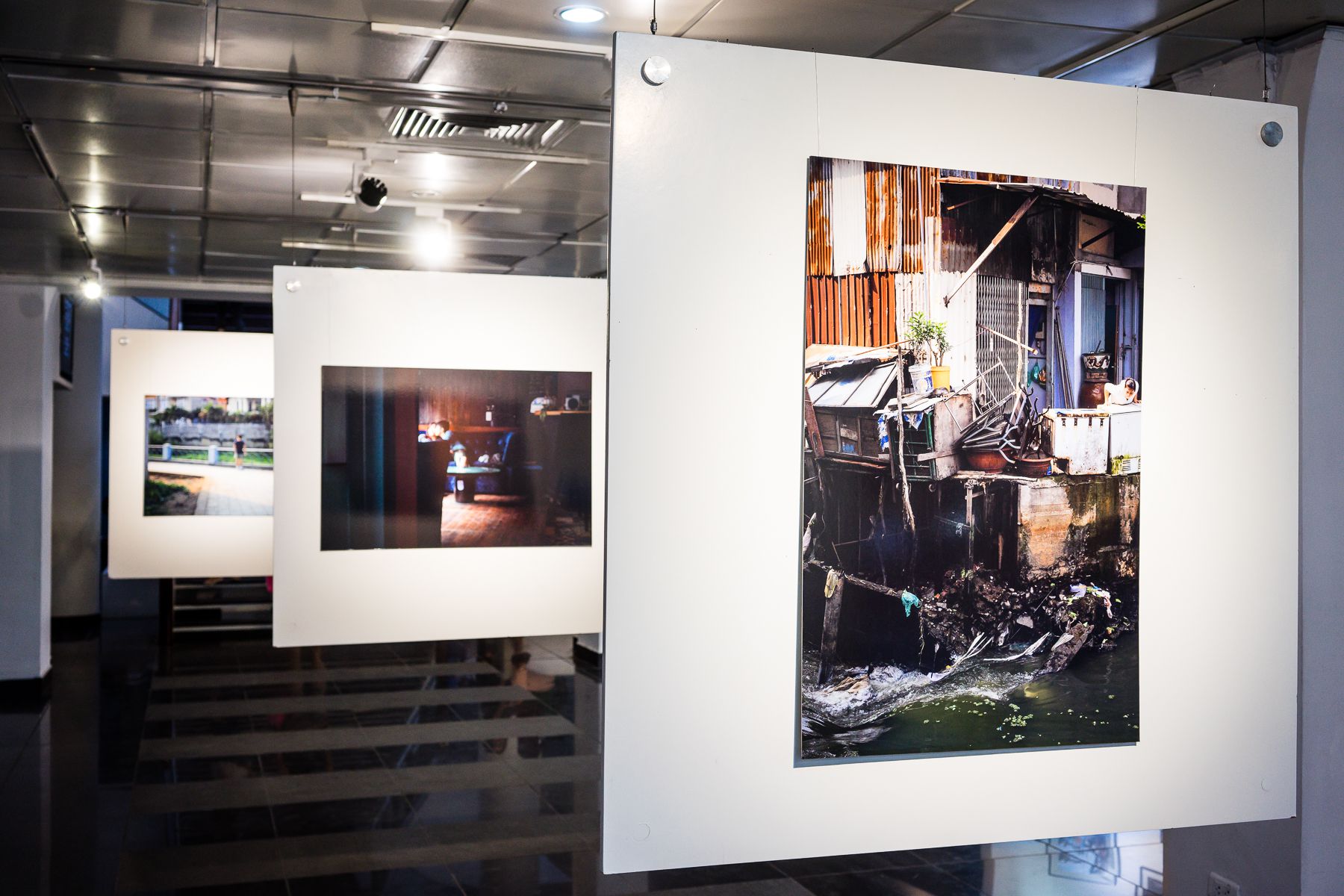 Discarded – a solo photography exhibition of Nana Chen
Time: 11/03 – 25/03/2018
Venue: Heritage Space, Fl.1 Dolphin Plaza Building, 6 Nguyen Hoang St., My Dinh 2, Nam Tu Liem, Hanoi.
Volatile States – a solo photography exhibition of Duy Phuong
Time: 16/03 – 10/05/2018
Venue: French Culture Center in Hanoi – L'Espace, 24 Trang Tien, Hanoi.
Le Nguyen Duy Phuong grew up surrounded by photography. After entering university to study for a degree in photography in 2006, he was selected in 2008 by Jean-Luc Amand Fournier from the École Nationale Supérieure de la Photographie d'Arles for a three month residency. From 2012 onwards the quality of his work has started to become recognised and numerous personal and collective exhibitions have been organised by the Centre Culturel Français in Hanoi and Hue, as well as by the Sao La and Craig Thomas galleries in Ho Chi Minh city.

Nana Chen is a Taipei-born photographer whose work has been published in The Observer, AFP, Marie Claire, Esquire, D-la Repubblica, SCMP and many others. Her photographic prints are collected and featured in leading publications internationally. Chen is currently based in Ho Chi Minh City after a nomadic life in Buenos Aires, Santiago, Atlanta, Copenhagen, Bangkok and other places. Her recent projects include an ongoing portrait series of Thai transgender women in mainstream occupations, "Nocturne": Bangkok's Chinatown at rest; "Chungking Mansions: the last ghetto in Hong Kong" and a portrait series on Vietnam's billionaire women.