Yatender's latest solo show 2 – 1 with pictures from her ongoing Tinder Project opened late August to September 14 at Vin Gallery. Her work from this same project have been very recently featured in Saigon Artbook 07 and a group exhibition at The Factory. The show is a continuation of heightened interest in photography worth celebrating at galleries both North and South, and similar to other shows, it introduces more introductory and in-progress rather than a well-developed, ready-to-exhibit body of work.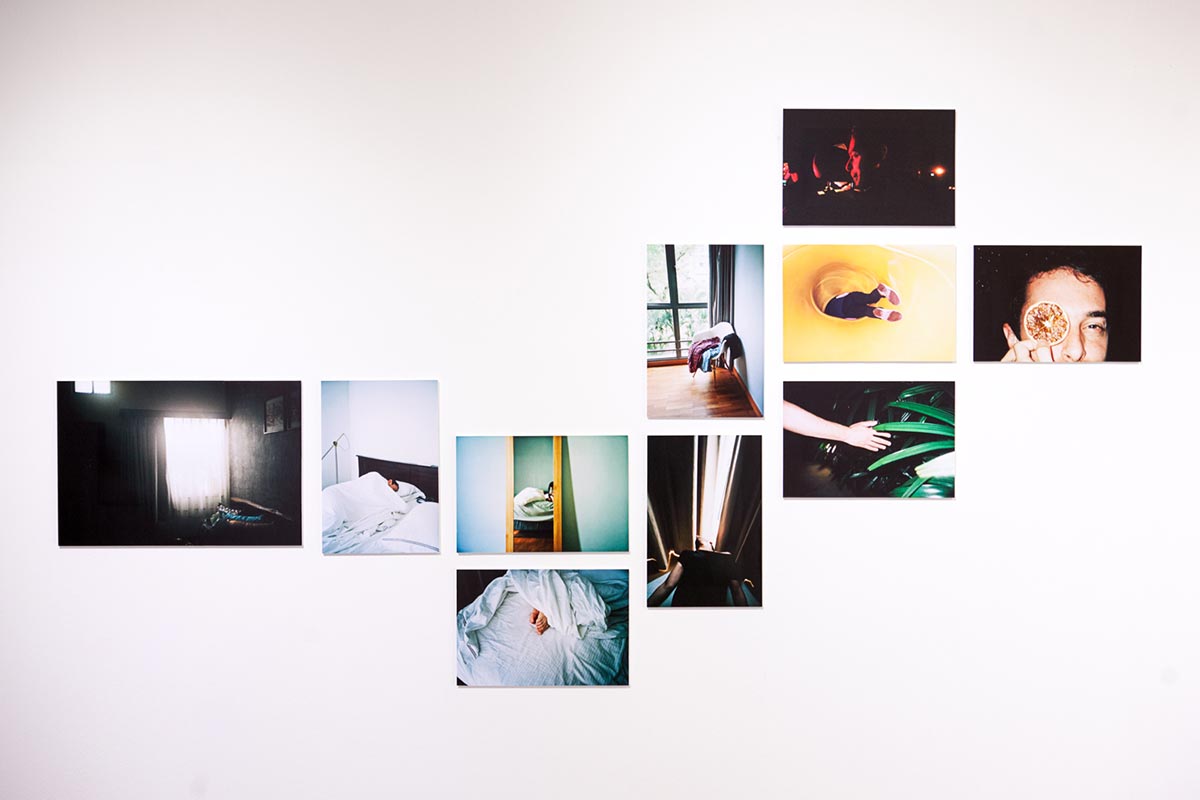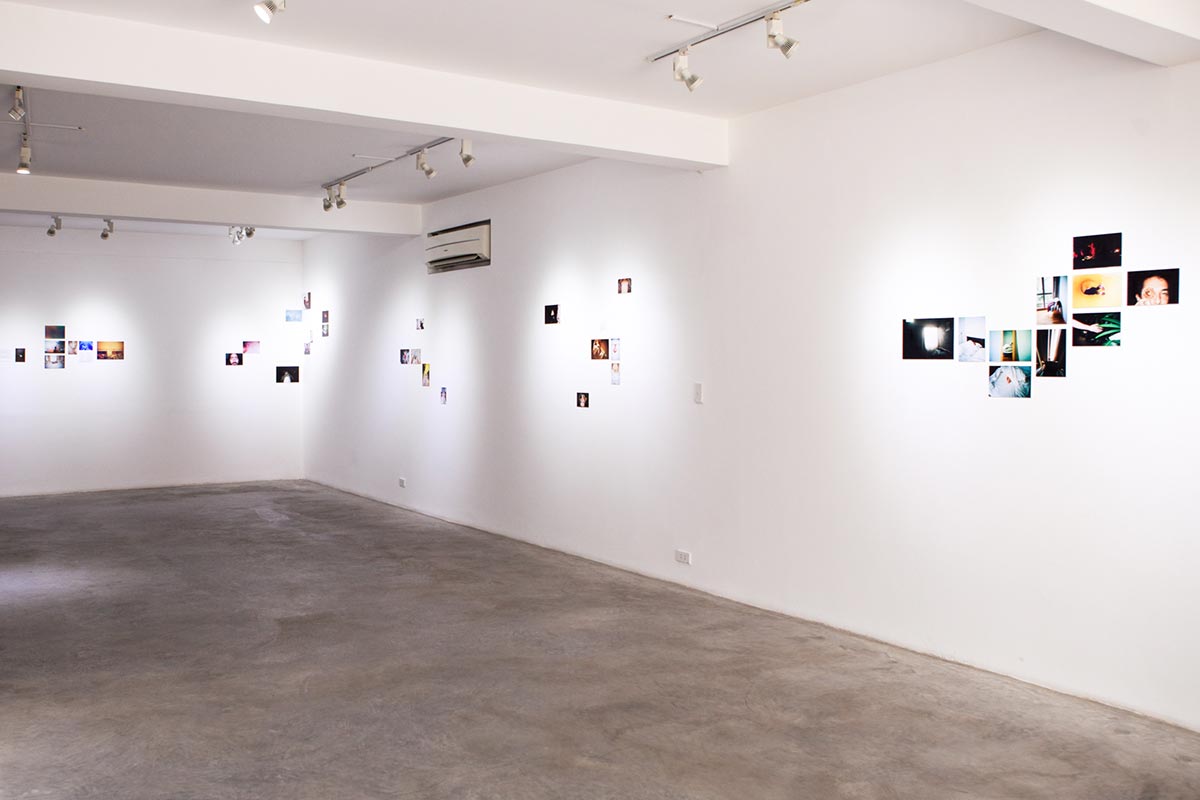 The first thought visitors have upon visiting Vin Gallery these days must have been of surprising spaciousness. Vin Gallery is among the small, private galleries of Saigon and it is rare to find it so empty despite having a show running. Yatender's pictures are printed very small in comparison to gallery's space, and there are in fact not many pictures. They are organized in scattered groups of photographs, each occupying a section of the walls that do not seem to correspond to each other. That assumption would be confirmed when the visitor walks closer and realize that each of those groups feature a different young man, except for the group in the far corner dedicated to a scramble of different partners. Another arbitrary installation choice is the number of pictures in each group, for example one has 15 pictures and another only 5. The pictures are accompanied by little pieces of paper with the photographer's own handwriting that detail the exchanges between her and the subjects.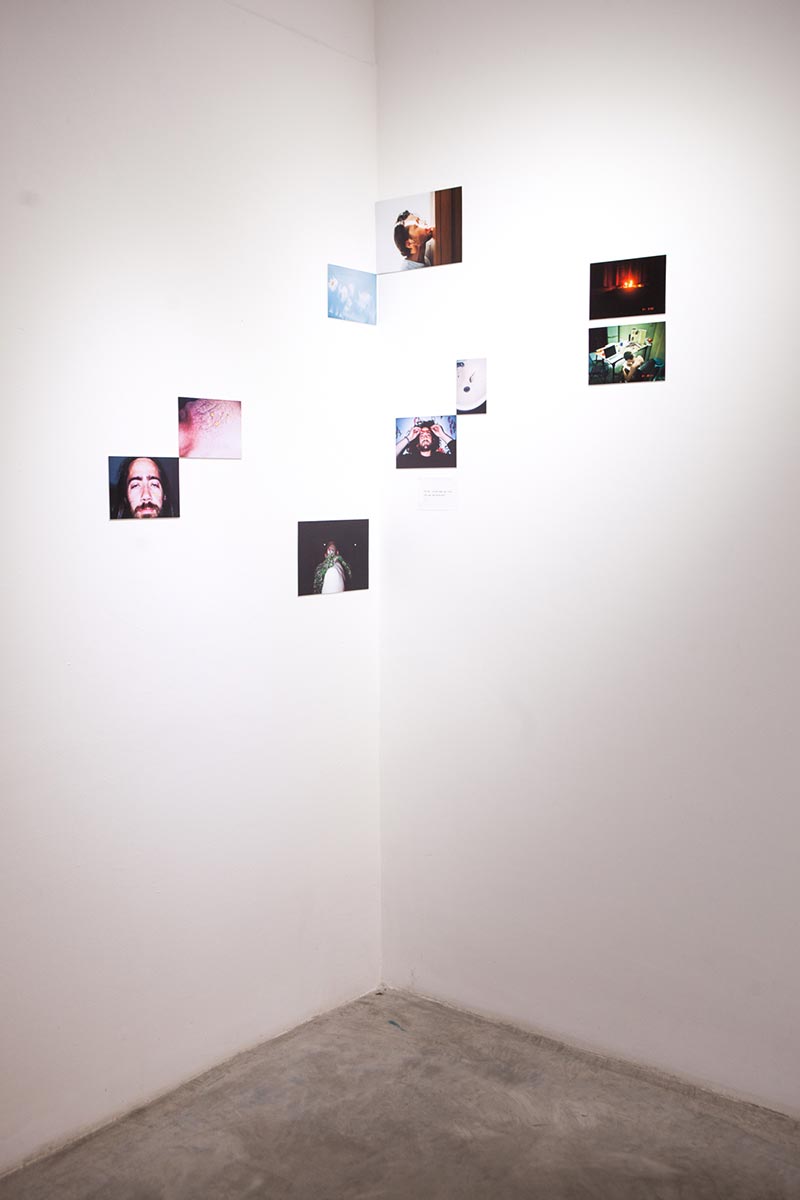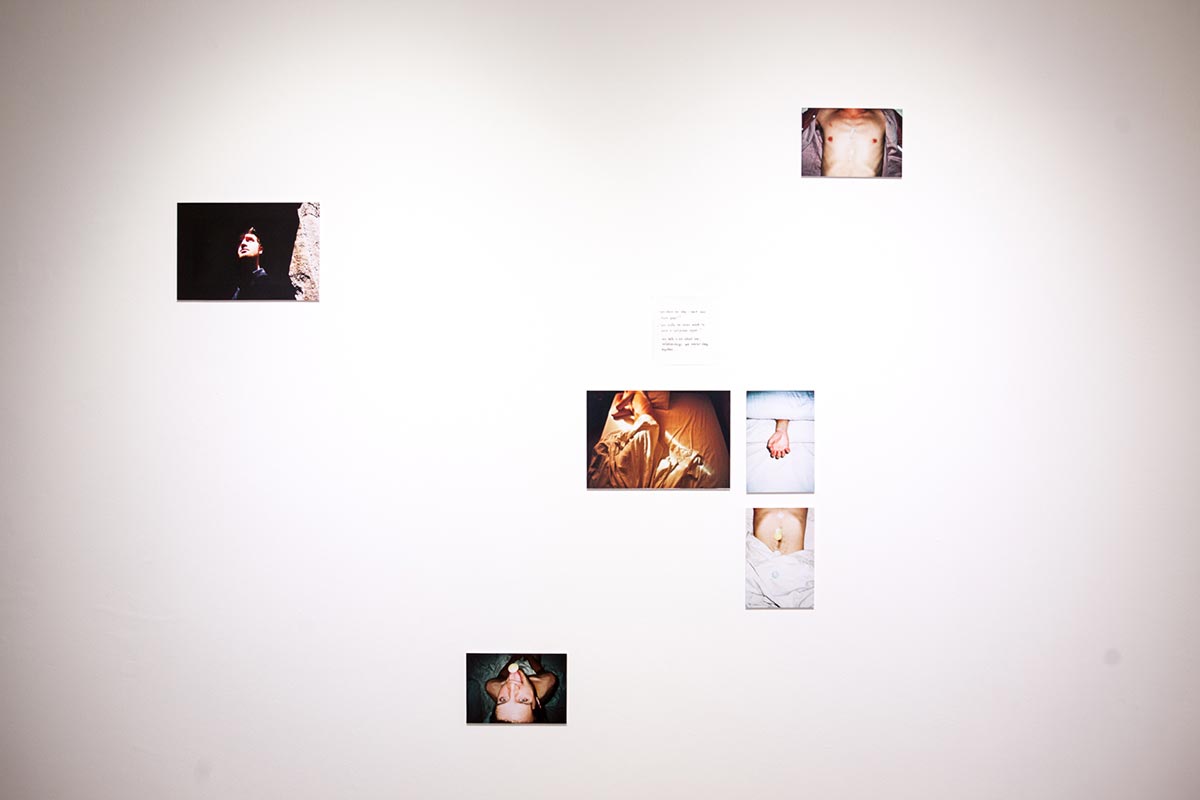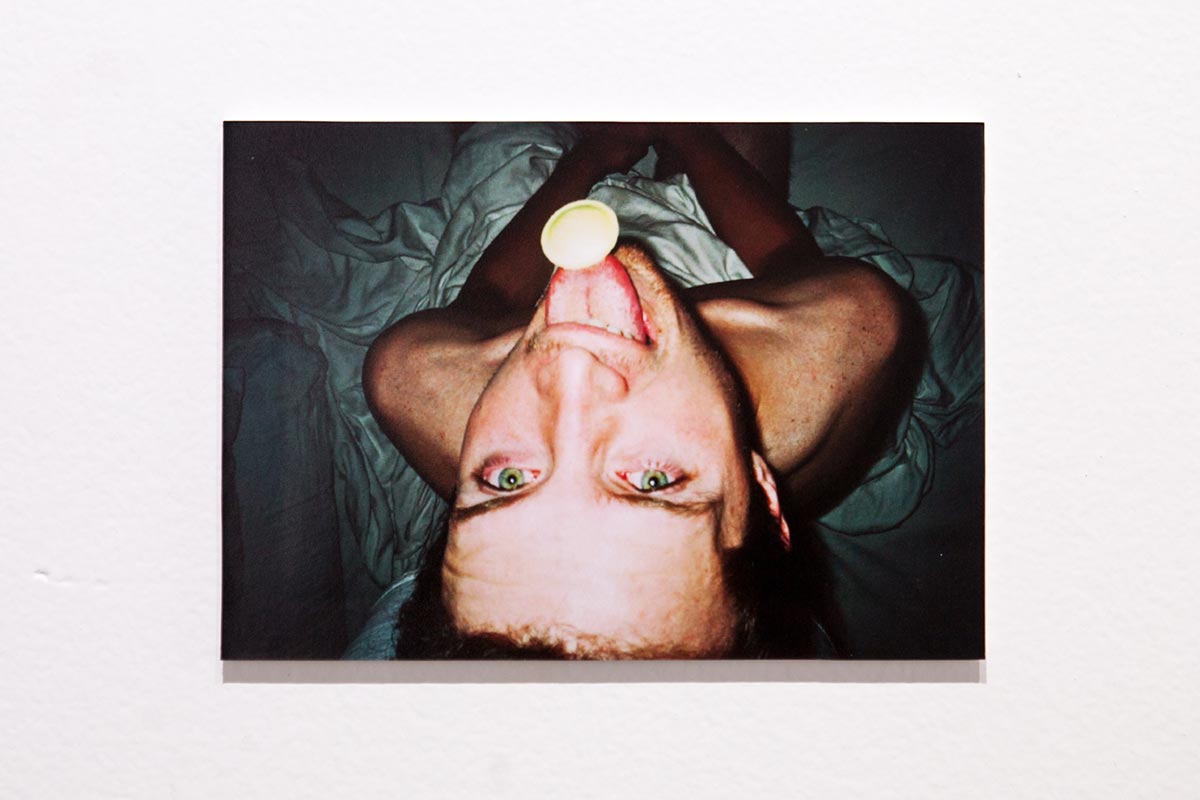 The pictures throughout the exhibition depict candid moments of interaction in their fleeting encounters. In each panel, details of their short-lived but intimate relationships are laid out, suggesting a sensual connection. Depicting the men in various situations, the pictures mostly belongs to two kinds. The first shows them participating with the photographer and pose wildly for the camera, the other kind shows them in their quieter, caught-off-guard moments when they are mostly by themselves.
Doused in the harsh light of Yatender's camera flash, subjects in the first kind of pictures are seemingly actors under the spotlight. In one photo, a man in a bright red trunk was jumping off a tree, suspended in the middle of his action. In another, a different man wrapped himself with gift wrap ribbon. While this kind of photos are fun to look at, the men's real faces are hidden behind a façade of performance and could not keep up with her goal to make portraits of their inner soul.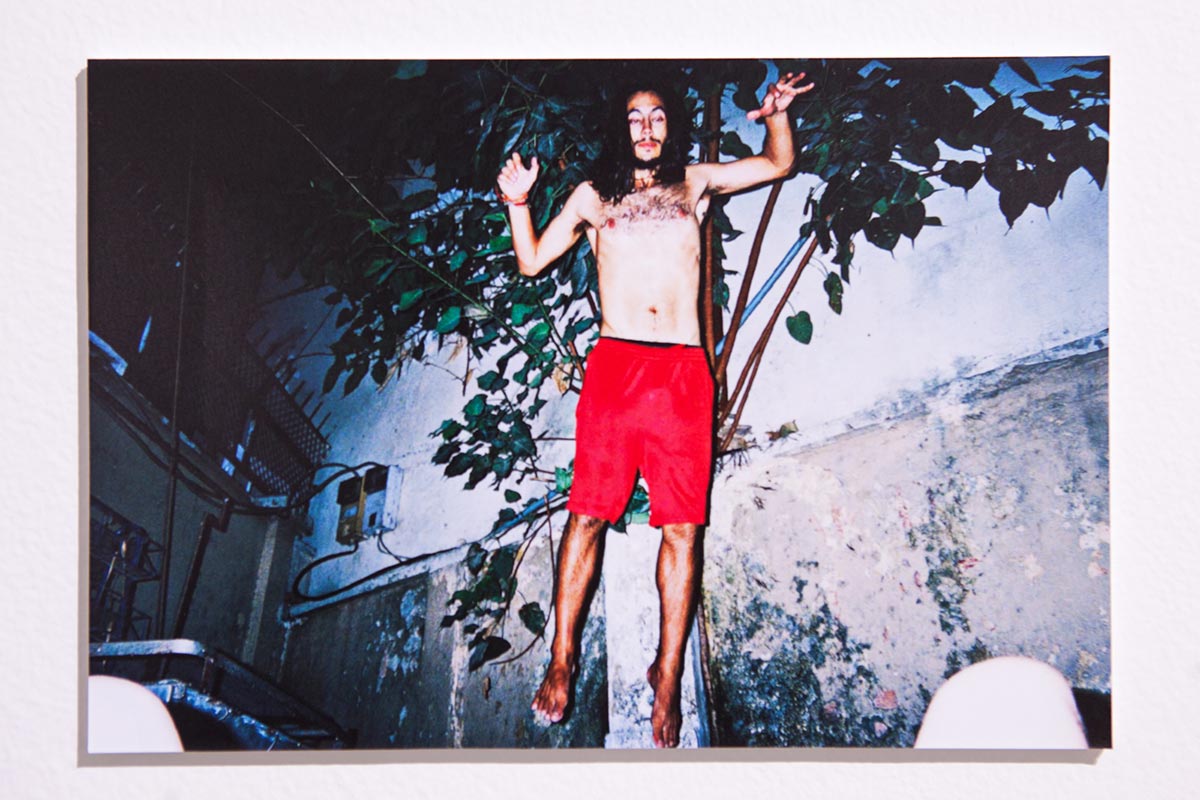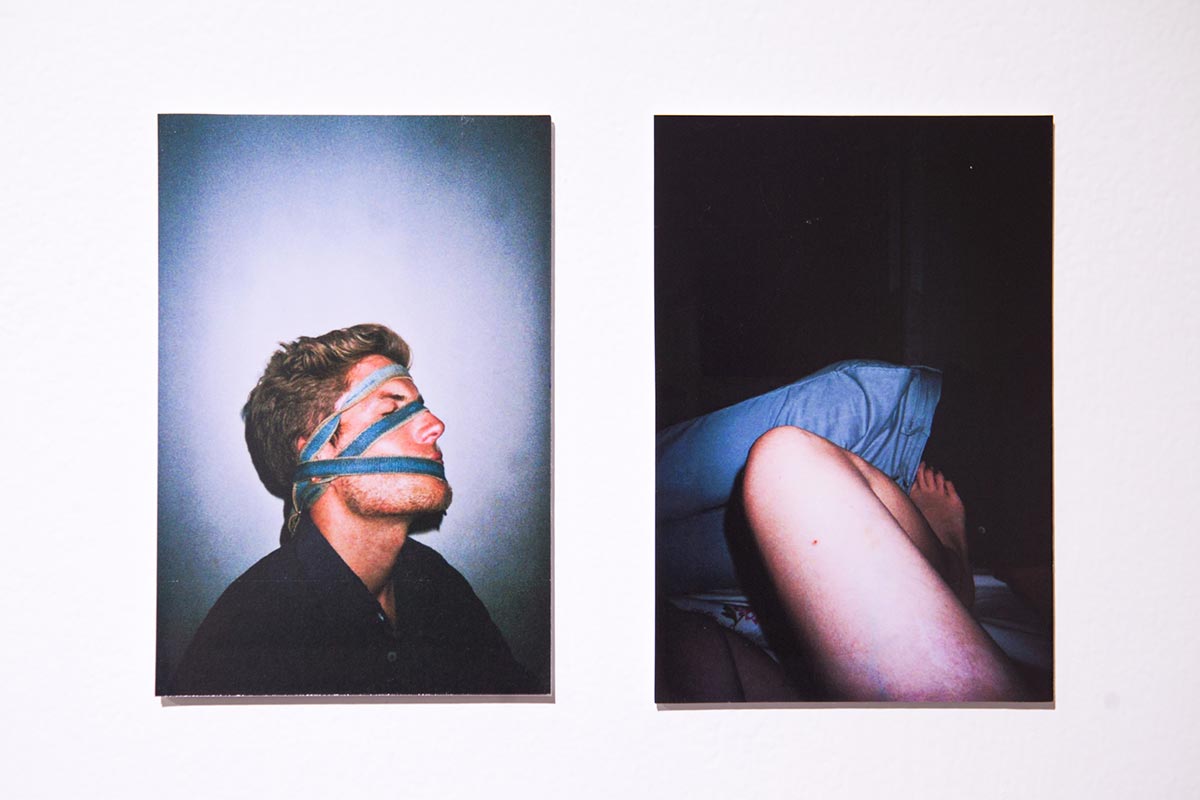 The context of these pictures that help viewers better understand is unfortunately found in Saigon Artbook 07 and not at the exhibition itself. The idea is that when Yatender have developed an intimate relationship with her subject / partner, she would ask them to let her take pictures of them doing something – anything he could think of. Though different in forms and shapes, those pictures feel similarly contrived and produced for the camera. In this way, the pictures function less as candid portraits of their subjects than a reflection of the artist. As the men in the pictures responded to the Yatender's peculiar request with corresponding imagery they think would work for her, the results are more the artist's than their own.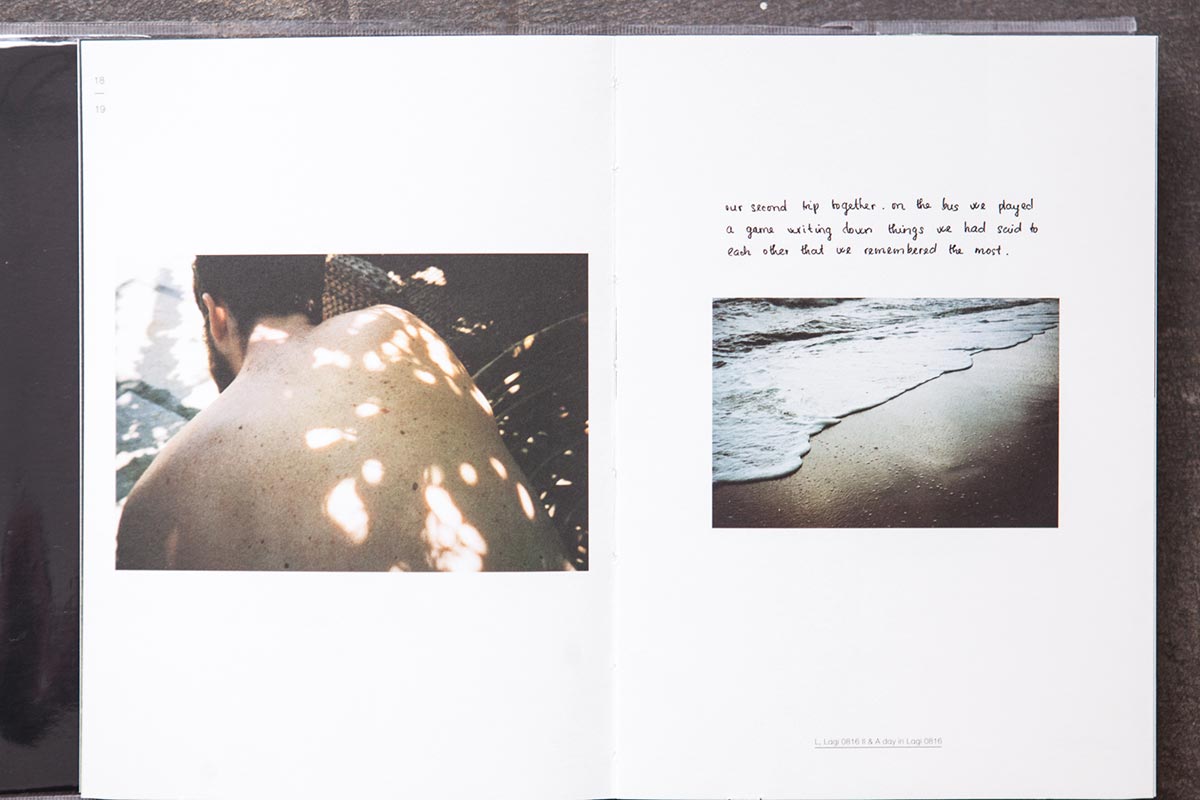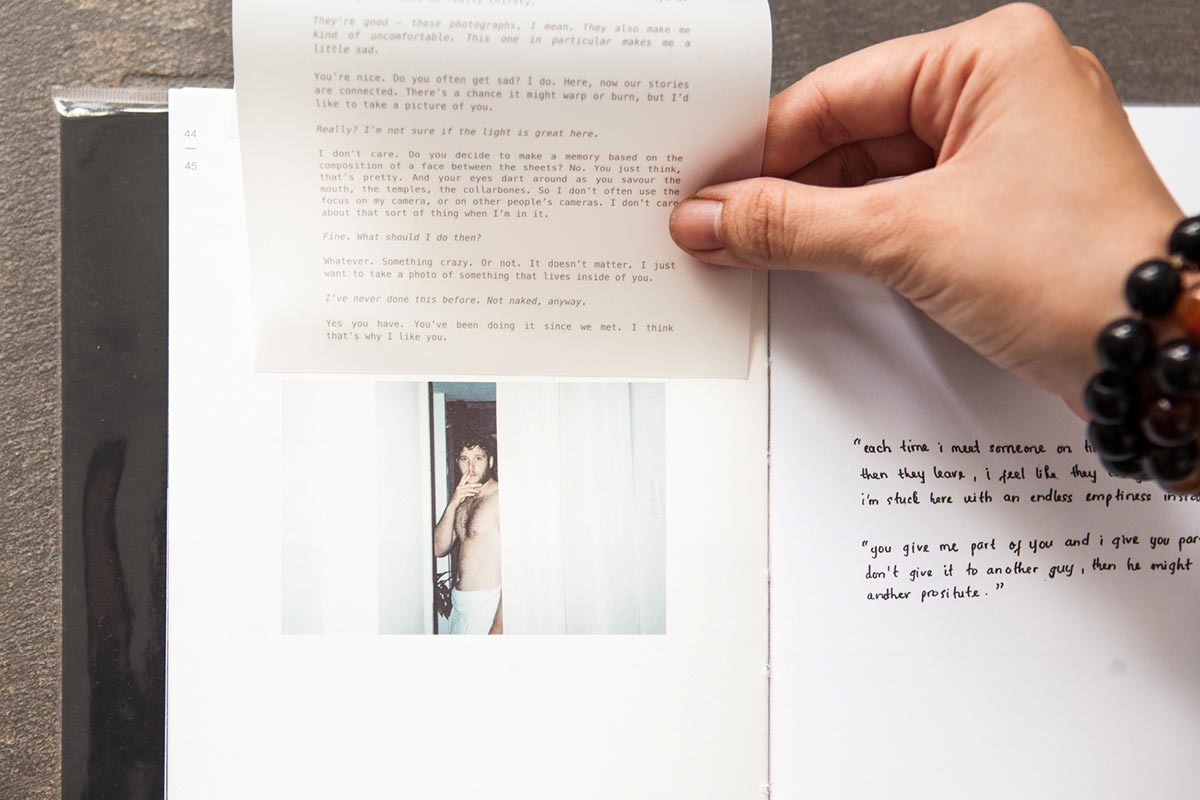 In contrast, the second type of portraits offers the vision that the first is lacking, showing the same men in the moments when they are alone and unaware with no need to impress. In these pictures, the men look lonely and vulnerable but truly themselves. While not as quirky and visually catchy as the others, they reserve a kind of subtle strength that invite viewers to ponder and empathize.
Throughout the exhibition, while there are very few pictures of Yatender, her presence is always there, albeit scattered all over the places. In one way or another, her appearance is cut off, either by the camera she is holding to take a mirror selfie or by the frame itself. Opposite to the men whose identities are revealed, Yatender consciously keep herself away from viewers' gaze. As Yatender remains elusive, the very rare picture in which she let herself be seen becomes the gem of the whole show.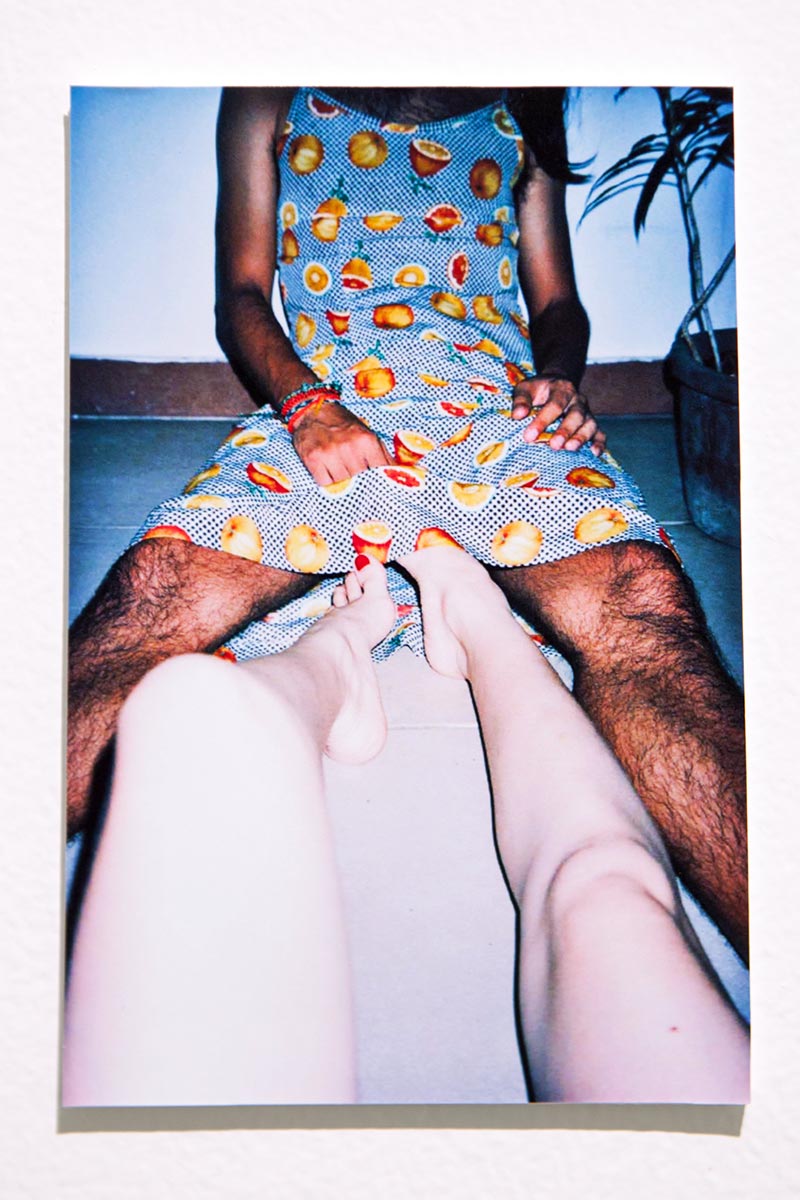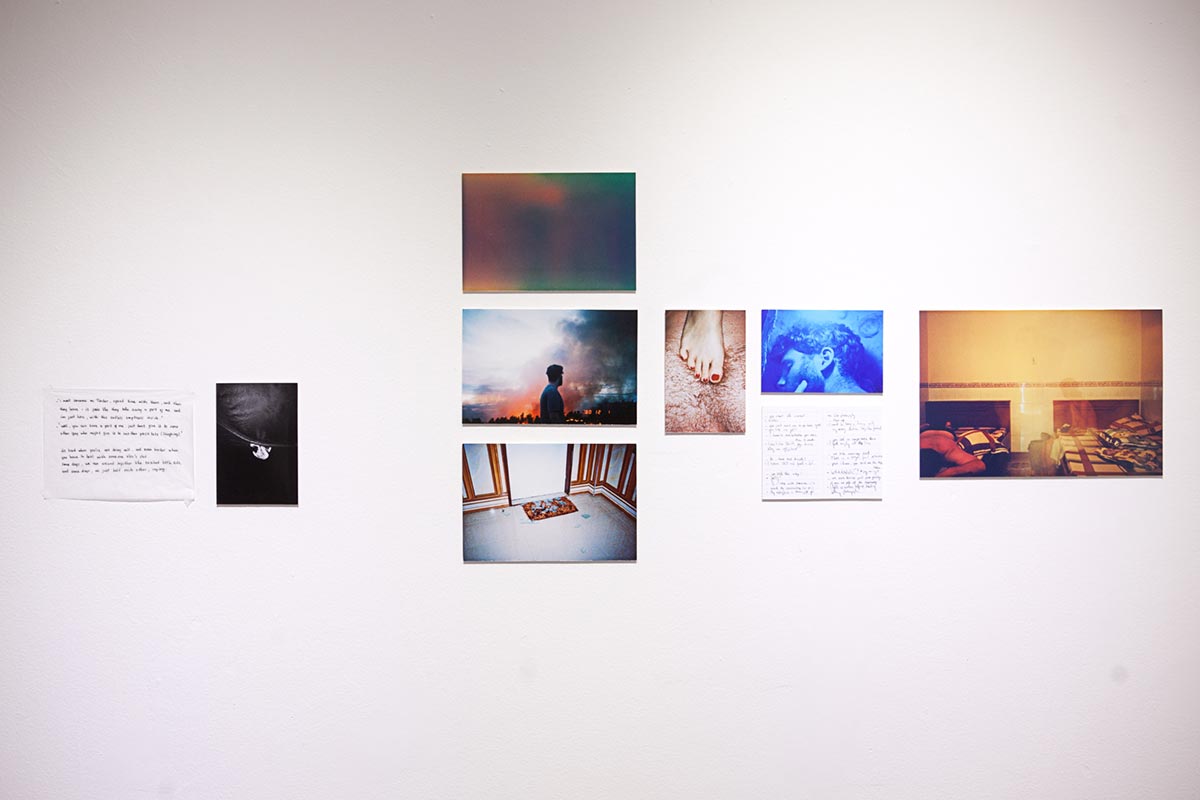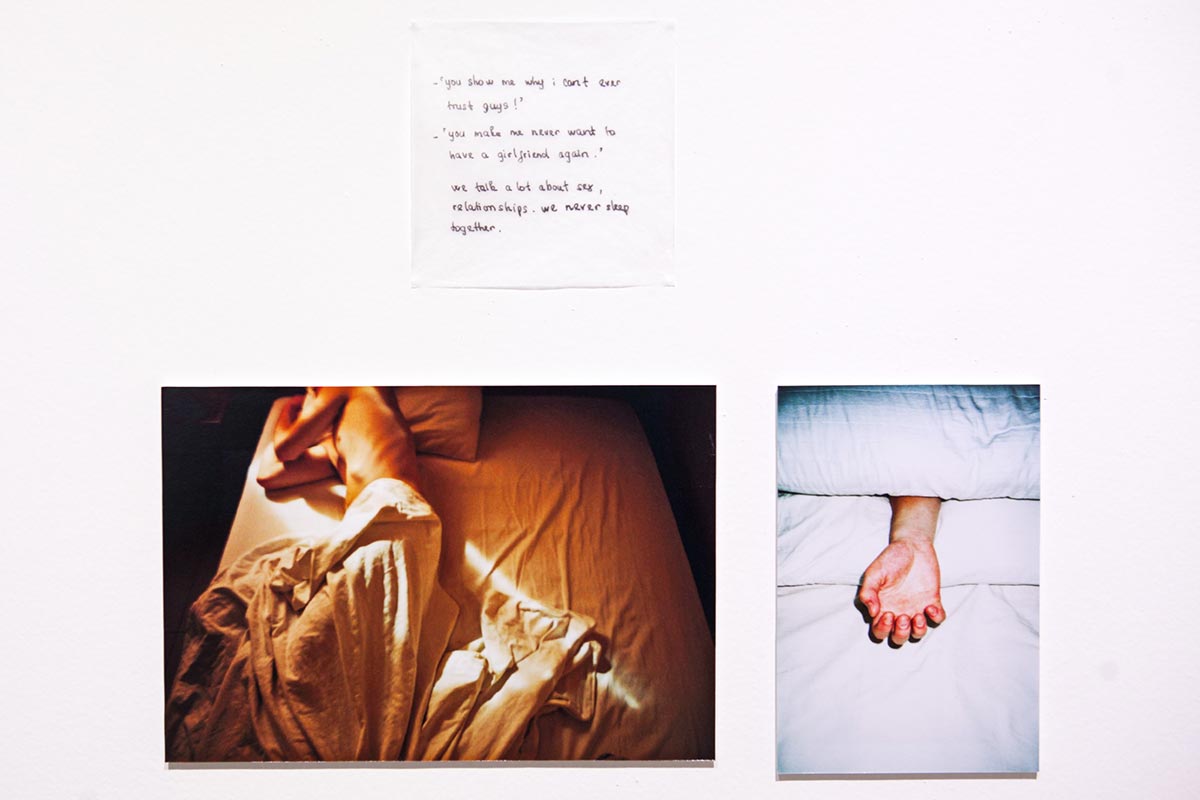 In a guesthouse room, two twin beds are set opposite of each other. The color and the light let us know that it is deep into the night. One man, topless, lying face down on one bed seemingly asleep and oblivious of all else. One woman, obscured due to the long exposure time and movement, sit on the other bed, naked and reduced only to a transparent form and shape. The scene is surreal and packed with inexplanable drama. In this picture, all the elements of what is interesting in Yatender's pictures converged. The tenderness of the stolen, off-guard moment is present. The mystery, the wonder, the vulnerabilities and the loneliness are all here. All the prospects of what the exhibition could be but failed to become is here in this single picture.
Having seen traces of potential scattered in the pictures, themselves dispersed almost aimlessly on the wall, it is difficult to not feel disappointed. As I left the gallery, I could not help but wonder how much better the exhibition could have been if Yatender had more time to develop the project, enough for her to find herself and be more sincere with her subjects, pictures and her own feelings.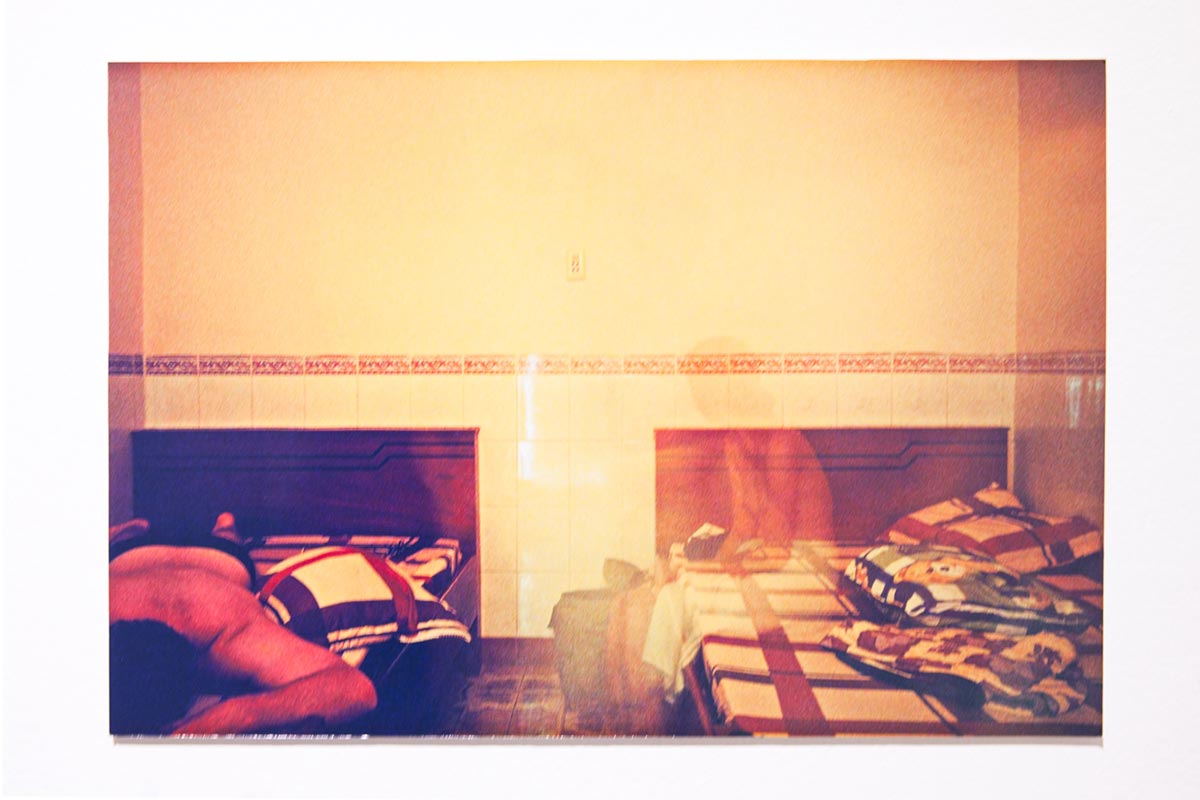 2 – 1 : A Yatender Solo
Venue: Vin Gallery, 6 Le Van Mien, Thao Dien, D.2, TP.HCM
Time: 11/8 to 14/9/2017.
Free entrance.
Hoang Nguyen is a freelance photographer born in Hanoi and is currently based in Ho Chi Minh city. His work is a combination of street photography and conceptual self-portraits. Graduated from DePauw University in 2014, came back to Vietnam in 2015, he has been seeking and photographing his attachment to Vietnam.
Connect with him on Facebook and Instagram.